Visit the House that Rum Built – Serralles Castle in Ponce
6/21 The house is open for tours with COVID health safety restrictions. Summer hours Thurs- Mon 10am – 4:30pm.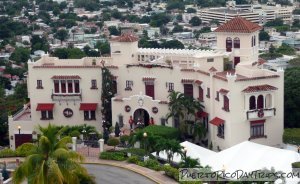 If you are in Ponce and like antiques, gardens, hand-crafted furniture and stunning views, then a visit to the Serralles Castle (Castillo Serralles) should probably get on your "must do" list. Located on the hill above the City of Ponce, Serralles Castle was the "summer home" of the Serralles family. The Serralles made their money growing sugar cane, operating a sugar mill, and producing rum. The house was built in the 1930s, and it is carefully maintained. So it is as beautiful today as it was back then. Almost all of the furniture and articles displayed in the mansion are original to the family. Tours are offered in Spanish and English throughout the day. Tour guides tell you about the Serralles family, sugar production, rum distillation, and about many of the antiques that are on display. They give you a fairly exhaustive tour of the home. You get to view many of the rooms, and see how technically advanced the house was for its time.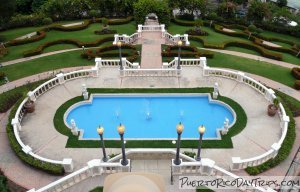 The gardens outside are lovely – terraces, pools, and topiary. There are lots of orchids on display around the house and property. And the views of Ponce are beautiful. The Serralles family still makes many brands of rums, the largest is Don Q (a Puerto Rican favorite). The rum factory is located in Ponce, off of Route 52, south of the "PONCE" letters. In addition to distilling their own rum, they import many quality wines.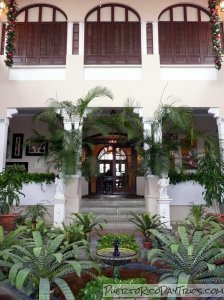 At the Castle, there are restrooms, a gift shop, a wine cellar, and a small snack bar. There is also a place where you can buy plants and orchids, but I haven't figured out how – ask at the desk. We were lucky enough to tour during the Christmas season, and on a day when they were preparing for a wedding on the grounds later that night, so there were lots of extra pretty decorations and lights. The museum administrators also display a number of rotating art exhibits in the Castle that you will see during the tour. When we went, there was a glass art exhibit and a children's exhibit. They looked a little out of place in this historic setting, but they were enjoyable to look at nonetheless.
Details
The house tour comes only as a combo ticket. Tickets for Serralles Castle and Gardens and Butterfly house and the Vigia Cross and Japanese garden (located just uphill from the Castle) is $15.00 for adults and children, $10 for senior citizens. Prices include tax. Ticket office was up by the Japanese Garden last we went. If you book online, there is an added fee but you get the tour time you want and you don't have to wait on line at the ticket office. https://www.eventbrite.com/e/recorrido-castillo-serralles-serralles-castle-tour-tickets-136439021787
Hours change with the season, summer hours Thurs- Mon 10am – 4:30pm..
For more information call 787-259-1774 .
Visit their website at www.castilloserralles.org
The Castle is located two miles (3.2km) north of the center of town. Follow Bertoly Street or Union Street, and then follow the signs.
Click on a placename below to view the location on Google Maps ...
PuertoRicoDayTrips.com assumes no responsibility regarding your safety when participating in the activities described in this article. Please use common sense! If your mother or that little voice in your head tells you that you are about to do something stupid … then don't do it!