Thrilling Toro Verde Nature Adventure Park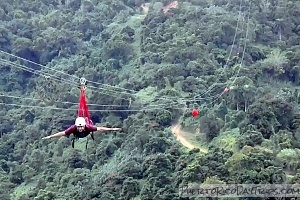 Update- – Toro Verde Park is open with new Covid rules and hours. The ziplines and rope courses are running .
If you are looking for some extreme adventure on vacation, we found another great place for you — Toro Verde Nature Adventure Park in Orocovis. Does zip lining — either regular (sitting) or laying face down, maneuvering across suspended bridges, climbing up & rappeling down rock walls, and mountain biking sound exciting enough for you?
We did a half day tour of this park and had a blast. Not only was the scenery great, but they make the adventures safe and easy to enjoy.
About the Park
Toro Verde Nature Adventure Park is a large (316 acres) and relatively new ecotourism park, having opened in mid-2010. They designed this park with the best and newest adventure sports. And, they made the courses easy to get to and still manage to keep you in the middle of the beautiful landscape.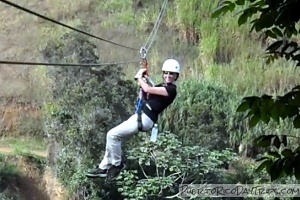 They offer five different activities that you can choose from — the Canopy Tour, the Beast, the Wild Bull, Escape If You Can and Mountain Biking. I have been told that you need a couple days to complete them all. But of course, they offer half day and full day packages also.
These tours each have restrictions (height, weight, and age limits), but, for the most part, there is just about something for everyone in the family.
One really nice feature is they drive you to the adventures. Not having a long uphill hike to the starting point makes it much easier for many people who have some issues walking long distances, but who want to experience these adventures. There is some short walking between some of the adventure platforms, but that's inevitable.
About Our Visit to the Park
We met up with a couple who had never ziplined before and ended up doing a customized mini-course, with some ziplines, some hanging bridges and a rappel. The other couple was afraid of heights, but they did great despite that. It was great to see people stepping outside their comfort zone and trying something thrilling! I am sure they will talk about their experience for many months. We had 2 guides with our tour — one was bilingual, and the other was not.
Canopy Tour — Ziplines
Here is some basic info for those of you who have never gone ziplining before. You wear a harness that goes around each leg and your lower body. It has all sorts of pulleys and carabiners hooked to it that they then use to hook you to the cables. Of course, they use redundant, 2-cable lines here, that's pretty much the safety standard in the industry. You are equipped with helmet and gloves. They clip you to the lines, you step off the platform and away you go — flying through the air.
They have 8 zip lines in this tour. It might not sound like a lot, but these zip lines go across this huge valley, so they are high up and long.
The zip lines in this course range from 800 feet to 2526 feet long. That is almost a ½ mile long! And the view you get at 600 feet off the ground is breath-taking — or maybe your breath will be taken away by being that far off the ground!
One great feature was a braking system. They had a braking system at the end of the line, so there was no chance of crashing into the platform at the other end.
This course takes about 2 to 3 hours to complete, depending on the size of the group. This tour is offered a couple times a day. This course has an age minimum of 7 years, 4 ft height min and a 270-pound weight limit.
All in all, we have done many zipline courses over the years and this one was outstanding! There is a decent amount of walking required to get to a few of the platforms (a number of steps also).
The Beast (La Bestia)
This zip line is different from all the others. For this one, you are put into a large body harness, and you lay down and get attached to the cables from your back. So you are flying through the air like a bird (or Superman or Ironman). As far as I know, it is the only one of its kind like this in Puerto Rico.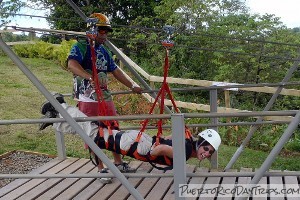 At 4745 feet, it is almost a mile long (one of the longest zip lines in the world) and it is really, really high off the ground (853 feet)! This zip line takes about 2 minutes from end to end, and you are going pretty fast during parts of it — with the wind whipping across your face (hang onto your hats and sunglasses). You have time to really enjoy the scenery. It was really fun, and over way too fast — I could have done that again and again.
This zipline has a minimum weight limit of 110 pounds, and a maximum weight limit of 300 pounds.
For both of these zipline tours, your speed depends on a few things — light-weight people don't go as fast, or as far. And wind plays a factor in slowing you down, too. If you don't make it all the way to the end of the zipline (I once stopped about 40 feet from the platform) you can either pull yourself in or they will come and get you. But the heavier people on our tour made it to the end with no problem.
They also now have "The Monster" – one of the longest laying down zipline in the world. We wrote about that here: The Monster
Escape If You Can (Sal Si Puedes)
This has 5 hanging-bridges and 2 ziplines . And don't expect it to be an easy tree-top walk on a bridge. These are adventure bridges. They swing, move and sway while you are trying to cross them and maintain your balance. Of course, you are clipped on to a safety line, but it still gets your heart pumping as you step from one board to the next.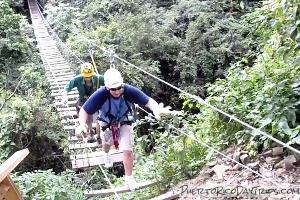 The bridges cross between the 2 mountains, so they are long and high up — between 200 and 400 feet long and 50 to 130 feet above the ground.
On one of the bridges (Salto del Coqui) there is an assisted rappel/descent from the middle of the bridge. The stepping off the wobbly bridge to hang 130 feet above the ground took quite a bit of courage! You can control how fast you descend by controlling how quickly the rope passes through your gear. After a slow start, I got going pretty quickly. It was really fun.
Participants must be at least 12 years old, have a maximum weight of 270 pounds and be in good physical shape. These bridges require some effort on your part and give you a good upper body workout in the process. We worked up a sweat doing this part of course.
Normally, when we review an activity that is not free to the public, we pay the admission price out of our own pockets. However, we just want you to know that the guys at Toro Verde were kind enough to offer us this trip for free. While we don't feel that this free ride influenced our review one way or the other, we felt that we should tell you, just as a matter of fact.


The Details
The various courses/tours are priced separately Between $35-$100. They also offer money saving combo packs, so you can do a few of the courses and save some $$. Buying online ahead of time also can save you money as they sometimes have specials posted- check their Facebook page for extra specials.
If you're happy, let them know it — Don't forget to tip your your bartender, tour guide or trip operator if you enjoyed yourself. Gratuities are appreciated and typically aren't included in the price they charge you.
The days and hours that the park is open varies by season. The park is available for large groups and/or team-building activities. Currently open Fri-Sun). Make your reservation online, or call.
Make your reservation online at Toro Verde web site or for more information.
You can call 787-867-7020 or (787) 867- 6606 for more information or to make a reservation. Or you can send an email to reservaciones@toroverdepr.com. They can arrange transportation.
For all tours that allow minors, the minor must be accompanied by a parent or a legal guardian. All participants must be at least 4 feet tall.
Driving directions: From San Juan, take Route 22, to exit #42 towards Morovis (left at the traffic light). This will be Tony Laureano Expressway or Route 137. Continue driving until you reach the fifth light and make a right turn onto Route 155. Follow Route 155 all the way to Orocovis until kilometer 32.9.
It takes about 1 hour to drive from San Juan to Toro Verde in Orocovis.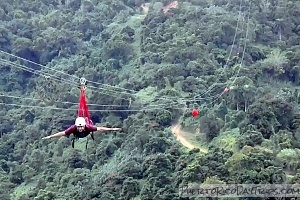 Si esta buscando este tipo de aventura extrema durante sus vacaciones, encontramos una serie de lugares en Puerto Rico para su diversión. El primero se llama Toro Verde Adventure Park en Orocovis. Aquí se puede hacer zip–line de manera habitual o sea sentado o recostado con la cabeza hacia abajo, puede maniobrar entre puentes suspendidos, hacer rappel (deporte de subir y bajar laderas apoyándose en una o varias cuerdas) y hacer ciclismo en la montaña, etc. ¿Le suena exitante? Pues preparese para disfrutar.
Hicimos una excursión o tour de medio día en este parque y realmente nos divertimos mucho. El paisaje es precioso, la aventura fue segura y muy fácil de disfrutar.
INFORMACION SOBRE DEL PARQUE
Toro Verde Nature Adventure Park es un parque grande (316 hectáreas) y es un lugar relativamente nuevo para los amantes del ecoturismo. El hecho de que abrieron a mediados del año 2010 hace de este lugar uno moderno diseñado con los mejores materiales para el disfrute de las más recientes aventuras de este deporte y los trayectos son de muy fácil acceso en medio del paisaje natural.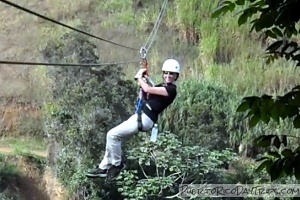 Se ofrecen 5 diferentes actividades para escoger — El Canopy Tour, La Bestia, El Toro Salvaje, Escápate si Puedes y Ciclismo en la Montaña. Según se me ha informado se necesitan un par de días para completarlos todos. Pero siempre existe la opción de seleccionar programas de medio día y de un día entero.
En estas excursiones hay restricciones de altura, peso y edad, pero por lo general tienen algo diferente para cada miembro de la familia.
Uno de las mejores características que posee este tour es el hecho de que el personal te conduce hacia las diferentes aventuras. El no tener que caminar largamente cuesta arriba hace que la aventura sea mas fácil y accesible para personas que tengan algún tipo de impedimento caminando distancias largas y que a pesar de eso quieren disfrutar de estas aventuras. De todas maneras hay que caminar un tramo corto entre algunas de las plataformas pero eso ya es inevitable.
ACERCA DE NUESTRA VISITA AL PARQUE
Nos reunimos con una pareja que no había hecho este tipo de excursión antes y finalizamos enseñando un mini–curso privado, con algunos zip–lines, puentes colgantes e hicimos un rappel. Dicha pareja tenía miedo a las alturas, pero lo hicieron muy bien a pesar del miedo. Fue reconfortante ver a personas moverse fuera de su zona de confort para tratar de hacer algo divertido. Estoy seguro que ellos hablarán de su experiencia por mucho tiempo. Había dos guías en nuestra excursión — uno era bilingüe y el otro no.
EXCURSIONES TIPO CANOPY — Zip–Lines
He aquí una información básica para aquellos de ustedes que nunca han hecho este tipo de tour anteriormente. Se usa un arnés que rodea cada pierna y parte de tu cuerpo inferior. Tiene todo tipo de poleas y de mosquetones agarrados a la parte inferior de tu cuerpo el cual luego se engancha a los cables. Por supuesto, que se usan de una manera redundante. Dos líneas de cables a la vez son utilizadas en la industria de este tipo de actividad como mecanismo de seguridad. Se equipa a la persona con un casco y guantes (con un freno de mano especial de cuero). Te enganchan a las líneas, te lanzas de la plataforma y a volar se ha dicho.
Este tour tiene 8 zip–lines. Puede que no le parezcan suficientes, pero estas cuerdas recorren un gran tramo del valle ya que estas son altas y largas.
Las zip–lines de este trayecto tienen una longitud de 800 a 2526 pies. ¡Eso es casi media milla de largo! La vista que tiene a 600 pies de altura sobre el terreno es espectacular; puede ser que usted se quede sin aliento natural al estar a semejante altura.
Una gran característica aquí, es el sistema de frenos. Este puede ser accionado con tu mano si asi lo deseas, aunque también poseen un sistema de frenos al final de la línea, para que no haya peligro de chocar con la plataforma en el extremo final.
Este trayecto toma de 2 a 3 horas, dependiendo de cuan grande sea el grupo. Este tour se ofrece dos veces al día, uno a las 8 am y nuevamente a la 1 pm El trayecto tiene un limite de peso de 300 libras.
¡En resumidas cuentas, hemos hecho muchos trayectos de zip–lines a través de los años y este fue realmente extraordinario!
LA BESTIA
Esta excursión es diferente a todas las otras. En esta, ubican a la persona dentro de un arnés o coraza humana enorme, mientras uno se recuesta para que se conecten las cuerdas a la espalda. Así que vuelas por el aire como un pájaro. (Superman o Ironman). Me parece que éste es el único en su clase que se practica en Puerto Rico.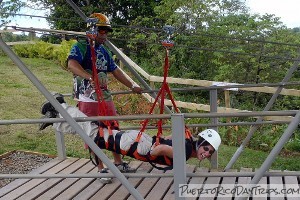 Este trayecto de 4745 pies,casi una milla de largo, es uno de los más largos en el mundo y está a una gran altura del piso (853 pies). Se toma 2 minutos en hacer el recorrido y va a una velocidad bastante acelerada durante algunas partes del trayecto– con el viento golpeando la cara por lo cual hay que sostener sus sombreros y sus gafas. Tiene tiempo para disfrutar del paisaje. Es tan divertido y rápido que podría hacerse cuantas veces uno desee.
Esta cuerda posee un mínimo de peso de 110 libras y un máximo de 300. Dicha atracción está disponible y a su disposición todo el día.
La velocidad de ambos tours de zip–line, dependerá de varias cosas – el peso de la gente determinará cuan rápido y cuan lejos se llegará. El viento también podría disminuir la velocidad. Si no puede llegar hasta el final de la cuerda (En una ocasión me detuve a 40 pies de la plataforma) podrá impulsarse sólo hasta el final o uno de los encargados le recogerá. La gente más pesada de nuestra excursión no tuvo problemas en llegar al final.
SAL SI PUEDES
Este es un tour de puentes colgantes. Pero no espere que sea fácil la caminata entre arboles mientras uno trata de cruzarlos. Son puentes de aventura. Ellos se mueven, se columpian y oscilan mientras uno trata de cruzarlos y mantener el balance. Claro que uno esta abrochado a una cuerda de seguridad, pero de todas maneras te hace latir tu corazón apresuradamente el tener que pasar de un peldaño a otro.
Estos puentes requieren algún esfuerzo de su parte tu cuerpo se ejercita en el proceso. Se suda machismo al pasar por esta parte del trayecto.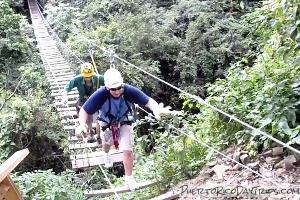 El trayecto completo tiene 5 puentes y dos zip–lines largos y altos – entre 200 y 400 pies de largo y entre 50 a 130 de alto.
En uno de los puentes (Salto del Coquí) hay asistencia rappel/para descender desde la mitad del puente. ¡El descenso desde el puente colgante el cual está a 130 pies del piso, requirió bastante valentía de nuestra parte! Uno puede controlar la rapidez del descenso si se sabe cómo manipular el paso de la cuerda por tu equipo. Luego de un comienzo lento, empecé a acelerar rápidamente. Esta fue una experiencia muy divertida.
Se ofrecen tours para esta aventura dos veces al día, uno a las 9 am y otro a las 2 pm Los participantes deben tener por lo menos 7 años de edad, pesar un máximo de 250 libras y estar en excelente condición física. Hay espacio para 15 personas por grupo.
Normalmente, cuando escribimos una reseña sobre una actividad no gratuita para el público, pagamos la admisión de nuestros propios bolsillos. De todas maneras, me gustaría indicarle que las personas del Toro Verde Adventure Park fueron muy gentiles al permitirnos entrar al museo gratuitamente. Aunque la admisión gratuita no influyó en nuestra reseña, queríamos dejárselo saber.


LOS DETALLES
Los diferentes trayectos/tours tienen diferentes precios. Zipline/Canopy es $43, La Bestia $33, Sal si Puedes $43 . También ofrecen combos para ahorrar dinero, de esta manera se pueden hacer unos pocos trayectos y ahorrar algún dinero$$.
Si le gustó, déjeselos saber — No se olvide de dar propina si disfrutó de la excursión. Las propinas siempre son apreciadas y usualmente no están incluidas en el precio de admisión.
Los días y las horas en que el parque abre varían con la estación del año. Actualmente (verano), están abiertos al público general 7 dias/semana. El parque está disponible para grupos especiales y/o actividades de equipos. Tienen horario reducido durante resto del año, de Jueves- Domingo. Es mejor llamar para cerciorarse de las horas y hacer reservaciones.
Cuando llame para hacer una reservación, asegúrese de reservar un guía que hable su idioma.
Puede llamar al 787–867–7020 para mayor información o para hacer reservaciones.
También puede visitar la página de Internet de Toro Verde para mayor información.
Para aquellos tours que permitan menores, dicho menor debe estar acompañado por su padre o tutor legal. Todos los participantes deben medir por lo menos 4 pies de alto.
Direcciones de cómo llegar: Desde San Juan tome la autopista 22 hasta la salida #42 hacia Morovis (Doble a la izquierda en el semáforo) Este es el Expreso Tony Laureano o carretera 137. Continúe directo hasta llegar a la quinta luz y gire ahí a la derecha para tomar la carretera 155. Continúe la 155 hacia Orocovis directo hasta el kilometro 32.9.
Se toma cerca de 1 hora el conducir de San Juan a Toro Verde en Orocovis.
We are in the process of updating the maps we use on our web site. While we're working on that, you can click on the GPS coordinates below to view the location on Google Maps ...
PuertoRicoDayTrips.com assumes no responsibility regarding your safety when participating in the activities described in this article. Please use common sense! If your mother or that little voice in your head tells you that you are about to do something stupid … then don't do it!