Conquer The Monster at Toro Verde
We have been on a bunch of different zip lines, both in Puerto Rico and other parts of the world. We enjoy zip lines, but time spent waiting in line and clipping on/off of a series of short zip lines dilutes the excitement of flying through the air. If you feel the same way, then The Monster at Toro Verde is for you. At 1.57 miles long, it takes more than 2 minutes to go from end to end. It was the longest in the world until February 2018. It is a lay-down type of zip line, so all the while you are "flying" over beautiful terrain. Check this out!
Toro Verde Adventure Park, located in Orocovis (in the middle of Puerto Rico), is a large park that offers a number of different zip lines and rope challenge courses. The park has two lay-down type zip lines, The Beast and The Monster. The Beast is long (a little under a mile) and fast, but it is dwarfed by The Monster, which is more than and mile and a half long. Before 2018, we had done all the courses at the park, except we had yet to conquer the Monster … so we decided to do it!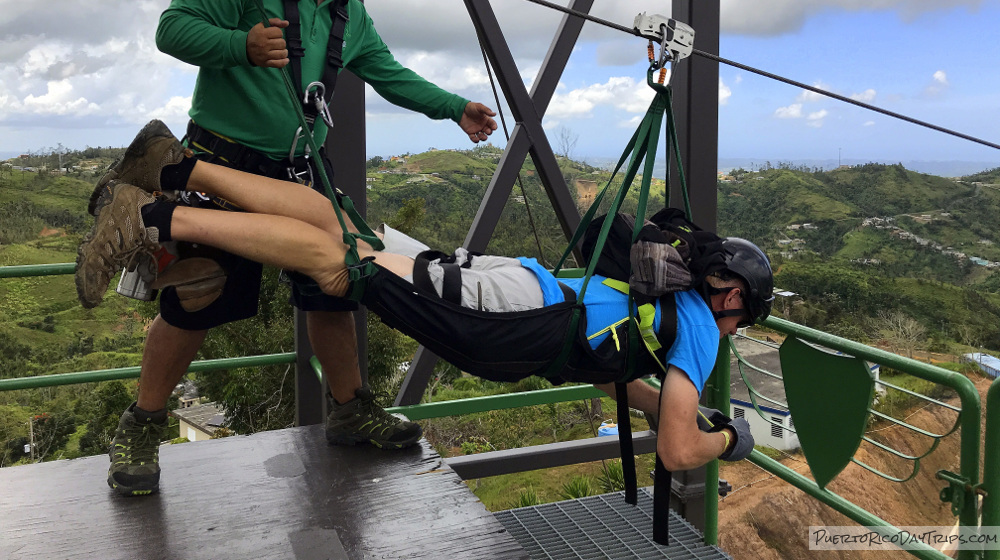 Our Tour
Toro Verde is a bit of a drive from San Juan, or almost anywhere, for that matter, since it is in the middle of the island! But it is a pleasant trip into the countryside.
Once you arrive, you sign in, complete the waiver, and that sort of stuff. Then you hang out until your scheduled tour (reservations are required). That's a good time to grab a quick snack at the café, or use the restroom. You won't get those options again until your tour is over. There is also a full-service restaurant and gift shop in the main building. You can rent a Go-Pro at the gift shop if you want, to video your whole flight.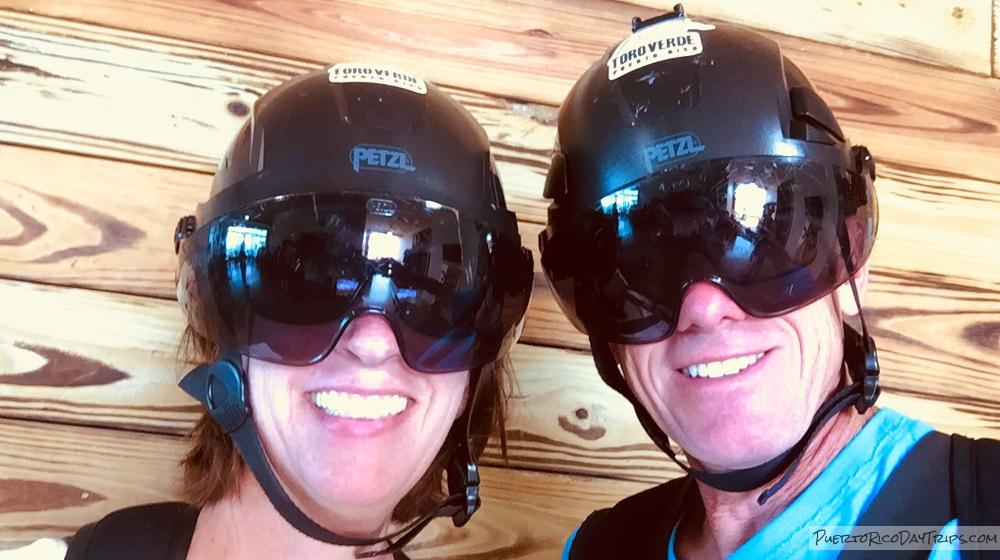 When it is time for your tour, they give you all your equipment – helmet, goggles, backpack, gloves, and harness. I liked having the backpack … it is a safe place to store your phone, glasses, etc. while flying! After fitting your equipment, the give you a little intro about the trip, and then you climb the stairs up to the roof of the building, and cross a suspension bridge to the tower. At the tower, you climb up, up, and up many flights of stairs until you are at the launching platform.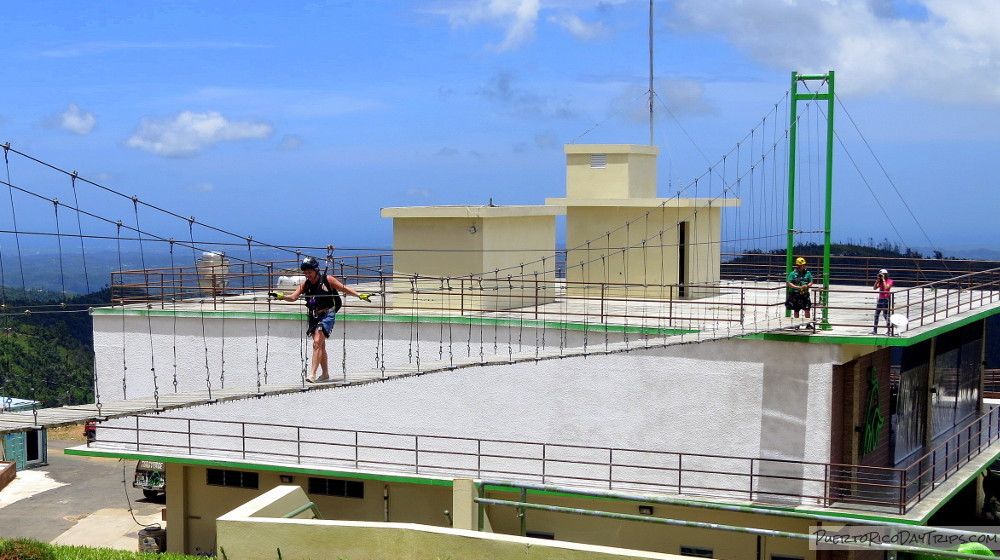 This is a lay-down (prone position) type of zip line, so you have to be put into this "taco" harness. I find this type of zip line a bit "scarier" since you do have to trust the guides to make sure you are properly secured on the line. But that is a given.
Once it is your turn, they let you go, and you zoom over the river and valley far below you. I mean FAR below — you are about 1000 feet above the ground! It was beautiful to see (even with the post-MARIA hurricane damage). I was happy the helmet had an eye shield because you go so fast your eyes water from the wind! They say heavier people can reach speeds of over 90 miles per hour! There is a photographer at the "launch pad" taking photos that you can purchase after your tour.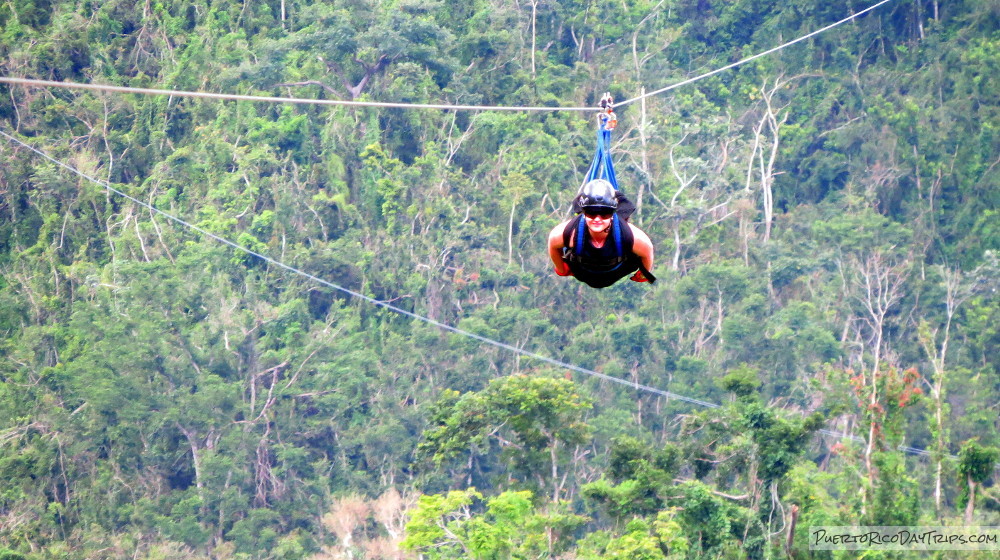 It takes about 2 and a half minutes to go from end to end. Heavier people go faster and farther. If you weigh less, if it is windy, or if you open your arms and cause wind resistance, you may not get all the way to the landing platform. That is what happened to me. I had to have the "catcher" guide come out a little to get me. All good.
Once our whole group conquered The Monster, it wasn't over. There is another zip line to get you back across the valley to the pick-up location. This zip line is a regular sit-in harness type. This also was fast and fun, so it was an unexpected bonus! All in all super fun and exciting!
After this second zip line, they pick you up in an open-air truck, and drive you back to the main building (that you started in). From there, you have the option of checking-out/buying the photos they took of you at the launch platform, doing other activities, eating a meal, and shopping at the gift shop before leaving.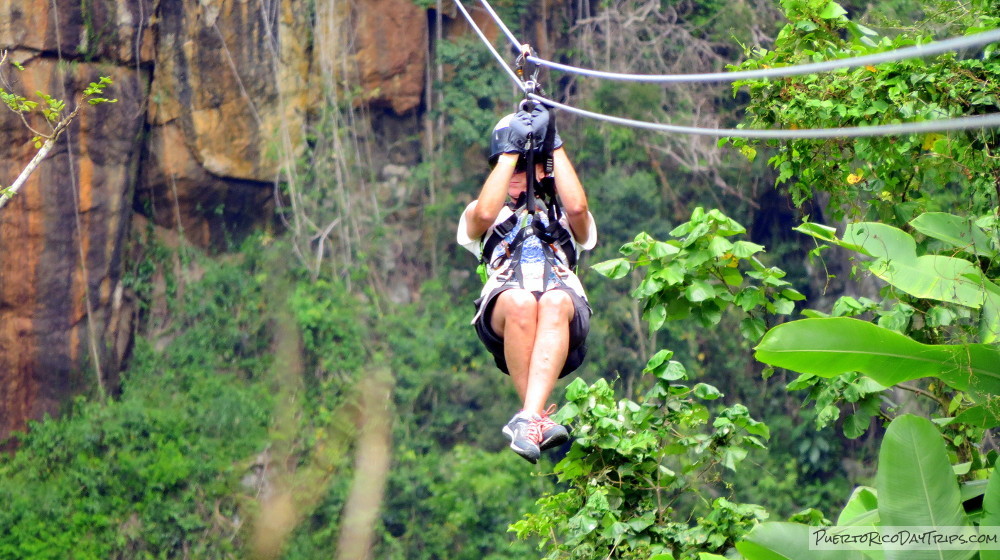 Details
The cost of The Monster is about $90 per person. Buying online ahead of time can save you money as they sometimes have specials or COMBOS — check their Facebook page for extra specials.
The days and hours that the park is open varies by season. In Summer, they are open to the general public 7 days a week. The park is available for large groups and/or team-building activities. The rest of the year, they sometimes have reduced schedule (usually only Wednesday or Thurday through Sunday). It's best to call to double-check their hours and make a reservation.
Must be at least 7 years old. Minors must be accompanied by a parent or a legal guardian. All participants must be a minimum of 4 feet tall, and weigh between 100 to 270 pounds. Closed-toe shoes are required.
You can call 787-867-7020 or 787-867-6606 for more information or to make a reservation. Or you can send an email to reservaciones@toroverdepr.com. They can arrange transportation.
You can visit the Toro Verde web site for more information.
Driving directions: From San Juan, take Route 22, to exit #42 towards Morovis (left at the traffic light). This will be Tony Laureano Expressway or Route 137. Continue driving until you reach the fifth light and make a right turn onto Route 155. Follow Route 155 all the way to Orocovis until kilometer 32.9.
It takes about 60-90 minutes to drive from San Juan to Toro Verde in Orocovis.
Click on a placename below to view the location on Google Maps ...
PuertoRicoDayTrips.com assumes no responsibility regarding your safety when participating in the activities described in this article. Please use common sense! If your mother or that little voice in your head tells you that you are about to do something stupid … then don't do it!