Check Out the Views from La Torre de Piedra
1/21 Tower is open and the views are great!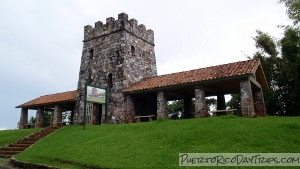 If you are driving along the Ruta Panorámica in the Maricao area, and you may want to check out some amazing 360° views. You can stop at La Torre de Piedra (the stone tower). Though the tower itself isn't that tall, it sits on top of a mountain — so the views are great.
This old stone tower, built in late 1930s, is about 30 feet tall. It is located in the middle of the Bosque Estatal de Maricao (the Maricao State Forest). Today, it is maintained by the Compañia de Parques Nationales.
Of course, the day that we went, it was cloudy and overcast, so we didn't get the full view. But it still was cool and breezy, and we could tell that, on a clear day, the view must be amazing. It is said that you can see to the west coast and all the way to Mona Island, the south coast, and far inland to the north and east. Of course, being on top of mountains, some of the view is of radio and satellite antennas — but there are many lovely views too!
I wouldn't make a special trip just for this tower, but if you are in the area, it could make a nice stop. It is located along the Ruta Panorámica, so expect slow, but pretty, going. While you're in Maricao, you can also visit a number of coffee plantations/haciendas, some hiking/birdwatching trails in the Maricao forest, the Salto Curet waterfall, a fish farm, and the Festival of Coffee held every year in February.
Details
There is no charge to visit this tower.
The tower is open every day from 8am to 4pm.
Located on Route 120 at KM 14 in Maricao.
Click on a placename below to view the location on Google Maps ...
PuertoRicoDayTrips.com assumes no responsibility regarding your safety when participating in the activities described in this article. Please use common sense! If your mother or that little voice in your head tells you that you are about to do something stupid … then don't do it!