A Visit to the Little Museum on Campus
During summertime/ school recess, check their Facebook posts for current hours. They may require "reservations", just so they know to have someone there for your visit.
.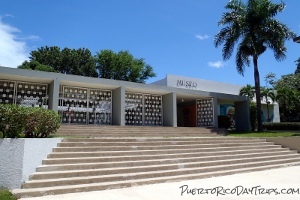 The museum on the University of Puerto Rico's Rio Piedras campus is great, but it was closed for a while.But now the Museum of History, Anthropology and Art (Museo de Historia, Antropología y Arte, in Spanish) has reopened! They have so many wonderful objects, though it is a small museum. It features some permanent displays, as well as some rotating exhibits that change every few months. I really thought this museum was full of truly amazing pieces.
Here's a hint — Make your first stop in the office-looking area and ask at the window if someone could give you a tour, or provide English translations, before going into the museum. We met some wonderful guides who were very enthusiastic about sharing their knowledge the museum and the pieces on display. It is best to call or email ahead to make sure there will be a guide available.
Mummies & Skeletons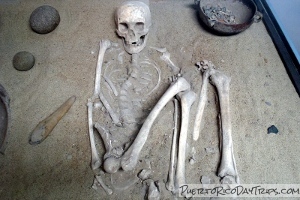 The foyer of the office area is currently the temporary home for some of the museum's permanent exhibitions. This is where you will find some treasures that are always on display to the public.
First, there is an Ostiones Cultural Burial site which was uncovered from the area that is now Balneario Monserrate in Luquillo! I had no idea that when I go to the beach, I am playing on an old Indian burial ground. This new info is a bit spooky in a Poltergeist kind of way!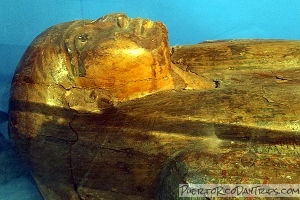 This display features the remains of (a woman, a man and an infant from the Ostiones era (460-1435 AD). Those were the indigenous people that were in Puerto Rico before the Tainos.
A collection of Egyptian Funerary objects is also on display in this area. They have two mummies (one wrapped in cloth, one unwrapped), a mummified cat, a nice wooden sarcophagus, some canopic jars (used to preserve internal organs) and statues. These are the only Egyptian mummies in the Caribbean! Kind of unusual to see.
Art & Artifacts
Across the (outdoor) hall from the office area is the temporary home for their rotating exhibits and the permanent home of the pièce de résistance The Wake. This was the item that I was most interested in seeing — the original painting El Velorio (The Wake), by the 19th-century artist Francisco Oller, painted in 1893.
This huge and beautiful painting, depicting a jibaro (country-folk or hillbilly) wake scene, is fantastic. One could study each section of this piece and see something new and interesting. Indeed, many historians that have studied and interpreted this painting over the years.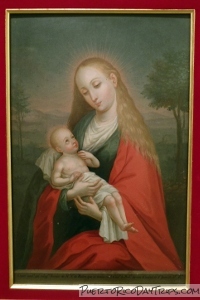 Our guide pointed out some of the oddities that Oller put in the painting, and explained some of the particulars that are examples of life back in the 1890's for the poorer class. I love this piece and our guide really helped bring it to life.
This painting is a huge piece that can't easily be moved, so make sure to contact the office before visiting to make sure you will be able to see it (it will not be available during the time when the exhibits are being rotated).
In the same salon you can view 9 paintings by the Puerto Rican artist José Campeche y Jordán. I enjoyed seeing two original copies Campache did of the same painting, La Virgen de Belén. One of the paintings was modified to conceal her breast because it was considered to be too risque for where it was being displayed.
They occasionally loan out these Campache paintings so they may have something else on display.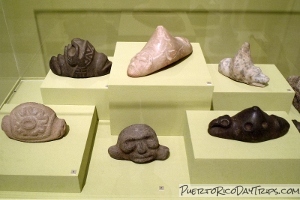 This is the same area that holds the rotating displays. During our visit in August 2010, the rotating exhibit was Artefactos: Tecnología Indígena (or Artifacts: Indigenous Technology). It has about 12 cases full of artifacts made by indigenous peoples of the Caribbean and mostly Puerto Rico. The signage by each case explained (only in Spanish) what the pieces were, how they were made and what they were used for. Really interesting stuff.
Contact the museum and find out what exhibits will be on display when you plan on visiting.
The Details
The museum is just inside the gates of the UPR Rio Piedras campus off of Ponce de Leon Avenue. The building, designed by Henry Klumb, is nice, with an open courtyard that contains some sculptures. There is free parking on the side/behind the museum, but you must drive in and go around a triangle park area to get to the museum (as it's parking entrance is on a one way street) which will be on your left after you go through the gate.
I plan to go back as they rotate the exhibits.
After your visit, you may want to spend some time walking around the UPR campus. It is a lovely place, full if shaded courtyards and walkways. A nice escape from the heat in the city!
While you're in the area, take a short drive (or walk) to the Rio Piedras Market for a quick meal or to pick up some local fruit or vegetables.
Admission to the museum is free, as is parking.
The museum is open Monday,through Friday from 9am until 4:00pm, and Saturday 10am – 4:30pm. The museum is closed on Sundays, holidays and during university recess. They offer guided tours if you coordinate with them ahead of time.
You can call the museum (787-763-3939) or send them an email for more information or to request a tour and especially if you need an English speaking guide. Visit the Museum's Facebook page for more information
Click on a placename below to view the location on Google Maps ...
PuertoRicoDayTrips.com assumes no responsibility regarding your safety when participating in the activities described in this article. Please use common sense! If your mother or that little voice in your head tells you that you are about to do something stupid … then don't do it!