Rio Piedras Market – A "Real" Local Experience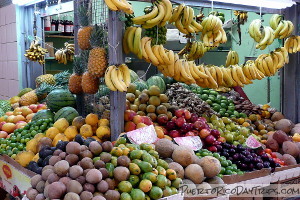 For the real Puerto Rican local market experience, head to Rio Piedras. There, you will find a large indoor Mercado de Rio Piedras (Rio Piedras Market) and blocks of outdoor sidewalk shopping where the locals go to shop! It is alive with the sights, sounds and colors of things for sale and people enjoying themselves.
Located on Paseo de Jose de Diego, the Mercado itself is a large air-conditioned building housing a multitude of vendors. Inside, you will find many people selling fresh fruit and vegetable, plus loads of other things like meat, fish, herbs and natural products, Puerto Rican souvenirs and even lottery tickets. This was one of the places featured in Andrew Zimmern's PR Bizarre Food episode.
In the middle area of the building, there are probably more than 30 fruit/veggie vendors to chose from. This was my reason for visiting and I was not disappointed! Some places have their prices posted, some don't. Some stuff is sold by the pound, some stuff is priced per piece (c/u). I knew what I was looking for and at, but if you don't speak Spanish or don't know what the fruits are, do not worry.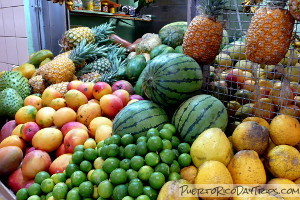 There is always someone whom you can ask about what each thing is, if it's ripe or not, etc. To get prepared, take a look at our article about tropical fruit available in Puerto Rico.
Just out of chance, the vendor we decided to buy from turned out to speak English. We bought a mamey sapote (not inexpensive, but perfectly ripe and delicious), some nisperos and mangos. Yummy! At another booth, we found a piece of sugar cane, which I had always wanted to plant, so I was a happy girl!
There is a cafeteria area that serves up local fare of all varieties — from the basic fried goodies, to full meals of home made Criollo cuisine. And prices were very reasonable. There are plenty of tables and chairs available. Along the perimeter of the large market, you will find the stores — like a travel agent, music store, a barber/beauty salon, even a laundromat. You know — the day to day things for the locals who live in the area. As we walked around near the back, we heard dominoes being shuffled. There are domino tables available for the men to play while the women shop!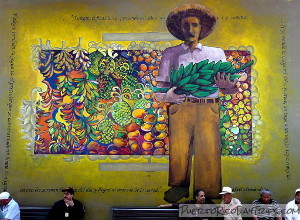 In the middle of the market, there is a lovely mural depicting a Jíbaro (poor farmer) with this crops. It is as if this beautiful humble Jíbaro oversees all the fruit/veggie vendors. The older locals come and sit around, relax in in AC and catch up with all their friends and neighbors.
Even if you don't want to try some of the tropical fruit and veggies available, the beauty of the colorful fruit and vegetables, the artwork and daily life scenery make such great pictures!
The Mercado is open Monday through Saturday 6am to 5pm, and closed Sundays. It is an "off the beaten track" experience — loads of people meeting at the local market, talking, shopping, playing dominoes, lots of good food — now this is the real Puerto Rico!
Check out their Facebook page.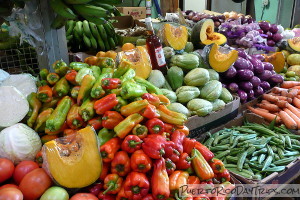 Outside of the market there are a number of blocks of local stores. Mostly lower-priced items, but you can pick up some great bargains on shoes, casual clothes and assorted stuff. Almost every store had racks of sale items outside — like a giant sidewalk sale. I have read that this area is closed to traffic, but the day we went, the street we were on was open to traffic. It wasn't an issue, since the side walks were wide, but it would have been nicer to have the streets closed off.
There are a few small parking lots within a few blocks of the Mercado. Parking costs 75¢ to $1 per hour.
Click on a placename below to view the location on Google Maps ...
PuertoRicoDayTrips.com assumes no responsibility regarding your safety when participating in the activities described in this article. Please use common sense! If your mother or that little voice in your head tells you that you are about to do something stupid … then don't do it!