Beautiful Vacía la Talega Beach and Hike
I just love the rugged coastline in the area around Manatí — the rocks, the ocean, and the pretty views. I was delighted to see that Loíza has a mini version of this, as it is much closer to the San Juan area — and closer to home for me! An added bonus is that it has a beautiful beach, Playa Vacía la Talega, that is a large cove that is very popular with locals. We have been there many times, but the crowded beach is not our style. Now that I have found these trails along the rugged coast, I am in love!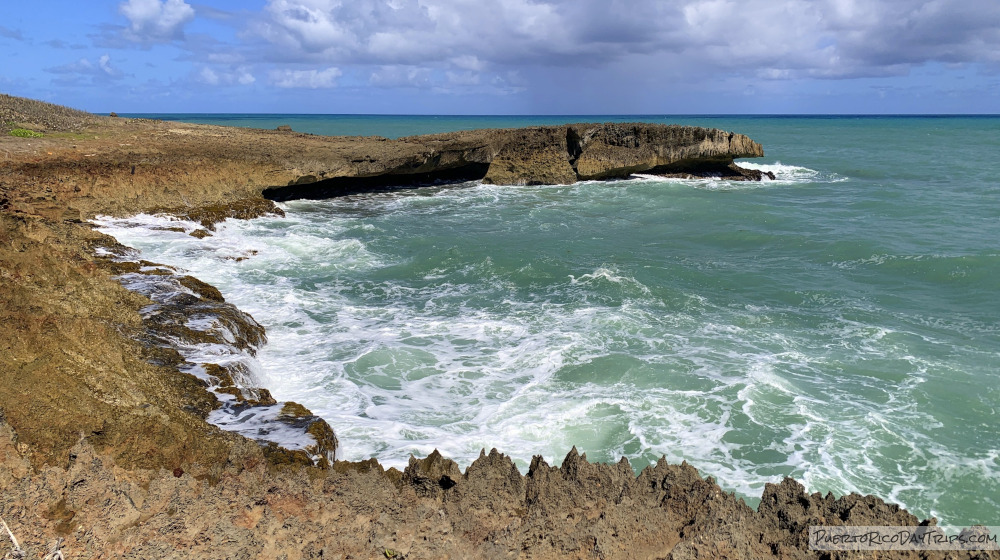 Overview
Loíza is the town just to the east of San Juan. along the north shore. It is known for a lot of things, among them are pretty beaches and north coast views, The beach Vacía la Talega is on Route 187, just about at the eastern end of the Piñones area. It is a LONG thin beach cove. The water is usually calm, clear, and being that it is right along the road, super easy and accessible. This makes it super popular — you can park and almost tailgate on the beach. There are no life guards nor facilities, but usually safe for swimming.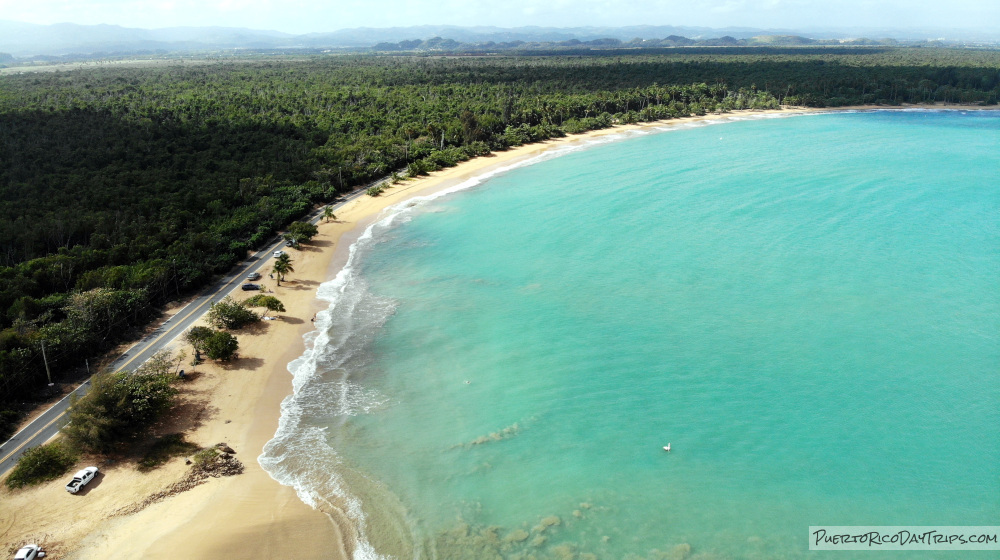 Our Trek
On the map, you will see some nice coves along the north coast, and something called Cueva Escondida. Our goal was to find this spot, so we went exploring. Be sure to wear sturdy, closed-toe shoes- the rocks are sharp!
The fishermen like to go out along the right side of the cove, to an area called Punta Vacía la Talega. Here, they can walk the peninsula to deeper water fishing spots. They made a trail that runs straight out along the coast line of the cove. There are some short side trails to the left that take you to the fishing spots (and for nice photos!). The trail will eventually take up up and around to the north coast and you can walk the rocky area as far east as you desire.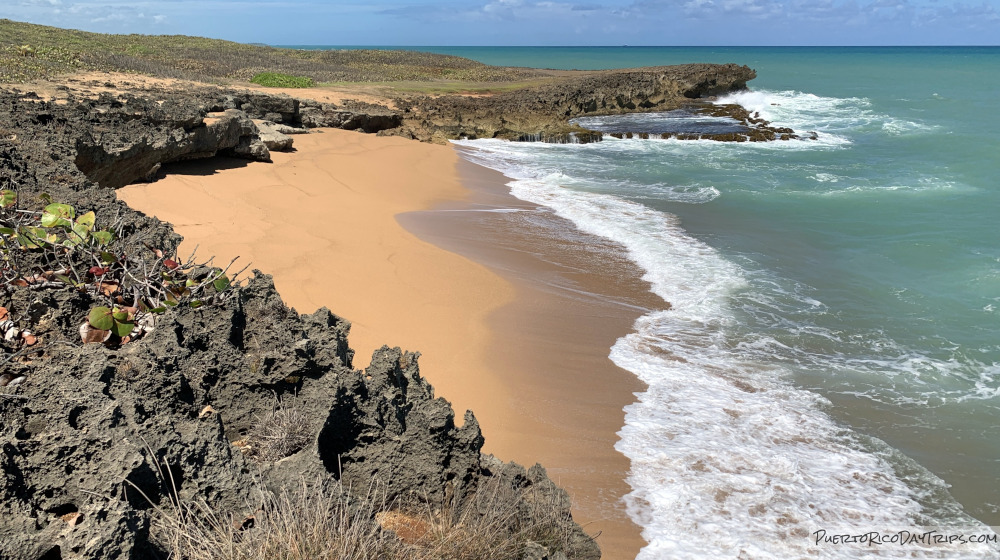 On this trail, you will see a Y that goes to the right. If you take this trail, it will get you further east on the north coast, but not very close to the Cueva Escondida. The easiest and most direct trail to the Cueva Escondida area is a trail that starts on the right of the beach and goes to the right (GPS coordinates below). This trail is about a 5-10 minute walk, and it brings you right out to the coast, with beautiful rugged rocks and crashing waves.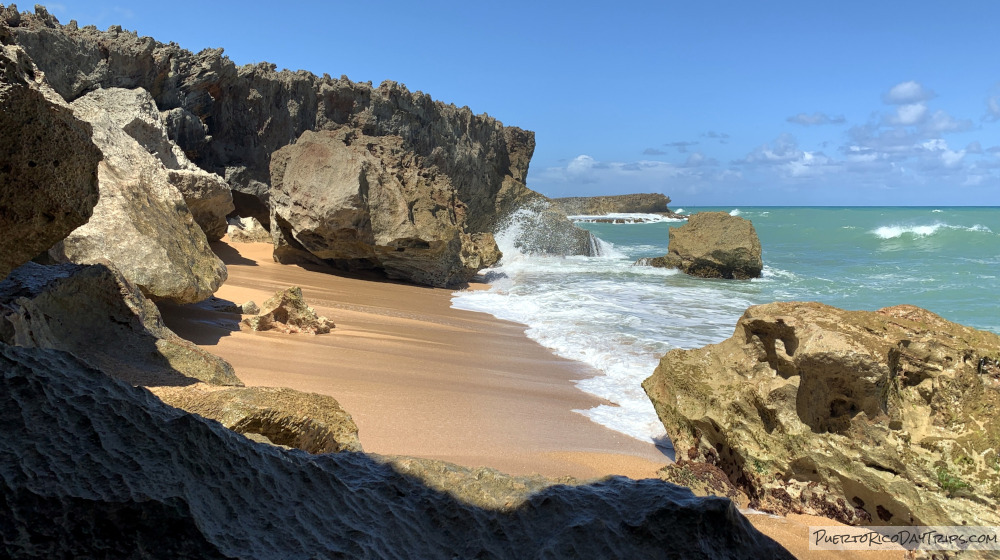 This is the place marked Cueva Escondida on Google Maps. This is a little beach and "cave" area. Pretty, but very small (especially with tide changes and waves!). We went at low tide in winter, and each wave made us wonder if it was going to reach us and get us soaked! Perhaps this beach could be usable in the summer. Either way, not a swimming beach! But it was nice to have no other people around!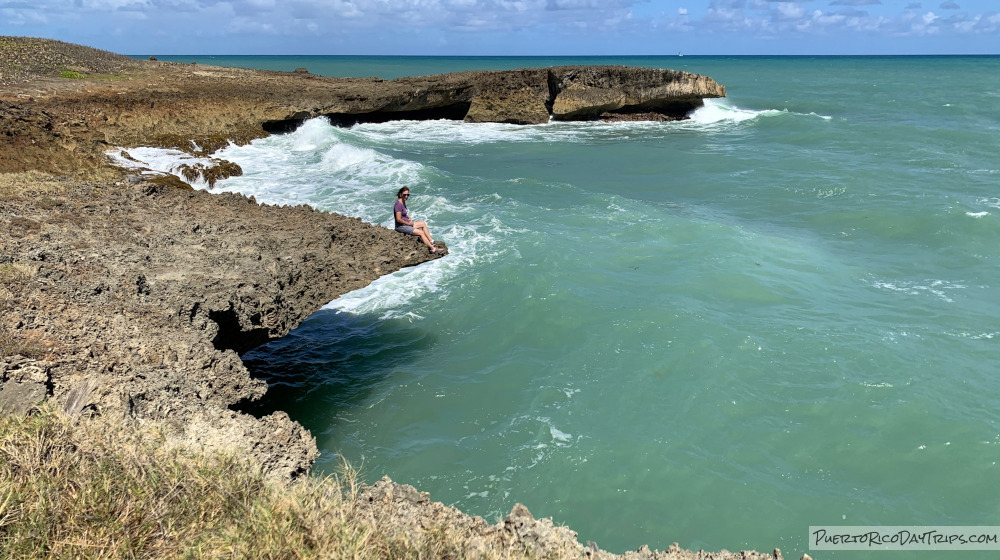 We then followed a beaten path over the rocks eastward along the coast. We found another hidden cave, that we can go down into. Then some cool out cropping and hanging rocks, a small "window", another beach … just keep walking eastward. even found what looks like a WW2 lookout bunker!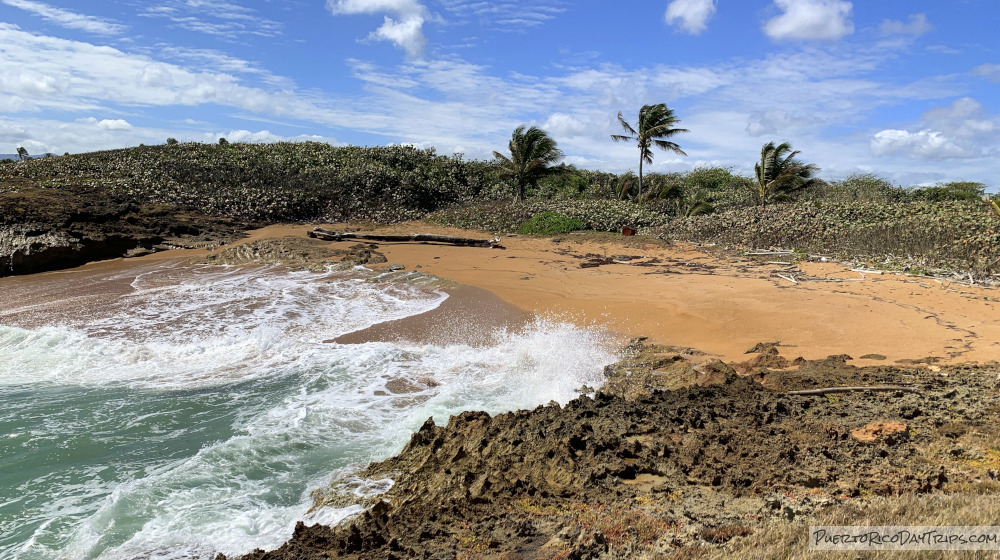 Details
Pay attention to the surf conditions if you plan to swim – beaches on the north shore can be particularly treacherous, especially in the winter months. Do not attempt to go into the water east of the "main" Vacía la Talega beach.
You need to be prepared for this walk — these rocks are sharp (think upright spikes that you need to walk on). They ripped up the tops of my shoes, so they would have easily cut bare flesh. Sunscreen, hats, and plenty of water are a must. Not good for kids!
From the Isla Verde or Condado areas, it is a short drive eastward on Road 187 until you get to the beach.
Park at the beach on the big curve in the road (where everyone else is parked). Park only on hard/packed sand – stay out of the soft sand. If you get stuck in the sand (it happens!), use your floor mats under your drive tires, and get someone to help push!
Click on a placename below to view the location on Google Maps ...
PuertoRicoDayTrips.com assumes no responsibility regarding your safety when participating in the activities described in this article. Please use common sense! If your mother or that little voice in your head tells you that you are about to do something stupid … then don't do it!