Snorkeling on Vieques
If you like snorkeling, you can find some different and interesting spots around Vieques. This island, just to the east of Puerto Rico, sits in the Caribbean Sea, surrounded by coral and limestone rock formations. Because of that, there are lots of great nooks and crannies for fish and other sea critter to enjoy. It also has protected coves with sea grass that turtles adore, and man-made structures that are encrusted with sea life. While snorkeling in Vieques might not be world-class, it is enjoyable and worth checking out while you are there.
Vieques is an island municipality of Puerto Rico, located about 8 miles east of Ceiba (on Puerto Rico's east side). Vieques is known for its secluded, unspoiled beaches, and clear water. Many of these beaches have reefs that offer opportunities for snorkeling.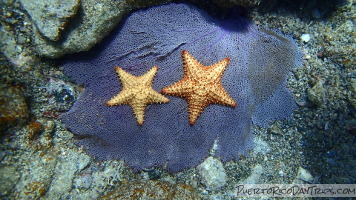 We have not had a chance to snorkel every possible spot on Vieques (we have to leave something new to do for our next visit), but we have tried a few places around the island. While there are not huge underwater forests of corals stands, there are a lot of small hard and soft corals around, tons of colorful sea fans, and fish, turtles and other sea creatures large and small to be seen.
It has been our experience that the north side of the island is usually rough with waves, and therefore not conducive to snorkeling. We have found the best snorkeling on the edges of the protected coves on the south side.
Here is a list of snorkel spots that we have enjoyed …
Mosquito Pier & Playa Rompeolas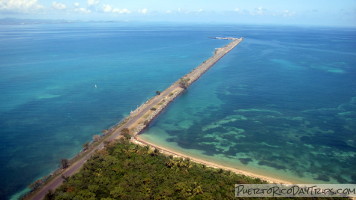 When you approach Mosquito Pier, you will see a little beach on the left side. If water conditions are right, you will have flat, crystal clear water, and loads of starfish in the sea grass just feet from shore.
For more advanced snorkelers, if you go to the end of the pier (just before the locked gate), there are steps that lead down to the water. One can snorkel out to the end of the pier, where there are pilings. All along the way, there are rocks, and the water gets very deep very quickly.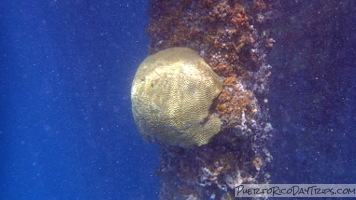 Among the rocks, there are fish, star fish, urchins, etc. The best spots here are the pilings, which are encrusted with hard and soft corals. Sea turtles frequent this area often (we saw a hawksbill), as well as some fish.
But there can be a current, and be careful if you choose to go under the pier as waves could raise you up and you could hit your head on the underside of the pier. Our recommendation is to stay out from under the pier.
Punta Arenas (Green Beach)
Punta Arenas is located on the western tip of Vieques. Go left at the Y and park at the last spot. We went out to the reef via a sandy spot and then turned south (left) where the beach is off-limits. We saw turtles and different fish, even a stringray. We didn't go too far, but others say that you can go all around the point. There could be a current, so be aware of that. And the road to get here is long and in bad shape.
Playa Media Luna
The reef at Playa Media Luna is on the left side of the cove, pretty far out from shore. If you don't go out far enough, all you'll get to see is sea grass!
Playa Caracas (Red Beach)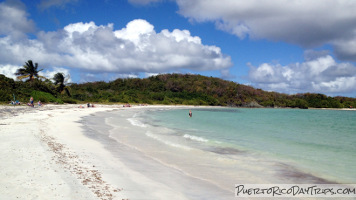 The best spot at Playa Caracas is to the left (east) side of the cove, along the rock wall around the edge. There are lots of sea fans and fish. We went out around curve until waves and current became too much for us, we turned around and swam back to shore.
Playa Chiva (Blue Beach)
Playa Chiva has many "entrances". We parked at parking #15 ,and went along the left (east) edge of the covee, all the way around to the next beach area. We saw lots of sea grass, and areas of coral/rock formations with lots of sea life — including sea turtles!
Playa Plata (Silver Beach or Orchid Beach)
The best area at Playa Plata is along the left (east) edge of the cove, where you can follow the rocks out around point.
Other Places on our To-Do List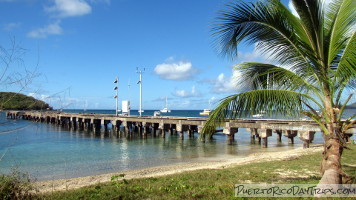 The old Sugar Pier in Esperanza, to see what has made a home among and on those pilings.
A copule we met on our list trip to Vieques Playa Plata had great snorkeling on the right (west) side of the cove. We didn't get a chance to check it out.
Supposedly, the island off shore from Playuela is pretty good. We'll have to wait and find out later.
Finally, Playa Chiva is supposedly good if you park at last spot and go around the left (east) side of the cove.
Use Caution
As always, be careful! You need to watch water/weather conditions and currents. Sometimes places that are usually calm and clear have waves and murky water. And make sure someone is watching your valuables on the beach. We usually take along a bright yellow dry bag. It lets us go snorkeling with a buddy and keeps our valuables with us and safe, and it also acts like a marker, so boats can see us snorkeling in the water.
Where to get Snorkel Gear
For snorkeling, we recommend the obvious equipment (mask, fins, snorkel), as well as a rash guard (to protect from scrapes and sunburn), a dry bag, and some sort of surface marker/buoy (so boaters can see you in the water). If you're not a strong swimmer, we recommend that you also use some type of personal flotation device (or sit on the beach and read a book while your friends go in the water).
It's probably best if you bring your own gear, preferably something you've used in the past. That way, you'll be comfortable with the gear, and familiar with how it works.
You can buy snorkel gear on the big island at WalMart, Kmart, Sams and Costco (in season). Walgreens and CVS sometimes have a small selection, too.
There are snorkel rentals available at Fun Brothers in Esperanza, and at Black Beard Sports in Isabel II. And a number of companies have snorkel tours available from shore, via kayak, and boat trips.
The F&W National Wildlife Refuge is open 7 days/week, from 7am – dark ( 6:30pm Sept – Feb, 7:30p rest of year
You can now get a shared taxi from the ferry terminal to take you Playa Chiva, Playa Caracas, Sombe and Playa Negra's trail head. Get their telephone number and call them when you want to return. Should be about $10 per person each way.
Click on a placename below to view the location on Google Maps ...
PuertoRicoDayTrips.com assumes no responsibility regarding your safety when participating in the activities described in this article. Please use common sense! If your mother or that little voice in your head tells you that you are about to do something stupid … then don't do it!