Bacardi Rum Factory – Tour & Drinks
Update- Nov.30, 2017- Bacardi has reopened after the hurricanes! They are open and operating their tours as usual.
April, 2016 – Now the "Historical" tour and 1 welcome drink in a plastic Bacardi souvenir cup cost $15 . For $50, you get a "Historical tour" plus either a 4 premium Rum Tasting tour or for $60 the historical tour and a drink "Mixology" course tour with 3 mixed drinks. Nothing is free anymore

But there have been improvements to the whole place. Locals with ID get a discount.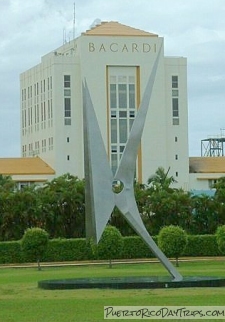 We took a trip to Bacardi Rum Distillery Tour to see the tour. I admit, the free drinks were also a draw for me! I have been on other sugar cane and rum tours on other islands and always enjoyed them. This was different, more of a tour about Bacardi that takes place at their factory, but not a factory tour. But it is generally entertaining.
Two things before we start:
it is freezing inside the tour building – I was happy to have a sweater with me!
bring the e-mail addresses of friends so you can send them a video e-card from the tour.
This is a run down of the tour we took: When we got to the Bacardi gate, we said we wanted to take the tour and the guard gave us a parking pass for the dashboard (it has rum drink recipes on the back!).
After parking, we walked into an open-air area — with the bar and chairs and tables set up. We stopped at the desk to the left and the Bacardi greeter gave us tickets for the tour (in either English or Spanish) and 2 free drink tickets per person. The tours are every 20 minutes (alternating English and Spanish). So there may be time for a drink before the tour, but no drinks are allowed on the tour, so drink fast — or wait and have the drinks after the tour.
Our tour was called quickly, so we boarded the tram. The driver talks a little about the company and a sculpture on the 1 minute drive to the tour building (we could have walked there!). The tour is not of the actual factory – but a new tour building. The tour is an hour of a glitzy, informative, entertaining commercial for Bacardi.
They start with some history of sugar cane in the Caribbean and the origins of rum making. Then there is a nice movie about the Bacardi family history, and the Bacardi rum making process. I love the music in that movie!
Next you go into a reproduction of the original factory and the guide tells you how the rum was made and shows you how it is stored in burned oak barrels. Then you can look at all sorts of old Bacardi family memorabilia – pictures, original bottles, documents and a section to smell the types of rums.
Then you go into a "bar" where a bartender shows you how to make Mojitos and a Cuba Libre. He also explains what Bacardi rums are available and how to use them. No samples here.

Then onto a neat section where they display all sorts of old Bacardi drink ads from magazines from the 1940′s to today – kind of cool! They also have computers available so you can send out a video e-card to friends at home. We made complete fools of ourselves and sent it out so everyone could get a chuckle!
Then back on the tram and a quick buzz past the actual factory where they tell you what is going on inside and then they whisk you back to the starting visitors center. Of course you get dropped off so you have to go through the gift shop. But the prices are about the same or better than in the supermarkets on the island, and they have all sorts of neat Bacardi clothes and accessories available. Also, some rums (Bacardi Reserva Limitada) are available at only a few places in PR, so they make nice souvenirs. (Note 6/10: Limited Reserva is now available at the Duty Free store in the airport for about $84).
The bartenders will make all sorts of mixed rum drinks or rum straight up. Don't forget to tip your bartenders- they really appreciate it!
All in all the tour takes about an hour and then we chilled out with the drinks for about another half hour, so it is a nice, free way to spend a half day. No pictures are allowed in most of the inside portion of the tour, but one can have your picture in front of Casa Bacardi!
Bacardi does not charge for the tour – it's free! The Historical Visitors Center tour and 1 drink costs $15. Other tours $60 Mixology , $50 Rum Tasting. You can buy tickets online or at the door. Kids under 18 are free and allowed on the "historical" Tour, but only 18 years and up are allowed on the other tours. Locals with ID get a discount on tours at the door.
The tours are available 7 days/week — Mon – Sat from 9 am – 6:00pm (last tour @ 4:30pm) and Sun 10am – 5pm (last tour @ 3:45pm). The Mixology tours are every hour on the half hour and the Rum Taasting Tour is every hour on the hour. Open 357 days a year- closed only 3 Kings Day (1/6), Good Friday, Easter Sunday, Mother's Day, Father's Day, Thanksgiving, Christmas Day and New Years Day
Allow 2 – 3 hours.
phone: 787-788-8400
website: www.casabacardi.org
Drink responsibly and Don't Drink and Drive.
Directions from San Juan – By car, get out of San Juan, go on Rt 18 until Highway 22 W, get off at the exit for Catano / Road 165. There is a little brown Bacardi sign. Take Road 165 until km 2.6 – follow the brown Bacardi signs. The Bacardi factory is visible on the right side just before the exit. You can also turn right at the light at Int 888 (it is in an industrial park area).
From Old San Juan – Take the ferry from Pier 2 to Catano, for $0.50 pp, each way. When you arrive in Catano, go to the right for a taxi to the factory for about $3.00 pp each way.
It should be about 20 min drive from the San Juan area.
You may be able to get some of the rum cheaper at the Duty Free store in the airport.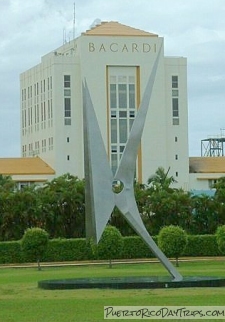 Le hicimosos una visita a la Planta de Ron Bacardí hace un tiempo atrás con el propósito de tomar su comentado tour. ¡Lo admito, las bebidas gratis son muy atractivas para mí! He estado en el tour de la caña de azúcar y otras visitas guiadas de rones en otras islas y siempre las disfrutamos mucho. Esta fue diferente, más que una excursión por una destilería, fue una visita guiada instructiva que trata mayormente de cómo se produce el Ron Bacardí allí en esa planta. La pasamos bien.
Dos cosas antes de empezar:
La temperatura en el interior del edificio es muy fría. – ¡Me alegro de haber llevado un suéter conmigo!
Lleve con usted las direcciones de correo electrónico de sus amigos para que les envíen tarjetas electrónicas con video de la excursión.
Resumiendo la gira, les comento que cuando llegamos a la entrada de la Bacardi, informamos que deseábamos tomar el tour e inmediatamente el guardia nos dio un pase para ponerlo en el cristal del carro en el estacionamiento. (¡Tiene recetas de diferentes mezclas de bebidas de ron en la parte posterior!).
Luego de estacionar el auto, entramos en un espacio al aire libre – había una barra, sillas y mesas. Nos detuvimos en la mesa de la izquierda y el representante de la Bacardi nos dio entradas para la gira (se pueden hacer en inglés o en español) y también nos dio dos vales por persona para ordenar bebidas gratis. Las salidas para el tour se hacen cada 20 minutos (las mismas se alternan). Este podria ser el momento adecuado para tomar una copa antes de salir a la próxima visita guiada, pero no se permiten las bebidas en el tour, así que debe beber rápidamente – o tomar las bebidas al final de la excursión.
Nos llamaron rápido y de inmediato subimos al tranvía para comenzar el tour. El conductor comenzó hablando un poco sobre la compañía y de una escultura que se encuentra en los predios y en un minuto llegamos al interior del edificio. (Creo que hubiese sido igual el haber podido caminar ese tramo tan corto). La excursión  no se hace en la planta real – sino en un edificio nuevo donde se llevan a cabo dichos tours. El recorrido es de una hora y es mayormente un vistoso y algo ostentoso comercial informativo del ron Bacardí.
Comienzan con un relato histórico sobre la caña de azúcar en el Caribe y los orígenes de la elaboración de rones. Entonces enseñan una película agradable sobre la historia de la familia Bacardí y el proceso de fabricación de su ron. ¡Me encantó la música de la película!
Luego vemos una reproducción de la destilería original y el guía indica cómo se hacía el ron y muestra la forma en que se almacenaba en barriles de roble quemado. Más adelante se pueden apreciar algunos artículos de la historia de la familia Bacardi – fotos, botellas originales, documentos y una sección para catar o distinguir los tipos de rones por medio del olfato.
Entonces te dirigen a un "bar" donde un camarero muestra cómo hacer mojitos y cuba– libres. También explican cuales son los rones que Bacardi tiene disponibles. No dan muestras en este momento.
A continuación, pasan a mostrar todo tipo de anuncios y comerciales de Bacardi de revistas desde la década de 1940 hasta la actualidad – bastante bueno. También pueden enviar un correo–electrónico a sus amigos. ¡Hicimos un poco el ridículo al enviarlo a todos nuestros amigos que supongo se habrán muerto de la risa!
Luego, de vuelta al tranvía y en un dos por tres pasamos por la destilería real donde te indican lo que está ocurriendo en el interior de la misma y luego te llevan de vuelta al centro de partida o sea, el centro de visitantes. Por supuesto que te dejan en un lugar donde tienes que pasar por la tienda de "souvenirs". Pero los precios son casi iguales o mejores que en los supermercados de la isla, y tienen todo tipo de ropa bonita de Bacardi y accesorios disponibles. Además, algunos rones (Bacardi Reserva Limitada) están disponibles en muy pocos lugares en Puerto Rico, por lo que podrían ser recordatorios  interesantes (Nota 6/10: Reserva Limitada ya está disponible en la tienda Duty Free en el aeropuerto por alrededor de $84).
Los camareros hacen todo tipo de bebidas mezcladas con ron. No te olvides de darles una propina. ¡Ellos te lo agradecerán mucho!
En total, el recorrido dura aproximadamente una hora y luego nos relajamos con las bebidas durante otra media hora, por lo que esta es una manera agradable, gratuita de pasar un día y medio. No se permiten fotos en el recorrido interior de la excursión, pero se pueden sacar fotos frente a la Casa Bacardí.
Recientemente hemos revisitado la fábrica de Bacardí y comprobamos que han remodelado completamente la tienda de regalos.
Bacardí no cobra por la gira – ¡es gratis! Nov 2014- $15. Sin embargo, si usted va con un operador turístico, le costará $ 40 por persona. Un precio excesivo y en mi opinión el recorrido no vale tanto.
Los tours están disponibles los 7 días – Lunes – Sábado de 9 am – 6:00 pm (última visita guiada @ 4:30 pm) y domingo 10 am – 5 pm (última gira @ 3:45 pm) Está abierto 357 días al año–cerrado sólo para el día de los tres Reyes Magos (01/06), Viernes Santo, Domingo de Pascua, Día de las Madres, Día de los Padres, Acción de Gracias, Navidad y Año Nuevo.
Separe 2 a 3 horas.
Teléfono: 787–788–8400
página web: www.casabacardi.org
Por favor, beba responsablemente. Si bebe no guie y si guía no tome.
Cómo llegar desde San Juan – En auto, a la salida de San Juan, tome la carretera 18 hasta la autopista 22 W, salgase en la salida de Cataño / carretera 165. Hay un pequeño letrero color marrón de Bacardi. Tome la carretera 165 hasta el km 2,6 – siga los letreros brown de Bacardi. La fábrica de Bacardi es visible en el lado derecho justo antes de la salida. También puede girar a la derecha en el semáforo de la Int. 888 (que se encuentra en una zona del parque industrial).
Desde el Viejo San Juan – Tome la lancha de Cataño en el muelle 2  ($0.50 por persona en cada trayecto). Al llegar a Cataño, diríjase a la derecha para tomar un taxi a la Planta de Bacardí ($3.00 por persona en cada trayecto).
Desde nuestra casa en Río Grande se tarda aproximadamente una hora y 15 minutos. Aproximadamente 20 minutos desde la zona de San Juan.
Usted podría conseguir algunos de esos rones más baratos en la tienda Duty Free del aeropuerto.
Use this map to locate places mentioned in this article. You can click on a placemark to view the GPS coordinates for that place.
PuertoRicoDayTrips.com assumes no responsibility regarding your safety when participating in the activities described in this article. Please use common sense! If your mother or that little voice in your head tells you that you are about to do something stupid … then don't do it!