Add a Little Jazz to your Weekend
Effective 27 March 2016, Ventana al Jazz moves to its new home at Bahia Urbana in Old San Juan.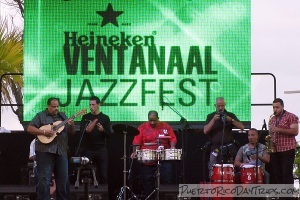 If you like Jazz, Condado is the place to be on the last Sunday of every month. That's when Heineken sponsors Ventana al JazzFest — a free, open-air jazz concert that is a great way wrap-up your weekend.
Bring a chair or a blanket, and make an evening of it — sitting under the stars, enjoying live jazz music, with a few hundred of your closest friends.
Where? When?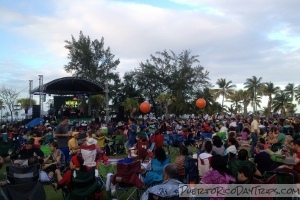 These concerts are held the last Sunday of the month at the Ventana al Mar park on Ashford Avenue, next door to La Concha Resort in Condado. The music starts at 5pm (on island time) and runs until 10pm or so.
The bands vary by month — some are just music, some have vocals. Most of the songs and talking by the bands will be in Spanish, but the music transcends language barriers. It is what I would call Puerto Rican jazz … mixing of Puerto Rican instruments with the jazz rhythm.
And did I mention it's free?
Casual & Family-friendly
The Ventana al Mar park is a grassy field between Ashford Ave and the Atlantic Ocean. This is a casual family event, so dress comfortably, and leave the high heels at home. Bring chairs if you have them, as there are only a few places to sit (benches, steps, etc).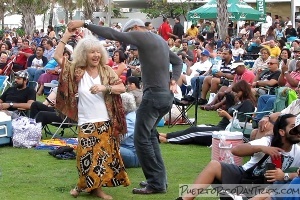 There were a number of vendors selling food and various drinks (alcoholic and otherwise). There are bathrooms (porta-potties) available, but you may want to bring your own TP, just in case.
Traffic was heavy driving into the area from Route 26 even before 4pm. By the time we got there, there were already people claiming their spot on the lawn. There are a few parking decks and lots in the area.
We suggest you come in from the west (from the direction of Old San Juan), park when you find an open lot, and then walk. You will avoid a lot of annoying traffic.
New Monthly Jazz fest in Mayaguez.
There is also now a monthly Jazz al Litoral in Mayaguez. Every third Sunday @ 6:30pm, live Jazz performances. Presented free at el Paseo del Litoral in Mayaguez. Personal coolers are NOT permitted.
The annual Heineken Jazz Fest is usually at the end of March.
The annual Heineken Jazz Fest, at the Tito Puente Amphitheater in San Juan, will held March 17-20, 2016. Visit the Heineken Jazz Fest web site for more information, or check our Calendar of Events for dates.
Use this map to locate places mentioned in this article. You can click on a placemark to view the GPS coordinates for that place.
PuertoRicoDayTrips.com assumes no responsibility regarding your safety when participating in the activities described in this article. Please use common sense! If your mother or that little voice in your head tells you that you are about to do something stupid … then don't do it!