Puerto Rico's 2016-2017 Winter Baseball League
The 2016-2017 season starts 27 October 2016! First game will Caguas Criollos vs Carolina Gigantes at Roberto Clemente Stadium in Carolina.
Though you may not be able to buy "peanuts and cracker jack", a baseball game in Puerto Rico is an economical and fun evening out. Every winter (from November through January), baseball heats up on the island. Not only do we have local players on the teams, but some of the US league players come down to keep in shape and play in their off-season.
So, if you are having baseball withdrawal, catch a game while you're here — I don't think you'll be disappointed.
Local League & Teams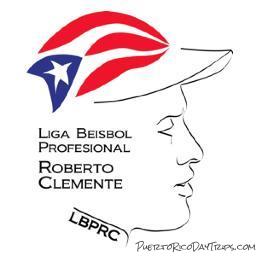 For over 70 years, Puerto Rico has had its own baseball league. A number of the local athletes that have played in our league have gone onto bigger things, like the Major and Minor leagues in the States, and other divisions and leagues around the world.
The main professional baseball league in Puerto Rico is the Liga Beisbol Profesional Roberto Clemente (Roberto Clemente Professional Baseball League) — @LBPRC on Twitter and LBPRC on Facebook. Previously, the league was called Puerto Rico Baseball League. Before that, the league was called La Liga de Béisbol Profesional de Puerto Rico (Professional Baseball League of Puerto Rico). If you search the internet for info on this league, you're likely to find it under any/all of those names.
The winners of this league go on to participate in the Caribbean World Series.
2016-2017 Schedule, Teams and Venues
The 2016-2017 baseball season starts on 27 October 2016. This season, there will be 5 teams from around the island playing in the league.
The teams in the league this year are:
There will be 99 games played throughout the season. The last games should be 30 December 2016, unless weather extends the season. Then the Semifinals will start 03 January 2017 and end by 12 January 2017, at which time, the Playoffs will run, and finish up by 26 January 2017.
The Roberto Clemente Baseball League game schedule and is available on the Major League Baseball web site. The location is at the stadium of the second team (ie- Cag-Agu is at the Aguadilla stadium). The scoreboards for the Roberto Clemente Baseball League games are also available on the MLB web site.
The home stadiums for each of the teams are
Los Gigantes de Carolina — Roberto Clemente Walker Stadium in Carolina
Los Criollos de Caguas — Estadio Yldelfonso Solá Morales in Caguas
Los Indios de Mayaguez — Estadio Isidoro "El Cholo" García in Mayaguez
Cangrejeros de Santurce — Hiram Bithorn Stadium in San Juan
Tiburones de Aguadilla — Luis A. Canena Marquez Stadium in Aguadilla
The game start times:
Games start at 7:15 pm during the weekday, 4:00pm on Saturdays and 4:15pm on Sundays, but check schedule to make sure.
Tickets are inexpensive, usually about $10 for the best seats in the house (varies by stadium) (though San Juan stadium is a little bit more), regular seats are a few dollars less and tickets for kids and seniors are super discounted. Food and drinks are available for purchase at each stadium.
Take Me Out to a Ball Game
I am not a huge baseball fan, but I can follow along. We went to a game at the Estadio Roberto Clemente Walker in Carolina a couple seasons ago.
My first observation is that not all that many people go to the games. I really don't understand why not! Since there were so few spectators, we got a great parking spot and great seats. My second observation is that it is really a bargain! Parking was only $2.00. Back then, adult tickets range in prices from $4.00 to $10.00. Kids are half-price. And, honestly, I didn't see anyone checking tickets once you got into the stadium. So I bet (especially on slow nights) you could buy the cheapest tickets and move to any seat in the stands. We paid for the "best" seats (a whole $6.00 each) and sat in the front row along the first base line.(New info- 2015/16- free admission at Carolina!)
If I had to guess, I'd say there was a maximum of 150 spectators in the whole stadium. I think the stadium can hold about 12,000 people. As you can see in the pictures, it was empty!
One odd thing that I noticed was that, with the exception of a few enthusiastic fans, the crowd was pretty quiet. But this game, which lasted about 3 hours, had its share of exciting moments. The pitchers did a great job. Two batters actually splintered their bats. A number of foul balls went up into the stands. The best moment was when a batter hit the ball out of the park with the bases loaded — a grand slam that cinched the game!
The game was a really family friendly experience. Besides the great ticket price, the players are really friendly.
Kids would hang out by the dugout and occasionally, as the catcher was walking back after an inning, he would throw a ball up to the kids.
As the players came off the field between innings, they would wave or smile to the kids, or even talk/gesture to the spectators cheering them on (or heckling them!).
We had guests staying in our rental home that went to the stadium hoping to catch a game in late October. Since it was before the season started, they ended up sitting in on a practice session. After practice, some of the players spent some time talking with the kids and gave them an autographed baseball. Really nice!
The Roberto Clemente Walker Stadium
The stadium is big, beautiful and well-maintained. It has the typical big-screen scoreboard, so you could see the score and who was pitching and batting.
The snack bar had reasonably priced food and beverages, with some typical Puerto Rican food (like plantain chips and pinchos), some regular ballpark fare (like popcorn, hamburgers and hot dogs). The local Medalla beer was $2/glass, and the beer guy came around every 15 minutes or so. There was even a bar for mixed drinks, with a waitress to bring them to you if you didn't want to get up and risk missing the action. The bathrooms were plentiful and clean (well last time I went they were "sort-of" clean!).
There were security guards around, but there were no issues that needed them. There was plenty of parking (and close to the stadium entrance since there were so few spectators).
The Details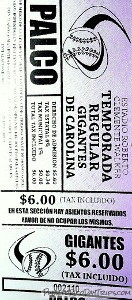 2016/2017 – Again this year, the Tickets are FREE at Carolina Roberto Clemente Stadium! You can't lose … it's a fun-filled night for free! For other stadiums/games – The cost of tickets varies between $5.00 to $17.50 for adults. Children get a 50% discount on the general and preferred tickets. There was a VIP ticket window (I assume for box seats) but I did not see the price. Tickets can be purchased at the Boleteria (ticket window) at the stadium.
Game times vary by day of week and stadium, so make sure to check the schedule for start times. And. they seem to start on time, so don't be late!
Bring an umbrella with you. The season is during a wet time of year, so showers come and go. The game we went to continued through a light rain. Many people got up and moved to covered sections of the stands during the showers.
I don't know if it is allowed or not, but no one checked our bag for food or beverages. I assume you could try to bring something in with you, though the prices were not outrageous at the park for the snacks and drinks they offered.
Use this map to locate places mentioned in this article. You can click on a placemark to view the GPS coordinates for that place.
PuertoRicoDayTrips.com assumes no responsibility regarding your safety when participating in the activities described in this article. Please use common sense! If your mother or that little voice in your head tells you that you are about to do something stupid … then don't do it!