Spend a Half Day on an Exciting Zipline Tour in El Yunque
In the past, if you wanted to go ziplining here in Puerto Rico you had to go to the Río Abajo Forest, Toro Negro Forest or La Marquesa Forest. But that's all changed now.
In March 2009, Yunke Zipline Adventure opened for business in the foothills of El Yunque National Forest close to many areas that are on most visitors' must do list. Since then, a couple other zip lines companies have opened in the area, but this one is still our favorite.
For those of you that haven't been on a zipline before — a zip line canopy tour allows you to sail from tree to tree and platform to platform on a network of horizontal cables that are mounted above the tropical forest floor. We think it is really a lot of fun!
I can't tell you how excited I am about the location of this new zip line! The Yunke Zipline Adventure and canopy course is located just up the next road from the El Yunque National Forest. It is set on a beautiful, 28-acre piece of land, high up in the Luquillo mountains. Easy to reach, super fun and when you are done, there is still have time to do other stuff in the nearby area!
Getting Started
We met our guides Jaime and Roqui (pronounced ROW-key) at their meeting place on Road 992 in Luquillo at 9:00am. After everyone for our group showed up, we followed them for a 4-minute drive to the base camp for their operation.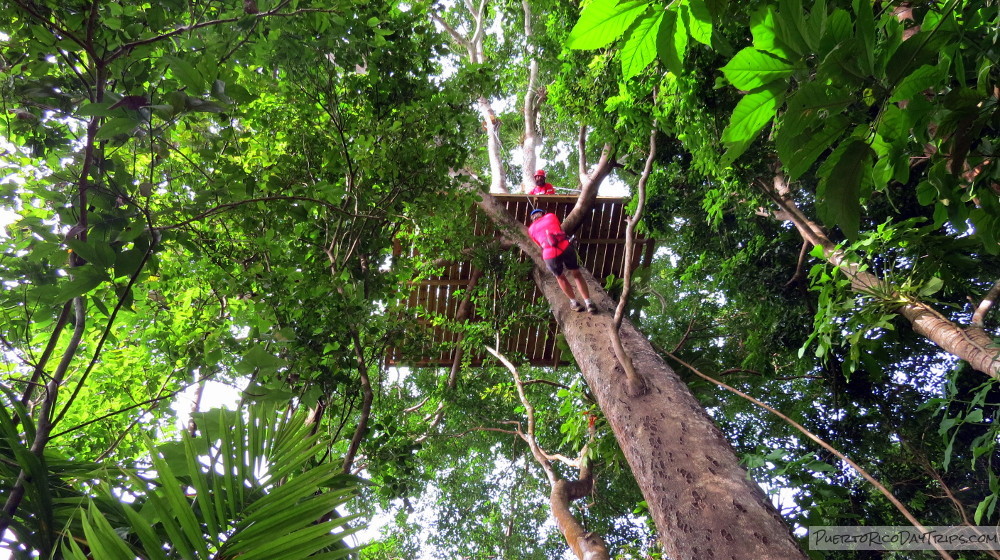 They have a house that they use to store their equipment. That's where you sign the required waivers, get geared-up, and receive the initial briefing on what you'll be doing over the next couple hours. There's also a restroom in the house, which I suggest you use since you won't see it again for 3 hours!
As our guides were getting our gear ready, I walked around at the property. It is in a beautiful location, with great views of El Yunque, and it is full of tropical fruit trees and plants.
After a little while, Jaime and Roqui got us all together and told us a little about themselves and the zip line adventure we were about to take. These two local guys had many years of experience doing zip line adventures with other companies on the island before deciding the north-east could use an adventure course, so they decided to strike out on their own. Note- 1/14- Since then, Jaime has left and Roqui owns the company and has other great guides working with him.
Roqui explained the equipment we would be using that day and how safe it really is. During your adventure, you will be wearing a harness (that attaches you to the cable system), helmet and gloves. Between the harnesses, carabiners, double zipline cables, a safety clip when you are on the platforms, and these guys watching out for you each step of the way, you are covered.
These guides have a great sense of humor. They made everyone feel at ease and were great about answering everyone's questions. When we were all ready, they handed out the gear and helped us into our harnesses. Then off we went. Our group was a family of 3, and me and Ray.
Our Adventure Begins
Zip lines work with gravity — they start at a high point and go downhill — so you know what that means … at some point you will be walking up hill. But they have recently redesigned their course and now the first 2 zip lines are just steps away from the house!
At the first platform, Roqui re-instructed us about the zip line, our equipment, how we should land on the platforms and the safety practices they would be following. Their zipline course uses double slack cables, which operates a little differently than other zipline courses that use tighter cables. It was nice to know that the maximum weight limit they allow had nothing to do with the maximum weight the lines can hold — Roqui said one cable could hold a small car! They use double lines because it is psychological — people feel more comfortable with 2 lines!
Anyway … about those slack cables. This means they are not tight. So you start off quickly and then slow down as you approach the next platform, without having to use your hand as a brake. Or on the really fast lines they use a friction brake, which slows you down enough to stop easily. All you have to do is get your feet on the next platform, and then take a step or two until you stop (or they stop you). They always had someone on each end of the line — one to hook your harness safely onto the ziplines and one on the other to unhook your harness from the ziplines and clip you onto a safety (so you can't fall from the high platforms). And it really requires no work from you at all. As you zip through the forest, you are actually sitting in your harness. All you have to do is to convince yourself you are ready for an adventure and step off the platform!
The Zipline Course
Their course has 5 ziplines, with a rappel from the last tree. And these are no short little rides- these are long 500 feet or longer and the last line is the longest — about 850 feet. So this means more time on the lines zipping and less time just waiting to get clicked on and off the lines. And the views from the ziplines and platforms are fantastic! You fly out of the forest and get an amazing view of the northern limit of El Yunque National Forest and El Yunque & Este peaks.
The rappel is assisted, which means they hold the rope (using a hand brake) and control the speed of your descent (so you can't mess up and fall). The platform in the last tree you descend from is pretty high up (about 80 feet), so you have a nice trip down — walking down the tree sideways!
Zip lining is fast and fun and exhilarating! The "dad" in our group was afraid of heights — but he did great. He said he normally wouldn't do this, but since his son wanted to (for his birthday), he faced his fears and did it. What a nice dad! So, if he can do it, I think, so can you. I like to do something that gets my heart pumping! What an adrenaline rush, stepping off the platform and flying through the air!
The Nature Experience
After the 3rd line, the next part of the adventure is walking through the forest (some of it uphill). The walk can be slippery/tricky in parts, but there are ropes to hold onto and the guys let you take your time and help you if you need help. And also, as you do these types of adventures, they are team building experiences, you cheer each member of your group on ad help them through the tough parts. Everyone did fine, even the older guy with bad knees. Roqui is a biologist, so he made frequent stops and pointed out all sorts of interesting things. Roqui knows so much about the nature on the island — every time a bird chirped, he would identify it for us. He pointed out the fruit and veggies growing on the farm. He showed us the wild plants that grew along the way and their uses. He could spot all sorts of amazing things — bird nests, lizards, a spider exoskeleton, the jaw bone of an iguana, a small scorpion — and tell us about each one of them. Throughout the entire trip, they told us all about Puerto Rico, from how the island was formed, to giving restaurant suggestions!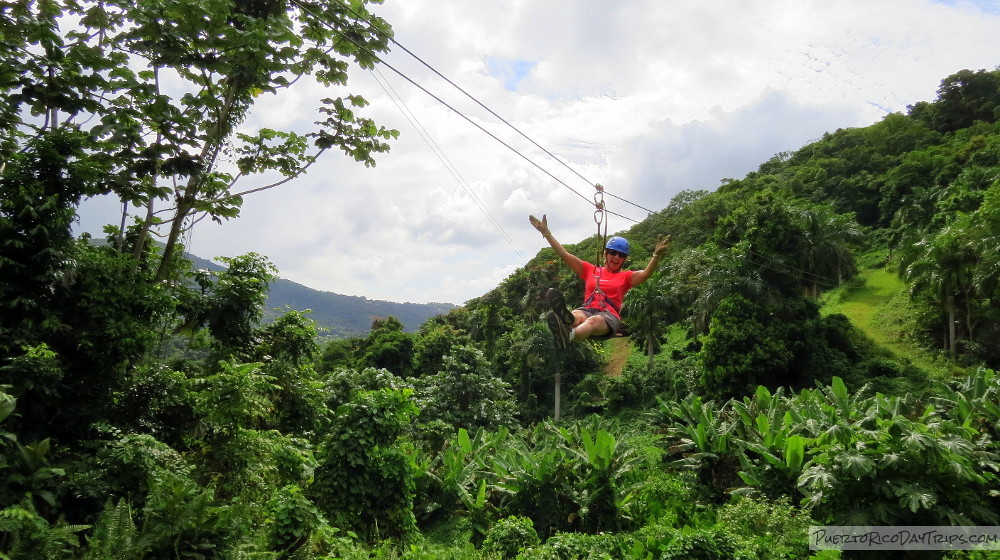 They also pointed out different trees in the forest and told us about how they were used by the indigenous people and their use today. They even told us about an old-time local game the kids played with seeds from the stinky toe pod. Roqui found a pod, and opened it — yes, it smelled bad! — and showed us the hard seeds inside, which he kept for his nephew, so he could keep the game alive in this next generation on kids.
One really cute thing is there is a little green anole lizard that waits for the guys on the last platform. He has been there for years and when he hears/feels the vibrations of the zipline being used on his tree, he runs down to meet them. Every day they bring him some fruit to eat, like paying the toll to use his tree! Honestly, we think the guys at Yunke are great. It was easy to see that they love the land and culture of Puerto Rico, and want to preserve it and educate people about it. And provide a fun and safe adventure for everyone.
And That's Just Half of Your Day!
Because of its location, one can experience all the fun and excitement of this zipline course and still have lots of time left to visit the rain forest, Balneario Monserrate in Luquillo, the biobay (kayaking in Laguana Grande in Fajardo or swimming in Mosquito Bay in Vieques), or any of the other great activities that are available in the north-east part of Puerto Rico.
Hints, Tips & Other Info
You need to be of moderate physical ability — there are some steps up each platform and a walk in the woods (some of it up hill) in the middle of your adventure. Closed-toe shoes are required. We recommend wearing longer shorts (no short-shorts) or light-weight pants. Bring water. Bring a small backpack for 1 person in your group (to hold your bottles of water, camera, etc). They do this trip rain or shine.
Normally, when we review an activity that is not free to the public, we pay the admission price out of our own pockets. However, we just want you to know that the guys at Yunke Zipline Adventure were kind enough to offer us this trip for free. While we don't feel that this free ride influenced our review one way or the other, we felt that we should tell you, just as a matter of fact.

The Details
The cost is $105/person (tax included), in cash or check (no credit cards). Maximum of 15 participants per session.
If you're happy, let them know it — Don't forget to tip your your bartender, tour guide or trip operator if you enjoyed yourself. Gratuities are appreciated and typically aren't included in the price they charge you.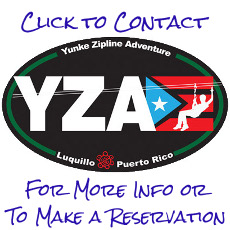 They do this trip twice/day (at 9:00am and 2:00pm) 7 days/week.
Open to participants 10 years old and up. Children between the ages of 10 to 18 must be accompanied by a parent or guardian. Participants should weigh between 70 to 230 pounds (200 pound limit for women).
Allow 3 to 4 hours.
Call 787-242-3368 for more information or to make a reservation. They will eventually respond to email, but if you want to do this in the next few days, it's better to call.
You can visit their web site for more information.
Take Route 3 to the Luquillo area. Then pick up Road 992. The meeting point is at the basketball court at KM 4 on Road 992.
Yunke Zipline Adventure is about a 45 – 60 minute drive from the San Juan area.
En el pasado, si usted deseaba hacer zip–line en Puerto Rico tenía que ir al Bosque de Rio Abajo, al Bosque de Toro Negro o a La Marquesa. Todo eso es parte del pasado.
En marzo de 2009 Yunke Zipline Adventure abrió en las inmediaciones del Yunque muy cercano a otras áreas turísticas y atracciones que toda persona debería disfrutar en Puerto Rico.
Para aquellas personas que no han hecho zip–line  antes — esta es una aventura que le permitirá deslizarse de un árbol a otro y de una plataforma a otra mediante una red de dobles poleas y cables horizontales montados entre 10 y 80 pies de altura por encima del suelo del bosque tropical. ¡Nos pareció muy divertido!
Usted no tiene idea de lo emocionado que estoy sobre la ubicación de esta nueva aventura de zip–line. (!) El Yunke Zipline Adventure and Canopy Course está ubicado en la próxima carretera luego de pasar la carretera del Bosque Nacional del Yunque. Esta situado en una bella área de 28 hectáreas de terreno, por encima de las montañas de Luquillo. Fácil de llegar, divertidísimo y cuando finalice todavía podrá realizar otras actividades en el área circundante. (!)
COMENCEMOS
Conocimos nuestros guías Jaime y Roqui en su lugar de encuentro en la Carretera 992 en Luquillo a las 9:00 am En cuanto todos los integrantes del grupo llegaron al lugar, los seguimos, conduciendo el auto por 4 minutos más hacia su campamento o base de operaciones./p>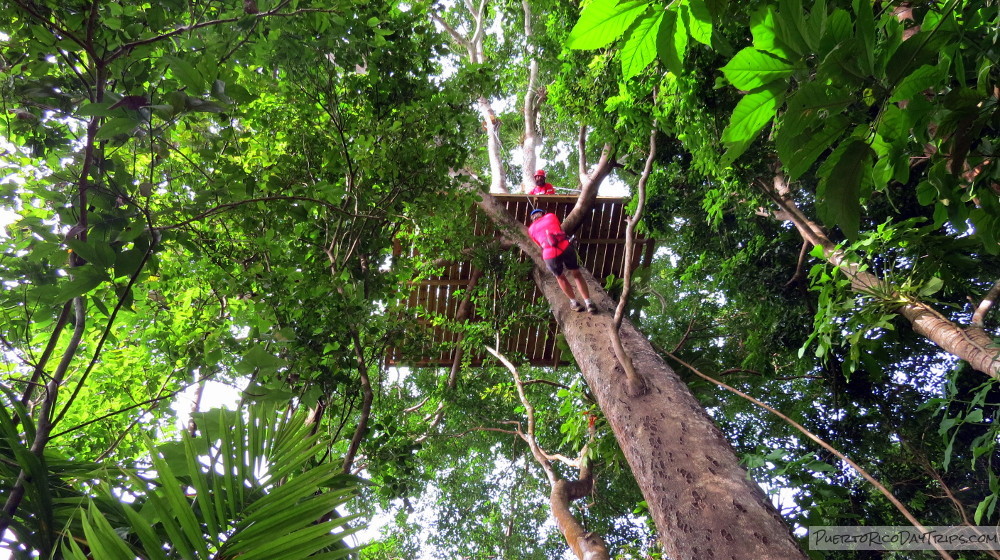 Tienen una casa la cual utilizan de cuartel para almacenar su equipo. Allí se firma la papelería necesaria para llevar a cabo la excursión, entregar los materiales y comenzar el pre–adiestramiento para que uno tenga una idea de lo que se hará en las próximas horas. Hay también servicios sanitarios en la casa los cuales recomiendo use de inmediato ya que no habrá estas facilidades en las próximas 3 o 4 horas. (!)
Mientras Jaime y Roqui preparaban el equipo, caminé por la propiedad. Está ubicada en un sitio muy bonito, con grandes vistas del Yunque y allí abundan los arboles frutales y gran variedad de plantas.
Luego de un ratito, Jaime y Roqui, nos reunieron para hablarnos un poco acerca de ellos y de la aventura que estábamos a punto de emprender. Estas dos personas (junto a una tercera, Jorge, el cual no pudo estar allí debido a que su hijo estaba enfermo ese día) tienen muchos años de experiencia haciendo aventuras de zip–line con otras compañías en la isla. Luego de trabajar con esas compañías en diferentes partes de la isla, decidieron independizarse para abrir su propia compañía en el noreste de Puerto Rico.
Roqui nos explicó sobre el equipo que íbamos a usar ese día y de lo seguro que este es. Durante la aventura, la persona usará un gancho o arnés (el cual se enganchar al sistema de cables o cuerdas), cascos y guantes. Entre los arneses, los mosquetones, las cuerdas dobles, el clip de seguridad de las plataformas y la vigilancia de los guías paso a paso durante todo el trayecto, usted se sentirá seguro y protegido.
Ambos hombres poseen un gran sentido del humor. Ellos nos hicieron sentir seguros y contestaron todas las preguntas del grupo. Cuando ya estábamos listos, nos dieron el equipo y nos ayudaron a colocarnos en los arneses. Nuestro grupo era solamente una familia de 3 miembros, Ray y yo.
EL COMIENZO DE NUESTRA AVENTURA
Las cuerdas o cables de zip funcionan con la gravedad — comienzan en lo alto y van descendiendo — así que ya tendrán una idea… La primera parte de la aventura consiste en caminar hacia lo alto de la colina. La caminata hacia la primera plataforma es de 0.8 millas. Pero resultó que Roqui, siendo biólogo,  nos detuvo en varias ocasiones para señalar varios aspectos interesantes del bosque (luego hablamos de eso) y nos dio la oportunidad de recuperar las fuerzas para continuar la trayectoria.
En la primera plataforma, Roqui repasó los conocimientos de zip–line con el grupo, el equipo que se usa, como debíamos aterrizar en las plataformas y las prácticas de seguridad que tomaríamos. En la trayectoria de esta aventura utilizan cuerdas flojas contrario a otras compañías de zip–line las cuales utilizan las cuerdas más tensas. Fue reconfortante saber que el límite del peso máximo por persona no estaba relacionado con el peso máximo que las cuerdas pueden soportar. Roqui también nos indicó que un cable puede sostener el peso de un auto pequeño (!) Ellos usan líneas dobles porque así las personas se sienten sicológicamente más seguras. (!)
De todas maneras… hablemos de estas cuerdas flojas las cuales no están bien apretadas. Esto hace que se comience el deslizamiento rápidamente y que se detenga paulatinamente al aproximarse a la próxima plataforma sin tener que usarse la mano para frenar. Todo lo que hay que hacer es poner los pies en la plataforma y luego dar un par de pasos para parar en ella o sino ellos mismos te detienen. Siempre tienen alguien al final de cada línea– uno engancha tu arnés a la cuerda y el otro lo desengancha de ésta para que no te vayas a caer de la plataforma. Todo se facilita de esta manera. Mientras usted se va deslizando por el bosque, permanecerá sentado en su arnés. Todo lo que se necesita es la convicción y el valor para disfrutar de la aventura al deslizarte de una plataforma a otra. (!)
LA TRAYECTORIA DE ESTE ZIP–LINE
En su trayectoria hay 7 cuerdas zip con 3 rápeles de asistencia en el camino. Las últimas cuerdas zip son las más largas de todas, siendo la última la más extensa con aproximadamente  850 pies. ¡Las vistas desde este trayecto son fantásticas! Con el deslizamiento desde ahí  se puede apreciar un paisaje increíble del límite norte del Bosque del Yunque, de las torres el Yunque y el Pico del Este.
Los rápeles son asistidos, lo que significa que sostienen la cuerda (con un freno de mano) y controlan la velocidad de su descenso (por lo que no podrán romperse ni caerse). La plataforma del último árbol desde donde se desciende es bastante alta (cerca de 80 pies) así que se tiene un excelente descenso – bajando por el lado del árbol (!)
¡El hacer zip–line es un proceso rápido, divertido y exhilarante! El "papá" de nuestro grupo tenía temor a las alturas – pero hizo una excelente labor. Nos dijo que normalmente no hubiese llevado a cabo esta actividad, pero su hijo estaba muy entusiasmado en hacerla ya que era su cumpleaños. El enfrentó sus temores y lo logró. ¡Tremendo padre! Así que si él lo pudo lograr estoy segura que usted también podrá. A mi me gustan estos retos de adrenalina como lo es saltar de la plataforma y comenzar a volar por el aire. (!)
LA EXPERIENCIA CON LA NATURALEZA
Ambos, Jaime y Roqui, aman su isla. A través de toda la excursión, nos relataron todo sobre Puerto Rico, desde el proceso de formación de la isla, hasta sugerirnos los mejores restaurantes del área. Roqui conoce muchísimo acerca de la naturaleza de Puerto Rico – cada vez que un pajarito gorjeaba, él nos lo identificaba. Señaló las frutas y vegetales que crecen en la finca, nos mostró las plantas silvestres con las que nos topamos y nos explicó sus diferentes usos. El podía identificar toda clase de cosas – los nidos de los pájaros, los lagartijos, el esqueleto externo de una araña, un hueso de la quijada de una iguana, un pequeño escorpión – y nos habló acerca de cada uno de ellos.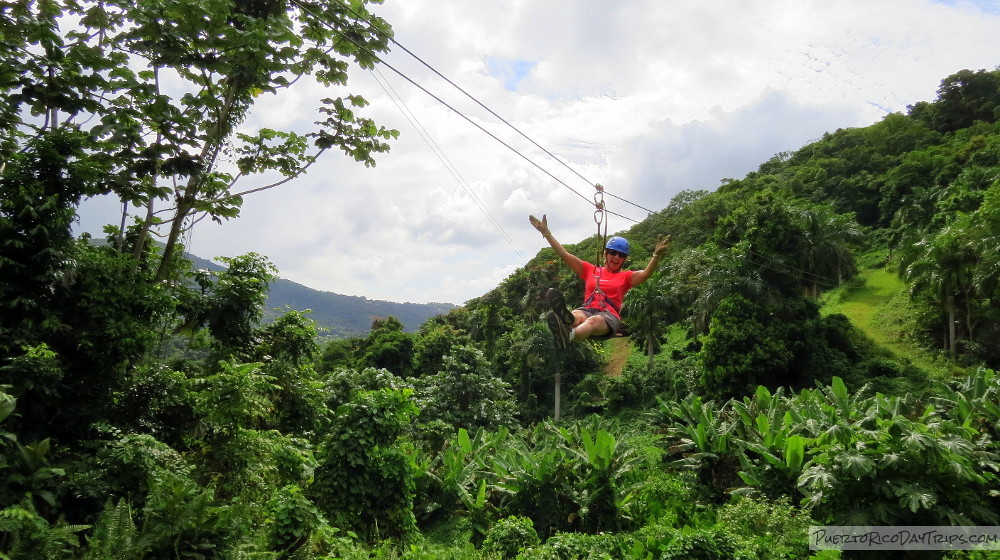 También identificaron algunos árboles en el bosque y nos relataron cómo los indígenas los utilizaban y el uso que se la da a los mismos en la actualidad. Nos hizo un cuento sobre un juego que jugaban los niños de la isla en el pasado.  Consistía en jugar con las semillas mal olientes de una vaina. De hecho, Roqui busco esa vaina, la abrió y ciertamente olía mal. También nos mostró la dura semilla extraída del interior de la vaina, la cual guardó para que su sobrino jugara con ella y así mantener viva la tradición para las próximas generaciones de niños.
Como una nota al calce — Estos guías cuidan y conservan el bosque. Ellos corren las cuerdas entre árboles grandes e hicieron las plataformas suspendiéndolas por encima de los mismos — fueron muy cuidadosos de no dañar los árboles con tornillos o clavos. Algunas de estas plataformas son realmente altas así que no debe haber sido fácil diseñar y construir este trayecto. (!)
Me impresionaron mucho ellos y el trabajo que han hecho. Es notable reconocer su amor por la tierra y la cultura Puertorriqueña. Ellos quieren conservar la tierra y educar a la gente mientras proveen una aventura segura y divertida para todos.
¡ASI PASAMOS MEDIO DIA!
Debido a su localización, uno puede experimentar toda la diversión y excitación de este zip– line y todavía disponer de tiempo para visitar el Yunque, el Balneario Monserrate en Luquillo, la Bio bahía (Hacer kayaking en Laguna Grande en Fajardo o nadar el la Bahía Mosquito de Vieques) o realizar una de tantas actividades disponibles en el área noreste de Puerto Rico.
SUGERENCIAS, CONSEJOS Y OTRA INFORMACION
Necesita estar moderadamente en forma — hay una caminata de 0.8 millas (hacia lo alto) al comienzo de su aventura. Se recomienda llevar zapatos cerrados, usar unos pantalones bermuda o unos pantalones largos ligeros. Traiga agua, una mochilita para que una de las personas de su grupo sostenga las botellas de agua, la cámara, etc. Recuerde que ellos realizan esta excursión truene, llueva o ventee.
Normalmente, cuando escribimos una reseña sobre una actividad no gratuita para el público, pagamos la admisión de nuestros propios bolsillos. De todas maneras, me gustaría indicarle que las personas del Yunke Zipline Adventure fueron muy gentiles al permitirnos entrar al museo gratuitamente. Aunque la admisión gratuita no influyó en nuestra reseña, queríamos dejárselo saber.

LOS DETALLES
El costo es de $105 por persona. Los residentes de Puerto Rico (con identificación como por ejemplo la licencia de conductor), tendrán un 20% de descuento los domingos.
Si le gustó, déjeselos saber – No se olvide de dar propina si disfrutó de la excursión. Las propinas siempre son apreciadas y usualmente no están incluidas en el precio de admisión.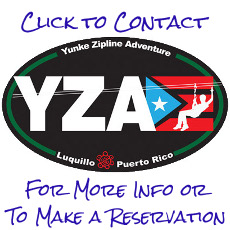 Este tour se ofrece dos veces al día (a las 9:00 am y a las 2:00 pm) 7 días a la semana.
Se admiten participantes desde 10 años en adelante. Los niños 10–18 años deben estar acompañados de su padre o de un guardián legal. Los participantes deben pesar entre 70 y 230 libras (200 libras si es mujer).
Disponga de 3–4 horas para esta actividad.
Para mayor información o para reservaciones llame al 787–242–3368. Pueden enviarles un e–mail y ellos eventualmente le contestaran el mismo, pero si desea hacer la excursión de inmediato, es mejor llamarlos por teléfono.
Para más información puede visitar su página web.
Tome la carretera # 3 hacia Luquillo y luego tome la carretera 992. El sitio de encuentro es la cancha de baloncesto del KM 4 en la carretera 992.
Yunke Zipline Adventure queda de 45–60 minutos del Área Metropolitana.
Use this map to locate places mentioned in this article. You can click on a placemark to view the GPS coordinates for that place.
PuertoRicoDayTrips.com assumes no responsibility regarding your safety when participating in the activities described in this article. Please use common sense! If your mother or that little voice in your head tells you that you are about to do something stupid … then don't do it!