Puerto Rico at the 2012 Summer Olympic Games
If you're looking for information about Puerto Rico at the 2016 Summer Games of the XXXI Olympiad in Rio de Janeiro, please refer to this other article we've written about the 2016 Summer Olympic Games.
The 2012 Summer Olympic Games have drawn to a close. In the end, Puerto Rico's athletes garnered 2 medals. We are very proud of all of the athletes who represented Puerto Rico in London, whether they won a medal or not. Just being an Olympic Athlete is an achievement in itself!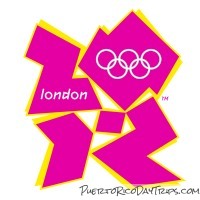 Let the Games begin!
As we all know by now, the 2012 Summer Games of the XXX Olympiad are being held in London from 27 July to 12 August.
For 16 days, over 10,000 athletes representing 204 countries will compete in 36 different sporting categories.
Puerto Rico will be represented by 25 athletes at these Olympic Games. They will be competing in Athletics, Boxing, Gymnastics, Judo, Shooting, Swimming, Weightlifting, and Wrestling.
We're compiling a collection of PR-specific video highlights down toward the bottom of this article.
Puerto Rico's Olympic Heritage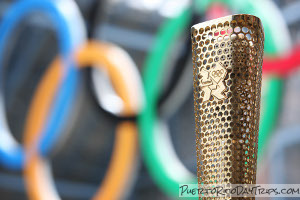 Puerto Rico has been competing under its own flag in the Summer Olympics since 1948, and in the Winter Olympics since 1984.
Prior to the 2012 Summer Olympic Games, Puerto Rico's athletes have garnered 1 Silver and 5 Bronze medals, all in boxing.
Juan Venegas won Bronze in 1948 in London
Orlando Maldonado won Bronze in 1978 in Montreal
Luis Ortiz won Silver in 1984 in Los Angeles
Arístides González won Bronze in 1984 in Los Angeles
Aníbal Acevedo won Bronze in 1992 in Barcelona
Daniel Santos won Bronze in 1996 in Atlanta
Javier Culson won Bronze in the Men's 400m Hurdles in 2012 in London
Jaime Yusept Espinal won Silver in Men's 84kg Freestyle Wrestling in 2012 in London
Olympic Training in Puerto Rico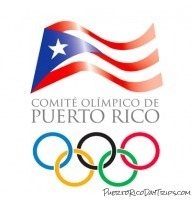 The Comité Olímpico de Puerto Rico (COPUR) (Puerto Rico Olympic Committee) is the National Olympic Committee for Puerto Rico. Founded in 1948, it is the official voice of the island to the International Olympic Committee. COPUR oversees Olympic sports on the island, and it selects the teams that will represent Puerto Rico in the Olympic Games. Its headquarters are in Casa Olímpico (which is the YMCA building) in Old San Juan.
The primary Olympic training facility in Puerto Rico, operated by COPUR, is the Albergue Olímpico (Olympic Hostel). Located in Salinas, the Albergue Olímpico was founded in 1983, as a training center for highly competitive athletes. The primary mission of the Albergue is to "build positive and educated minds in healthy bodies that are able to create new expectations of life".
Today, it serves as a training facility, as well as a public use athletic, recreation, and activity center. It has facilities for shooting, mountain biking (MTB), cycling, boxing, swimming, gymnastics, martial arts, baseball, soccer, and track & field events. For recreation, it has a water park, a children's water park, rock-climbing walls, miniature golf, a botanical garden, and a museum.
Puerto Rico's 2012 Summer Olympic Medals
To date, Puerto Rico's athletes have won a total of 2 medals in the 2012 Summer Olympic Games. The last time Puerto Rico won two medals in one Olympics was back in 1984 at the Summer Olympics in Los Angeles. The medals in 2012 were the first medals won by Puerto Rico in non-Boxing events.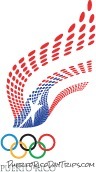 | | | |
| --- | --- | --- |
| | Gold medals | 0 |
| | Silver medals | 1 |
| | Bronze medals | 1 |
Tommy Ramos Rings Qualification 28 Jul 2012
Puert Rico in the Parade of Nations 27 Jul 2012
Puerto Rico's Athletes in the 2012 Summer Olympics
Images used in this article are credited to London 2012 and Comité Olímpico de Puerto Rico (COPUR).
Source material for this article included the London 2012 web site, the Comité Olímpico de Puerto Rico web site, Wikipedia.org, as well as other sources.
Click on a placename below to view the location on Google Maps ...
PuertoRicoDayTrips.com assumes no responsibility regarding your safety when participating in the activities described in this article. Please use common sense! If your mother or that little voice in your head tells you that you are about to do something stupid … then don't do it!