Explore Arecibo Beaches – Miles of Sand and Great Views
Be careful where you park at Poza del Obispo because the sand can be very loose in areas. Park only on packed sand or you can easily get stuck in sand.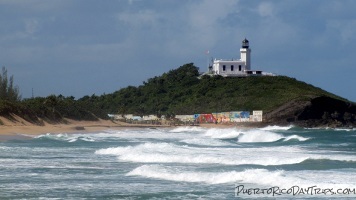 Our regular readers know that I really enjoy the views of the north coast of Puerto Rico, so it should come as no surprise that I'm writing another "north coast lovefest".
For a great drive along the north coast, take Road 681 in Arecibo instead of Route 2 or Route 22. This coastal road allows you to stop off and enjoy a number of amazing views and beaches. While the Atlantic Ocean can be too rough to swim during much of the year, it provides a great backdrop for a nice afternoon or quick stop by the beach.
On a recent ultralight flight over the area, we saw a small ocean "pool" near the Arecibo Lighthouse and an amazing strip of sandy beach that we knew we had to explore a bit. So, one day on the drive home from a trip to Rincon, we enjoyed two stops along Road 681.
La Poza del Obispo
Our first stop was the little pool area, which is called La Poza del Obispo or simply La Poza. Translated to English, it means Bishop's Pool, in honor of a bishop that was rescued there in the late 1700s. You can get to this pool and beach by taking the narrow road to the right just before the entrance to the Arecibo Lighthouse.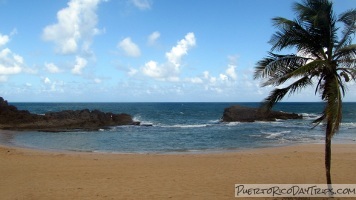 The pool is created by an opening in some large limestone outcroppings, which act as natural wave breaks. And it creates some amazing sprays of water when the waves crash over these huge rocks. One thing about the water here — There may be times when the pool is nice and calm, and people will go into the water. But when the seas are rough, I would recommend staying out of the water due to the possibility of strong rip currents in the area.
The beach here is taken care of by volunteers, there might be some trash cans, but no other facilities. There is a sandy lot where you can park. The day that we went, there were maybe 3 other couples there in La Poza area. It is a popular spot with locals, so on summer weekends and holidays it can be busy.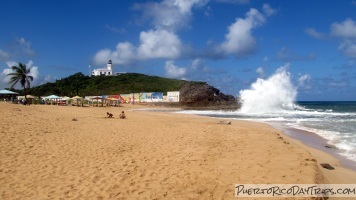 La Poza is at the base of the Arecibo Lighthouse, at the western end of the beach. But, heading eastward from that point is a long beach — you can walk and walk until you find "your spot". The sand on the beach has a pleasant texture, it is clean, and it is a nice beige color.
Playa Caza y Pesca
After some time at La Poza we continued driving eastward on Road 681. We stopped for sandwiches "to go" at a local panaderia, and then drove to find a spot on the beach for a picnic lunch. We found an oceanside beach parking lot at about KM 3.2, just across the street from the Oceania Condo complex.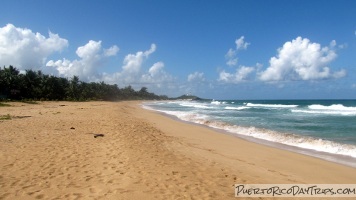 This is where we laid out our beach blanket and enjoyed a lovely picnic lunch on the beach, watching the waves and enjoying the scenery. There was one family there that day, and the teenage kids were enjoying the waves on boogie boards. It appears that the area can be really good for surfing or boogie boarding.
More to the East
If you continue eastward on Road 681, you will come to Cueva del Indio (another favorite stop of ours), and farther on you'll find more great views and other pretty beaches. After you're done at the beaches, you might consider stopping by the Premium Outlet Mall in Barceloneta.
Just as a precaution, I would recommend that you not leave anything of value in your car if you'll be parked at any of these beaches for any length of time, or if you'll be wandering far from your car.
The Arecibo area is approximately 1½ hour drive from the San Juan area.
Click on a placename below to view the location on Google Maps ...
PuertoRicoDayTrips.com assumes no responsibility regarding your safety when participating in the activities described in this article. Please use common sense! If your mother or that little voice in your head tells you that you are about to do something stupid … then don't do it!