Cabras Island & El Cañuelo – the Forgotten Fort
4/23- The area has reopened after much needed refurbishment!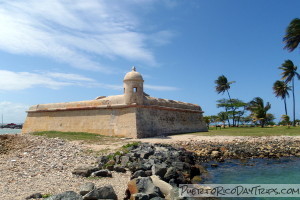 While looking west from El Morro, you see this little fort across the bay channel. Known as El Cañuelo, this little fort was built to help defend of the entrance to the San Juan Bay. Not much is mentioned about this little fort, except that it is located on Isla de Cabras (Goat Island), which you can visit. The fort is part of the San Juan National Historic Site.
I had asked the Puerto Rico Tourism Company for some information, and they said it was a beach and picnic area. Sounded nice enough, so we decided to take an afternoon and go see it.
Some Background
Originally built of wood in the late 1500s, the fort of San Juan de la Cruz (El Fortín San Juan de la Cruz), better known today as El Cañuelo, burned to the ground in 1625. Spain replaced it with a stone fort between 1630 and 1660. El Cañuelo was the smallest fort in the harbor defense system. Cannon fire from the fort helped El Morro's forces protect the entrance to the San Juan bay by providing crossfire.
Cabaras Island Today
Here is the scoop as I see it — not the most exciting place but you can get pictures of El Morro and Old San Juan from across the bay. It is not a must see place but worth a short visit if you are in the area.
Just as you pull in, on the right hand side, you'll see the restored ruins of the Cañuelo Fort. It is not really impressive — just a small box with one garita. There is a National Parks Service informational sign in front of it with some old pictures, which was kind of interesting if you visit during the week.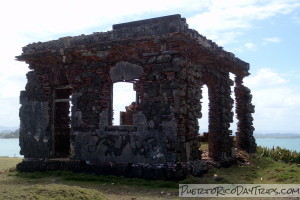 We spent some time walking all around the island. Up on the north side, there are (what appear to be) a few WWI or WWII gun bunkers. There was no information about these, so I don't really know. The Police Also have their gun range in this area, so don't be surprised by the sound of gun fire.
On the very north tip (we just walked around the gate), there are ruins of some structures that are the remains of a leper colony that was on the island from the late 1800s to the early 1900s. But there were no signs with information about these, either.But I like the photos you can get of the ruins. And there is loads of sea glass on the beaches behind them.
Luckily (for us), Cabras Island is located just a few miles away from the Bacardi Rum Factory tour, so we stopped in there first. Then we headed to Cabras Island. All in all, it was not a bad way to spend a few hours.
Though there is a little beach there, it's not my favorite — it was rocky and didn't look that inviting. Besides, there are "no swimming" signs posted around the island. There are picnic pavilions that you can reserve, but these are used mostly by locals. There is a snack bar and clean restrooms. There is also a nice boat ramp here (fee to use). There are a number of local restaurants (mostly seafood) just outside of the park. We had a surprisingly good (though not what I would call inexpensive) lunch at one of them.
The Details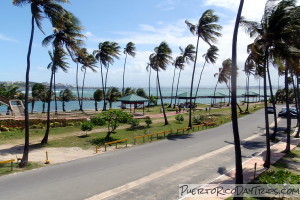 Parking at Cabras Island and the beach costs $4 for the day. It is open Wednesday – Sunday from 8:30am – 5:00pm .
There is some information on the Parques Nacionales web site
From the San Juan area, take Route 22 west to exit 7a. That will put you onto Route 165 north. Follow Route 165 to Route 870 east. Take Route 870 (through the little town) to the end.
Click on a placename below to view the location on Google Maps ...
PuertoRicoDayTrips.com assumes no responsibility regarding your safety when participating in the activities described in this article. Please use common sense! If your mother or that little voice in your head tells you that you are about to do something stupid … then don't do it!