Explore the Carite Forest
3/2023- There was lots of devastation in the forest from Maria- all the picnic areas were smashed by fallen trees. But there still is the path to Charco Azul. All Facilities and camping are closed..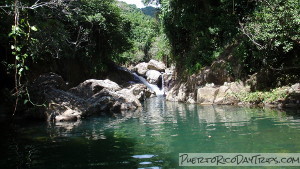 The Carite Forest is located just up the road from the Guavate area in Cayey. The forest encompasses over 6000 acres and is maintained by the Departmento de Recursos Naturales y Ambientales (DRNA, or Department of Natural Resources) as a recreation area.
The forest has some nice picnic and camping areas, some great natural swimming pools and waterfalls. Since it is along the Ruta Panoramica, there are some great views to be seen, too.
We had an enjoyable day by eating lechon in Guavate, spending some time in the Carite Forest, and enjoying a drive along part of the Ruta Panoramica.
Don't Believe Everything You Read
Just like you, I do a ton of research to find info on things to do here in Puerto Rico. Then I go out and find out the real deal. One thing I've learned about Puerto Rico is not to believe everything you read! So much information in guide books and on the web is out of date, missing important details, based on hearsay, or just plain wrong.
For example, the Carite Forest is "said" to have over 25 miles of hiking trails. The fact is that after hurricane Georges in 1998, the trails were never reopened and they are currently not being maintained. So, contrary to most of the information I was able to find during my pre-trip research, hiking trails are something that you won't find in this forest.
What We Found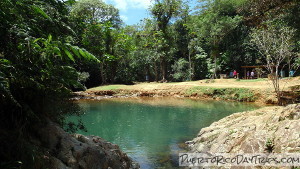 We stopped at both DRNA offices in the Carite Forest to get the "official" scoop on what this forest has to offer. The first office (on Road 184 at KM 27.8) was staffed by forest security officers who were very helpful and bilingual. The second office (on Road 184 at KM 27.5) is the "Forest Manager" office. The woman at the desk was nice, but she didn't speak English nor know much about the forest. So, if you want any more specific information than we have in this article, stop at the first office!
Officially, there are no "hiking" trails open in the Carite Forest. The only trail that is open is the trail to Charco Azul. It is a short walking path that leads to a cute swimming hole that I think is definitely worth a visit if you are in the area.
Picnic Areas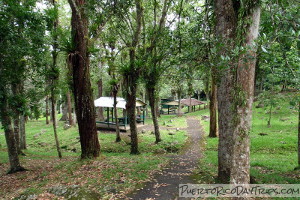 There used to be picnic tables/gazebos at the Guavate Recreation Area, just a few kilometers up the road from the lechonarias. But they were destroyed with Hurricane Maria. Last we went through, they still had not been repaired. If you drive another 15-20 minutes or so to KM 17.8, you will find a nicer picnic area along a river at the Charco Azul Recreation Area. This one gets busy on weekends, also.
Camp Sites
Since Maria, no camping is allowed in the Carite Forest, both camping locations- in the Guavate Recreation Area and the Charco Azul Recreation Area are in shambles.
Charco Azul Recreation Area
Sadly, the only thing the Carite Forest is "known" for seems to be Charco Azul, which is a cute, natural river pool with blue water.
By venturing off the official path, we were able to find some other more private and/or nicer swimming holes and waterfalls! We would never recommend that anyone do this. So if you do decide to do this, it's at your own risk!
You can see the river from the parking area at the Charco Azul Recreation Area. We followed the river downstream, and found a number of blue pools — each one more private than the next. We had to alternately walk in the river and along the riverbank. It was not that easy — the river rocks are slippery — you need to wear water shoes or Tevas.
As we continued going downstream (about 30 minutes total from the parking area) we eventually came to the top of a waterfall. 7/21 update- there actually is a rope that might help you down, but be careful. And this is now call it Infinity Pool de Patillas. For a drier (though still touch) way, if you walk up the Rd 184 (going toward Patillas), you can find a trail down to the river. It is offically closed. It is a muddy and steep trail…we wrote about it here: Article about Infinity Pool.
Survivor Falls
Our favorite find was Los Tres Chorros, which has 3 ponds and a waterfall. Located as you continue on Road 184 to KM 12.3 (or so), there is a bar on the curve called Los Tres Chorros. We parked on the right side of Road 184 and walked down the little street (down the hill toward the river), across the bridge and to the right across a smaller bridge. There, in the tall grass, there is a small foot-path that people have made to get to the swimming holes and waterfalls. If you follow this path to the end, you will find a nice waterfall and 3 blue pools.
We went swimming! The pools are very deep in areas. There's even a rope swing. The locals call this place Survivor Falls (or Cascada SobreViviente), though I see it labeled Cascada El Survivor on Google maps now. While we were there, about 8 local kids were showing off tricks and telling us where to "safely" jump into the water. We thought it was a fun and beautiful place to play. Unfortunately, this area is very popular with the locals so it can get crowded and there is lots of trash along the trail.
Plans for our Next Visit
We ended up spending our day at these pools and falls, but next time I get out that way, I am going to try to explore Lago Carite, which is supposedly a large lake with fishing.
The DRNA guys gave us these directions to get to the lake … Take PR184 to PR179 to PR7741 to PR7738. Go through gate (tell the guard you are going to the lake) and drive as far as you can — even across the flooded road. These road numbers aren't on any map I have, so good luck if you try to do this!
The Details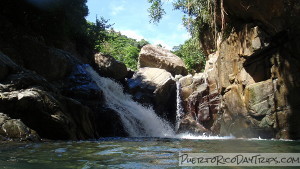 The DRNA offices are open? maybe? Monday – Friday from 7am – 3:30pm. They ask you only use the other areas during daytime- 9am – 5pm.
You can call the Forest Manager's Office at 787-747-4545 or 787-747-4510 for more information
From the San Juan area, take Route 52 south to exit 32 (that's the Guavate exit). Turn left at the end of the ramp and take Road 184 up into the mountains. Turn right at the tee. The Guavate Recreation Area is located on Road 184 around KM25. The Charco Azul Recreation Area is located on Road 184 around KM17.8. Los Tres Chorros is located on Road 184 around KM12.
Click on a placename below to view the location on Google Maps ...
PuertoRicoDayTrips.com assumes no responsibility regarding your safety when participating in the activities described in this article. Please use common sense! If your mother or that little voice in your head tells you that you are about to do something stupid … then don't do it!