Charco Azul – Swim in a Natural Pool in Carite Forest
2/21- It looks like the DRNA has abandoned this park. Some volunteers recently went in to cut the grass and get rid of some trash, but it is not maintained regularly. The bathrooms were never repaired post Maria- no roof etc. No camping area anymore. But the path is clear and people are going, it is usable, just not maintained well. The charco is still nice!.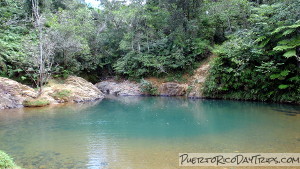 If you like natural swimming pools, Charco Azul is one of Puerto Rico's most famous ones. Located in the middle of the Carite Forest, in Patillas. It is about 15-20 minutes up the road from the lechonarias in the Guavate region of Cayey.
The name Charco Azul means blue pond in English. When you see the water in this pond, you will see that it is aptly named, since the deep water has a blue color.
Deep Blue Water
This fresh-water swimming hole is 30-40 feet across. It is fed by 2 small streams that spill into the charco making a cute 8-10 foot waterfall. The water around the edges is not deep — a couple feet maybe. You can sit on the edges and watch the little fish that call this pond home. I was happy to be wearing water shoes since the bottom was sandy with rocks here and there.
We went swimming. As we got out into the blue area, it gets deep — at least 15 feet. On the deep water side, there is a boulder that people use for jumping into the water. Of course we don't recommend doing this, but "Crazy Bob" did it and said it was a lot of fun!
Solitude?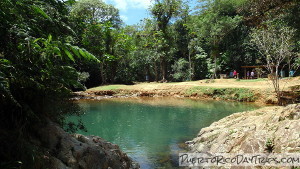 The day we went (mid-week in early September), a few other people showed up to see the pool and swim, but we had it to ourselves for a while. However, it becomes a mad-house on weekends (especially in the summer!). So plan your visit accordingly.
I think a great day trip would be to go to Guavate, get your plates of lechon to go, then spend some time having a picnic and swimming. Swim at your own risk, there are no lifeguards here, just nature!
Getting There
To get to Charco Azul from the San Juan area, take Route 18/52 south to exit 32 (the Guavate exit) to Route 184. Follow Route 184 through Guavate and the forest for 15 minutes or so. Note- you will need to stay on RT 184, kind of a left turn at the intersection with Rt 179. Continue on RT 184 until you get to the Charco Azul Recreation Area at KM 17.8 (it is marked).Park in the lot and walk across the street, and follow the path until the end. You will end up walking past (update- the remains of) the camping area and bathrooms. It is a nice easy paved walk in the woods. You will cross the river via small bridges a few times. This trail is less than ½ mile each way. At the end, you will find the pond, and a rain shelter, and a few BBQ areas and garbage cans.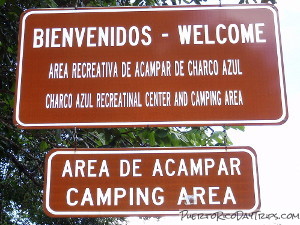 Right by the parking area you will find picnic tables (some are very close to the river). It is a well-maintained park. There were restrooms, but they were locked even though the people in the forest manager's office assured me they would be open. Camping is allowed in this recreational area, but you need to get a camping permit ahead of time at the DNRA offices in San Juan.
Details
There is no cost to visit Charo Azul.
Update- no gate anymore, so open all the time! .
The phone number for the forest manager's office is 787-747-4545 or 787-747-4510. If you want to camp at Charco Azul, you need to obtain a permit in San Juan. You can call 787-999-2200 ext 5157 for info about camping.
Click on a placename below to view the location on Google Maps ...
PuertoRicoDayTrips.com assumes no responsibility regarding your safety when participating in the activities described in this article. Please use common sense! If your mother or that little voice in your head tells you that you are about to do something stupid … then don't do it!