Exploring Cayo Luis Pena in Culebra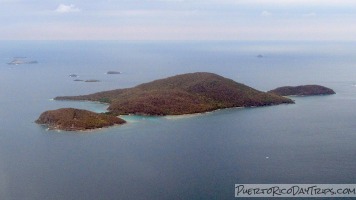 Here are some of my favorite things to do on a tropical, beach-y vacation … snorkeling, hiking, exploring white sand beaches, hunting sea glass and shells, playing in the water, and relaxing (just a little bit).
We managed to do all those things in one day on a recent trip in Culebra when we kayaked over to Cayo Luis Peña. This little island is rarely visited, but it really is worth the effort to experience this nature reserve.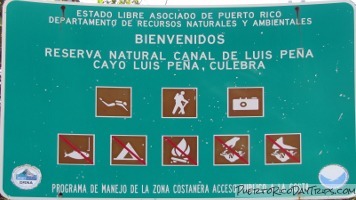 Cayo Luis Pena is located off the west coast of Culebra, across from Playa Tamarindo. To get there, you need to cross the channel — a distance of almost 1 mile. This little island is part of the Luis Peña Nature Reserve (along with Playa Tamarindo) and it is managed by the Department of Natural Resources (DRNA).
It is "open" for use from 6am to 6pm. The island is available for swimming, snorkeling, SCUBA, hiking, and photography. Fishing, camping, campfires, and touching or stepping on the coral reefs are all prohibited. It is a nature reserve, so you cannot take shells or other natural objects that you might find. You need to make sure you do not harm any nature in your use of the island and surrounding waters.
Our Adventure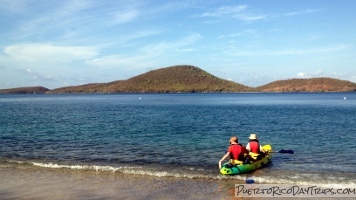 We started our adventure at Playa Tamarindo, right across the channel from a beach (that was our target) on the northeast side of Cayo Luis Peña. If you are kayaking to the island, realize it is not as close as it looks, and keep an eye on the winds & water conditions. It was a bit of a workout, but enjoyable.
As you approach this particular beach, you will see just one little sandy path through the coral reef that you can use to gain access to the beach. Once we made landfall, we carried the kayaks up to the beach — just so that tide changes wouldn't take the kayaks out to sea and leave us stranded!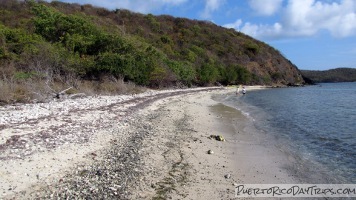 This particular beach, on the east side of Cayo Luis Peña, has a little sand and lots of coral/rocks — not the prettiest beach in the world. It also had sea glass, which makes sense since it is just across the channel from the public dump on Culebra.
There was also a load of conch shells, and other sea shells, that people have piled up. I collected the sea glass, but just admired the shells since this is a no-take nature reserve.
I had heard that there was a trail that leads over to the other (west) side of the island. We found a few trail-looking paths, so we picked one and went. As it turns out, there is only one official DRNA trail on the island … and this one wasn't it!
It was less a trail and more a goat-cleared path. There are wild goats on the island. We didn't see any; we only saw the residue. But the goats do a nice job of keeping the shrubbery down, so you can pick your way up and over hill that divides the island in half. Along the way we would occasionally see ribbons or stacked rocks, so we figured we were going the right way.
I should point out that you need sturdy-soled shoes and you need to watch your step. There are acacia thorns, cactus and some sharp rocks you don't want to step on!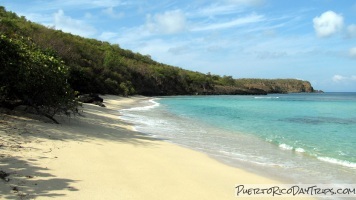 Once we reached the top of the hill, we could hear the waves crashing on the other side — so we just followed the sound of the ocean! All in all, it only took about 15 minutes to cross the island.
When we got to the west side, what we found was an amazingly beautiful beach — perfectly clean, white sand and blue water. We could have stayed there all day, and we were cursing because we had left our lunch in the kayaks instead of bringing it with us on our walk.
We spent time on walking on and exploring the beach. There was some sea glass here, but not much. We walked northward and found to another beautiful. but smaller, beach cove.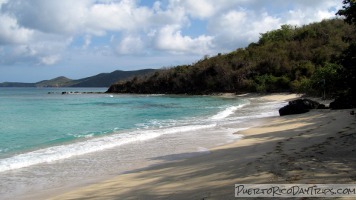 We had the place to ourselves except for a 5-minute period when some people on jet skis came in for a quick look, then they continued on their way. I don't think this is a suitable swimming beach. It was the rough on this side, and there were some serious waves. We enjoyed seeing the lava rocks on the beach. It really shows you how the island was formed from undersea volcanoes.
Once we got hungry, we left this beach and crossed back over to the east side the way we came (give or take). We found some driftwood, sat in the shade and had our picnic lunch on the beach.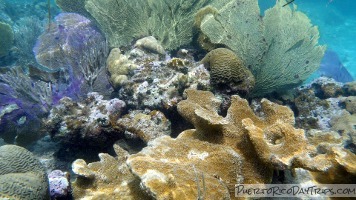 After lunch, we decided to do some snorkeling. We had to be careful to enter the water only at the one sandy path through the corals. The snorkeling is really nice here, but it is deep, and there are no life guards. You need to watch the water conditions, and have flotation devices just in case. Underwater, we found healthy corals, sea fans in purples and yellows, and a nice variety of tropical fish. Visibility was good, too.
After playing for a while, we decided that we were getting low on water. So we kayaked back to "reality", on Tamarindo Beach. We spent a couple more hours hanging out on Tamarindo Beach, swimming, and snorkeling with the Green turtles and stingrays. All in all, not a bad day!
What we Could have done
Later in the day on Culebra, we stopped at the US Fish and Wildlife area (on the way to Zoni Beach). They have info on Cayo Luis Peña and a big map that shows the "real" trail. It runs from a cove on the southeast side of Cayo Luis Peña to a cove on the southwest side. We'll have to check that out next time.
If you have your own kayak, you can put in by Melones Beach and go across the channel. If you need a kayak, you can rent one from the Culebra Bike Shop. They have a dock, and you can head out through the canal from their shop.
There are two cove areas on the southeast end of Cayo Luis Peña — one is very shallow and more coral than sand. Continue to the next cove to the right (north) which is a little better. This is the area that the DRNA wants people to use. Once you come ashore in this cove, you can cross to the other cove on the west side by following the trail for less than 5 minutes. There you will find a beautiful sandy beach cove that has nice snorkeling (both to the right and the left). We did not do that this trip, but it is on the list for next time! It looks like a slightly farther paddle (about 1.3 miles) than what we did.
We want to thank our friends at Kayaking Puerto Rico for outfitting us with kayaks and PFDs for this little adventure.


Details
You can rent a 2-person ocean kayak for about $50 for the day. If you don't want to kayak, you can get a water taxi for about $50/person round-trip.
You can access Cayo Luis Peña from 6am to 6pm.
Allow at least a half-day on Cayo Luis Peña.
You can rent kayaks from the Culebra Snorkeling Center ( (787) 435-3662), or maybe KPR Adventure Store 787-742-0523.
Bring water, food, sun screen, hat, flotation device (PFD), snorkel stuff — basically everything you will need. Wear hard-solded shoes in the water and on the land. There are no facilities on this island. Take all your trash back to Culebra with you. Be careful with coral. No shell collecting. Ask about the currents and weather conditions before heading out.
Click on a placename below to view the location on Google Maps ...
PuertoRicoDayTrips.com assumes no responsibility regarding your safety when participating in the activities described in this article. Please use common sense! If your mother or that little voice in your head tells you that you are about to do something stupid … then don't do it!