An Itinerary for 3 Days on Culebra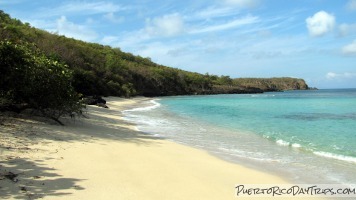 If you are someone who just loves spending lazy days lying on a beautiful beach, or if (like us) you need more activity including beach-combing, snorkeling, hiking, and great photo ops … then the out-island of Culebra is for you. It offers the best of both worlds!
Culebra is a laid back island with not too much to do besides great Caribbean beaches and excellent snorkeling (and that's not a bad thing).
Since we live in the rain forest, we like to get a different perspective once in a while. Over the past year, we have taken a few 3-day/2-night mini-vacations on Culebra, which gives us the chance to trade the greens of El Yunque for the deep blues of the Caribbean Sea.
Here is a sample itinerary that you can use for planning a quick getaway from the big island.
Planning: Getting to Culebra
Culebra is an island municipality to the east of the big island of Puerto Rico, so transportation is your first decision. Your options are to take the ferry from Ceiba, or to fly from Ceiba or Isla Grande.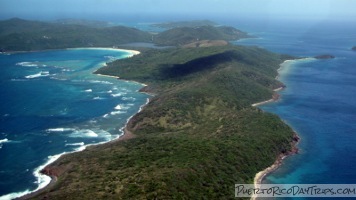 For most people, this comes down to a budget decision. The general rule is "Take the ferry if you have more time than money. Fly if you have more money than time."
We have taken the ferry a number of times in the past. That was until we flew for the first time. Now, flying is the only way to go. Sure, it is more $$, but it is so worth it.
Flights are quick and easy (an 8-minute flight versus good hour on the ferry), you can be on the beach in Culebra by mid-morning, and there are lots of great photo ops from the air.
Planning: Transportation
Though public transportation (mostly publicos between Dewey and Playa Flamenco) is available, renting your own vehicle will allow you to get the most out your visit to Culebra. A 4WD Jeep, while not mandatory, will let you explore all of the remote beaches on the island. A car will get you to all of the must-see beaches. Other options include VW Things, golf carts, and bicycles.
For newer Jeeps, we prefer Carlos Jeep Rentals (phone: 787-742-3514). You can save a little $$ with Jerry's Jeeps (phone: 787-742-0587). Now Avis is on Culebra- you can book online or call (787) 742-0726.
Planning: Where to stay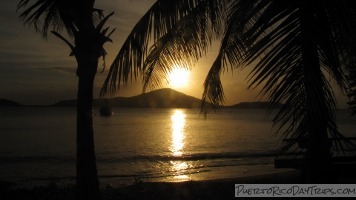 Dewey is the only "town" on the island. That's where you'll find mini-markets, restaurants, and the ferry terminal. There are some places to stay right in Dewey, some are within walking distance, and others definitely require a car to get to.
There are no "hotels" in Culebra. There are mostly guesthouses, vacation rentals, and a couple small condo-resorts (we use the term "resort" loosely). These places are spread out across the island. But nothing on the island is really out of the way. I think the farthest you can drive between any two points on the island is about 20 minutes.
Though not our cup of tea, camping on Culebra is an option to a guesthouse or condo rental. There are some very nice looking campsites at Playa Flamenco. Just be aware that these campsites are in high demand (and crowded) during Holy Week, and on weekends in the summer.
Day One: Arrival, Food, Shopping, Beach
Right after we arrive, the first thing we like to do is drop our luggage off at the place that we're staying. Most places will hold your bags for you until check-in time (which is usually around 3pm). That way, we can go to the beach without worrying about leaving our bags unattended in our car.
We usually wear our bathing suits for the trip over, and pack our beach/snorkel bag with our beach necessities (beach towel/blanket, snorkel gear, sunscreen, water bottles, camera, etc). Everything else is in our bags that we drop off at the place we're renting. It should be noted that Culebra is definitely island casual — getting dressed up for dinner means putting on clean shorts and flip-flops — so pack light.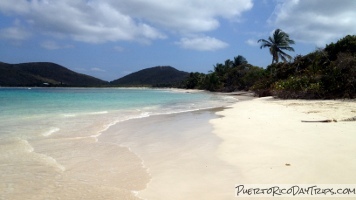 Next, we stop at one of the mini-markets to get non-perishable supplies (soda, rum, snacks, bread, cereal, etc). We bring our own snorkel equipment, but if you need to buy/rent gear you can check KPR Adventure Store (across from airport), Culebra Divers and Cuelbra Bike Shop( both across from the ferry terminal), La Cava Gift Shop just out of town by the old school, or even Tent City at Playa Flamenco.
After stocking up, it's time to start our vacation! Our #1 stop is usually Flamenco Beach. It's a stunningly beautiful beach, with everything you need to shift into vacation mode … food, drink, white sand, and some pretty good snorkeling. You can rent an umbrella and beach chairs, or just lay down your blanket and relax! For snorkeling, try Shark Cages (to the far right when facing the water), or head to the left (toward the tank).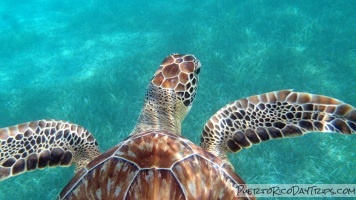 After we get tired of the white sand and blue water on Playa Flamenco, we usually head over to Playa Tamarindo for a quick snorkeling session with the local Green turtles.
After we tire of swimming with turtles and sting rays, we head over to the place we're renting to formally check-in, and get cleaned up. Then we find a good place to watch the sun set (Playa Tamarindo or Playa Melones are favorite spots!), have an obligatory happy hour drink on the beach (from our mini-market supplies), and then after the colors set, find a place to have dinner.
"Nightlife" on Culebra is comprised mostly of star-gazing, which is usually how we wrap-up our first night on Culebra.
Day Two: Island-hopping, Hiking, Beach, More Turtles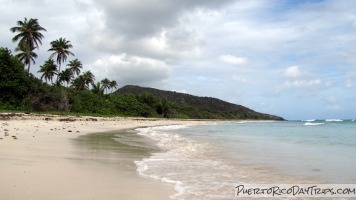 Being our first full day on Culebra, Day Two is usually our more active day.
We're usually up early for a pre-breakfast beach walk on Playa Zoni, especially if it is turtle season (to check for new nests).
Then we head to the panaderia (PanDeli Bakery in Dewey phone: 787-742-3311) for ham, egg and cheese breakfast sandwiches. They are delicious and huge; they keep us full for hours. Depending on what we have planned for the day, we sometimes pick up an additional sandwich to take along for lunch.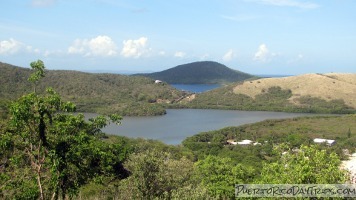 Culebra offers multiple options for our "busy" day. Things we've done on this second day include a trip to Cayo Luis Pena or Culebrita (via water taxi or local boat captain), a SCUBA or snorkeling trip to one of the off-shore reefs, hiking on Culebra, or even a guided kayaking/snorkeling trip in the Luis Peña Marina Reserve.
After our full day, if there's time, we head to Playa Tamarindo to see the turtles (are you detecting a trend yet?). Or, we might head to Playa Melones for snorkeling and to watch the sun set.
Then it's back "home", shower, and then back out for dinner.
Day Three: Beach, Souvenir Shopping, Departure
For our final day on Culebra, we usually do something active in the morning, and then end the day with shopping and/or beach time.
Our first stop is to talk to the place we're staying to see if we can get a late check-out.
Then we head out to the panaderia for breakfast, then to a beach — Zoni for a walk, or snorkeling at Soldado, Melones, Tamarindo or Flamenco.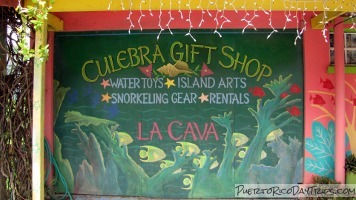 After a couple hours, we head back to the rental to shower, pack, and check out. Just like prior to check-in, we ask the place we stayed to hold our bags until around 3pm.
Then we head into Dewey for some local souvenir shopping, lunch, and to fill up the rental Jeep with gas. If we still have time before our flight home, we head to Playa Flamenco either to walk on the beach (and take more photos!) or to sit and watch the water.
Then it's back to the place we stayed to pick up our luggage. Then off to the airport to return the Jeep, check-in for our flight, and start planning our next trip back to Culebra!
Click on a placename below to view the location on Google Maps ...
PuertoRicoDayTrips.com assumes no responsibility regarding your safety when participating in the activities described in this article. Please use common sense! If your mother or that little voice in your head tells you that you are about to do something stupid … then don't do it!