Top 20 Things To Do on Culebra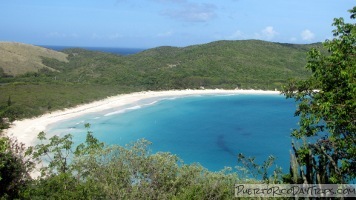 Culebra Island is as laid-back as any place in Puerto Rico can be. This little island east of the big island of Puerto Rico offers naturally beautiful beaches, and a relaxed feel that many people love. It has a real Caribbean island feel to it.
Culebra offers white sand beaches, crystal clear blue water, healthy reefs teaming with sea life, and a tropical breeze that keeps you cool as you are watching the amazing sunsets.
But I don't think that Culebra is for everyone. Even the title of this article runs contrary to the Culebra state-of-mind. Culebra may not be for you if you are the type of person who needs a to-do list to plan your tropical island get-away!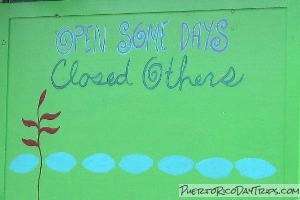 You go there to relax and chill out. If you want 5-star resorts, casinos, a selection of gourmet restaurants, and high end shopping … then Culebra is not for you.
Culebra has basic accommodations, casual dining, and just a few basic-needs stores. And everything is laid back — businesses open and close with the comings and goings of the ferry … or when the mood strikes them.
If you are ready for this type of relaxed, basic vacation on a beautiful island, then you should look into spending some time on Culebra.
Our Culebra Top 20 List
If you've read more than a handful of articles in our blog, you'll realize that we are not the type of people that can lie on the beach all day and read a book. Even so, we find Culebra to be very appealing. After some (short) beach time, we have been able to find just the right amount of active things to provide the perfect balance for a short trip.
Find a Beach — I think that Flamenco Beach and Zoni Beach have the best sand and views. Spend some time on the beach sun bathing, reading a book, sleeping, enjoying a beverage, listening to the waves, or day dreaming. If you are feeling energetic, you can always go for a swim in the water, or for a walk on the beach.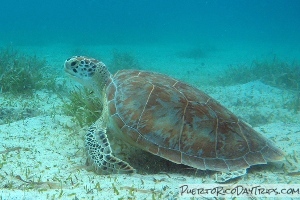 Snorkel or SCUBA dive — The west coast beaches surround the large Luis Peña Marine Reserve, with lots of healthy coral and marine life. Bring your own, or rent, snorkel gear and explore beneath the waves. If you're carrying a SCUBA C-card, go for a dive with Taz at Aquatic Adventures or Culebra Divers.
Take a Hike — While there are not a lot of hiking trails on Culebra, there are some. There are some on Culebrita, too. Or take a long walk on a beach and count sea turtle nests.
Go Bird-watching — You will see mostly shore birds, but there are also a number of other native and migratory birds on the island.
Go Kayaking — Take a kayak into the bays or around the mangroves. These are excellent places to bird watch. You can rent kayaks from the Culebra Bike Shop. Or take a snorkel/kayak tour with Kayaking Puerto Rico or Culebra Island Adventures.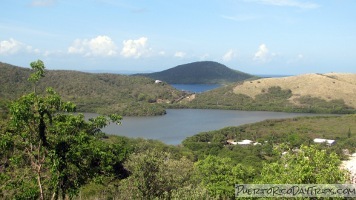 Drive Around & Go Sightseeing — Rent a car, jeep, or golf cart and drive around the island. Stop in at the Museum of Culebra. The museum has archaeological material from ancient pre-Columbian peoples, remnants from the US Navy, old maps, pictures, and information about Culebra's history. It's usually open Friday to Sunday from 10am to 3pm (that or thereabout). There is a small fee to enter.
Bike Around the Island — Though people may go off-road for fun, I think you would have to stay on the roads to avoid popping your tires all the thorny trees and bushes that you'll find off-road. This is for people who are into biking and are physically fit. Though the island is small, it is hot!
Go Out on the Water (via sail or motorized) — Hire a captain and go sailing, boating, or fishing for the day. Look up Pez Vela, Captain Dan, Snorkel SVI for charters. Or just take a water taxi to an out-island. KPR Adventure Shop also rents the underwater propeller scooter, to really zoom you through the water.
Take a Yoga Class — Ask the place where you're staying for a recommendation.
Eat, Drink, Be Merry — and repeat as necessary. Find a bar and/or restaurant and enjoy a cool drink and a yummy meal. Bushwackers are a local favorite drink. Bet you can't have just one!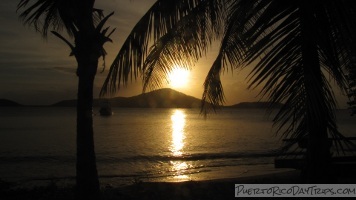 Find Some Nightlife — Watch the sunset (at the ferry dock in town, or any of the beaches facing west like Melones or Tamarindo), star gaze (though some beaches are closed after dark during turtle nesting season). Dinghy Dock sometimes has live music and a karaoke night ….. Most places close by about 10pm, but The Spot may be open late on weekends. For early birds, consider catching a movie at the Cine Culebra by the library.
Shop for Souvenirs — There are a few stores in, or near, town. We found some nice locally made artwork, crafts and jewelry.
Get a Massage — Ask the place where you're staying for a recommendation.
Take a Jet Ski Tour — Look for signs, or ask the place where you're staying for a recommendation.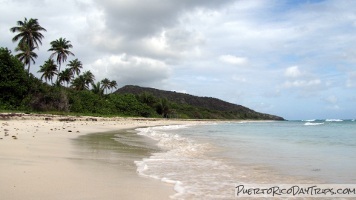 Go Out on the Water (non-motorized) — Go sailboarding, kiteboarding, surfing, stand up paddle boarding (SUP) on your own or take a lesson.
Feed the Fish — Feed the tarpon at the Dinghy Dock and Mamacita's restaurants.
Chillax — That's what Culebra is all about!
And that's our Top 20 list. Now, if you're the type of person who noticed that there are not 20 items on that list … or if you just went back and counted the items on the list … then maybe, just maybe, Culebra is not the right place for you to spend more than 1 day!
Details (or lack thereof)
Usually, we provide more specific info about things to do and activity operators. The problem with doing that is that things on the small islands change so frequently. Businesses come. Businesses go. Someone who is running tours today might not be there tomorrow.
It is probably best not to plan your trip around a specific tour or operator. It's better to wait to get current information right before, or during, your trip. Once you are on the island, you will see all sorts of signs for local companies/tours/businesses posted on telephone poles. Or just ask a local at any restaurant, store, beach, or the place you are staying. It's a small island. They either know someone who offers what you want, or know someone who knows.
Click on a placename below to view the location on Google Maps ...
PuertoRicoDayTrips.com assumes no responsibility regarding your safety when participating in the activities described in this article. Please use common sense! If your mother or that little voice in your head tells you that you are about to do something stupid … then don't do it!