Sail the Day Away on the Pez Vela in Culebra
Culebra is a small island off the east coast of Puerto Rico, that offers some great water-based activities — beautiful beaches, great snorkeling & SCUBA diving, and awesome fishing. There are some even smaller, less-visited islands surrounding Culebra that are just begging to be explored. But, to get to those, you need a boat.
Captain Bill Penfield offers charters to all areas around the waters of Cuelbra and to Culebrita on his Pez Vela sailboat. It is a great way to spend a day (or more)!
The Pez Vela (which means Sailfish, in English) is a 33-foot catamaran sailboat that holds a maximum of 6 guests. This means there is plenty of room to spread out onboard while Captain Bill sails you around to all the best sites.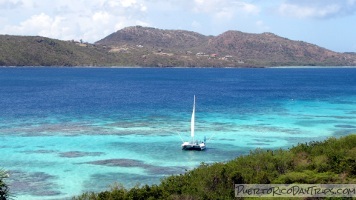 Usually, it is an all-day trip (from 10am until about 5pm) with snacks, lunch and drinks included. You get a taste of the islands and offerings around the northeast of Culebra — the beautiful blue water, white sand coves, deserted beaches, hiking on Culebrita and snorkeling.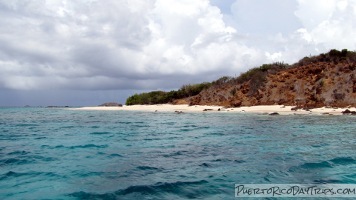 Our Trip
He docks his boat in Fulladoza Bay, right across the street from Club Seaborne (and just down the street from Bahia Marina, where we were staying). So, after a quick drive down to the dock, we said our hellos and boarded the boat. His dog Gigi was there, and she was so sweet and a great "salty dog" — she could walk around the deck even while sailing rough seas!
Our group that day was 6 people — 4 in our party and 2 in another party. The boat is large enough that we had room to spread out, but intimate enough that we could all talk.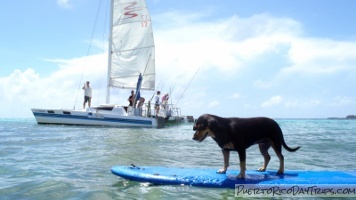 While we worked our way out of Ensenada Honda and up and around the eastern part of the island, Captain Bill talked about Culebra, what it is like living there, things to do on the island, what beaches and houses we were passing, and answered any questions we threw at him. He is a really pleasant guy.
As we made our way around the east end of Culebra, the island of Culebrita came into view. We headed over to Culebrita, and we moored the boat on the south side of the island. We all got off the boat and made our way to Bohou Beach. Even Gigi … she rides the surf board in to the beach.
Since the boat can't anchor on the beach, you need to either swim to shore, or use the surfboard. Captain Bill dry bags you can use so your cameras and other items won't get wet while you're making your way to the beach. The boat has a ladder to climb up out of the water.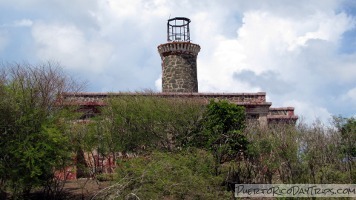 As I said earlier, our plan was to hike to the lighthouse, so Captain Bill directed us to the trailhead for the path that would lead us there. He also told us where the best snorkeling was from this beach.
Everyone on the boat opted to first hike to the lighthouse. We all set off on a 15-minuted hike that afforded some amazing views. We spent a long while up at the lighthouse, and we got some beautiful photos. Afterwards, we get in some snorkeling.
Later we sailed around Culebrita a little (just so we could see some of the pretty beaches) and then over toward Cayo Norte. We were able to go snorkeling off the south side of Cayo Norte, which was really nice. The water was still pretty clear and not too rough. We saw all sorts of fish, squid, and even had a pair of remora that accompanied us the whole time.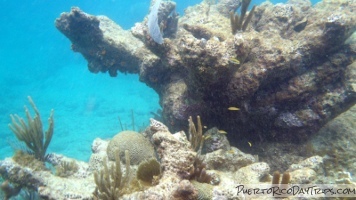 The usual full-day trip can be customized to your likes/desires — whether it is fishing, snorkeling, swimming with the turtles, or a combination of all of these. They usually make a stop at Tortuga Beach on Culebrita to swim with turtles and play in the "baths". During the usual trip, they also drag fishing lines behind the boat while en route, so usually there is fresh fish for lunch (though Captain Bill can customize lunch to your preferences). He also offers deep sea fishing trips, and private charters.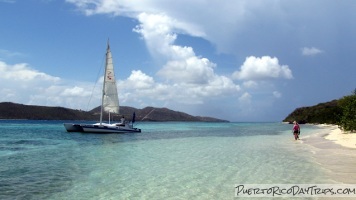 Details
Captain Bill's prices vary depending on each trip, with lunch, drinks, snacks and snorkel equipment included. Private charters, family rates, deep sea fishing charters, and other options can be worked out.
Captain Bill operates 7 days/week, and trips usually start around 10am and go until 5pm. Reservations are required. More info: try his Web page or Facebook page
Captain Bill speaks English. For Spanish-speaking guests, he will arrange to have a Spanish-speaking first mate on board.
To book a tour or justy get information, You can test (or call) Captain Bill at 787-215-3809 or his wife Ivi at (787) 689-2779 with your available dates and number of people. Or you can also contact Lisa at (787) 638-3333
.
FYI, there is a head on the boat if you need it.
Click on a placename below to view the location on Google Maps ...
PuertoRicoDayTrips.com assumes no responsibility regarding your safety when participating in the activities described in this article. Please use common sense! If your mother or that little voice in your head tells you that you are about to do something stupid … then don't do it!