Spend Some Time Exploring Culebrita
Culebra is a small island off the east coast of Puerto Rico that is loaded with enough great beaches, snorkel spots and even some hiking to keep you busy for a few days. But as you look out from Zoni beach, the island of Culebrita beckons.
This tiny cay — located off the north-east corner of Culebra — is uninhabited, visited only by a few people every day, and holds many wonderful "secrets" waiting to be explored. You can only get there by boat, but it is totally worth the effort in order to experience this unspoiled island.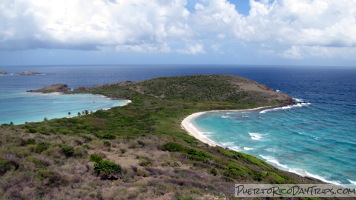 Culebrita boasts beautiful white sand beaches, clear water with great underwater visibility for snorkeling, a wild turtle population that frequents the area (and are often seen), some amazing "baths" (rock formations that slow the large northern waves and form a Jacuzzi-like experience), ruins of an old lighthouse, and some walking trails that will get you across and up to the top of the cay. The island is a wildlife refuge, so you'll see birds and some other animals.
I love this little island. It is too beautiful to describe, and even the photos don't do it justice.
We have visited Culebrita a couple different times, but for only a couple hours each time. If you spend the whole day there, you might be able to explore the whole island.
Beaches and Ruins of a Lighthouse
If you take a water taxi from Culebra, they will usually drop you off on the south-west of the island, which has a thin strip of nice white sand and (usually) calm water. There is decent snorkeling on this beach, though the reef is a bit off shore.
On the south end of this beach, there is a trail that leads across the island. If you start on this trail, you will quickly come to a Y in the path. If you go left at the Y, it will lead to Playa Tortuga. If you go left at the Y, it will lead uphill to the lighthouse ruins. I hear there is also a branch off of the trail to Playa Tortuga that leads to Trash Beach — not a very nice name, but it looks like a nice beach from the photos. The walk to either Playa Tortuga or to the lighthouse ruins is about 20 minutes.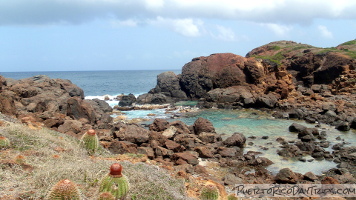 Playa Tortuga is a beautiful, white-sand cove on the north-west side of the cay, and it is home to some decent snorkeling. Playa Tortuga is also the home and feeding grounds for some Green turtles (hence the name "Turtle Beach"). They are frequently seen around this beach.
All the way to the right (facing the water), you will come to a rocky tip of the cay, where the rocks break the crashing waves, leaving a nice rush of cool water into the warmer tidal pools.
The trail that leads to some lighthouse ruins is uphill and hot, but so worth the effort. The lighthouse (Faro Isla de Culebritas) was put into service in 1886, and was operating until 1975. Since then it has been left to ruin, from both natural and human forces. But what is left is still beautiful.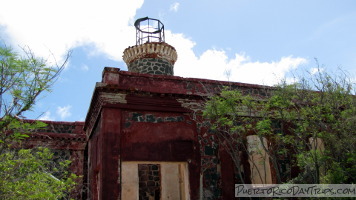 Going into the lighthouse is not allowed, and we would never suggest that anyone do it, but the view from the top is amazing. The metal stairs to the top are badly deteriorated.
In October 1981, the lighthouse was added to the US National Register of Historic Places. If you search the grounds, you will find the green brass dome that used to sit atop the lighthouse, but was blown off during a storm.
On our walk up to the lighthouse, we saw evidence of the wild deer(probably goats not deer) that live on the island, but we did not see any running around. (I have heard this little path we used has been upgraded and widened, almost a road now!).
Getting to Culebrita
If you are on the big island of Puerto Rico, East Island Excursions offers a Culebra Get-away trip from Fajardo that sometimes goes to Culebrita. That's how we visited the island the first time.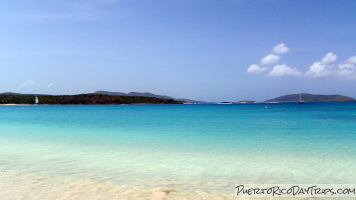 If you're staying on Culebra, your options are a day-sail or a water taxi. Another time we visited Culebrita, was on a day-sail aboard the Pez Vela with Captain Bill. For water taxis, the boat ride to Culebrita is about 20 minutes. Prices vary depending on the number of people in your party, the time of year, and other variables. But you can expect around $45-$60 per person. The water taxis will drop you off, and then come back to pick you up at a pre-arranged time (and location).
Here is a list of water taxis on Culebra (that I have from the last time we stayed on the island). This list is not exhaustive, and these little businesses come and go every couple months, so check for updated contact info once you're on the island. You will find ads for these (and more) at the airport, grocery stores, bakeries and almost every other place in town!
Gammy's Water Tours & Taxi — 787-423-2469 — grohlsen@yahoo.com
Willy's Water Taxi — 787-742-3537
Guilin's Water Taxi — 787-742-0575
Culebra Water Taxi — 787-360-9807
Captain Sebastian (motorboat) — 787-435-4498
Things to Remember
Care must be taken when doing any of these activities. There are no lifeguards or safety personnel on the island. Keep a close eye on the water, wave, and weather conditions. The hiking paths are open to the public, but the lighthouse is closed to the public due to its damaged condition.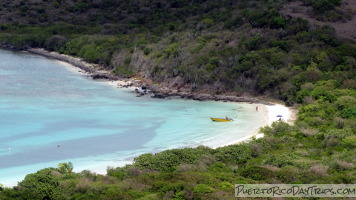 Locals enjoy visiting Culebrita, so expect a few boats to be moored here on the weekends (especially in the summer).
There are not facilities on the cay, so you need to bring everything you will need for the day — towels, sunblock, snorkeling gear, bug repellent, proper shoes (sturdy soles that strap to your foot and can get wet, for exploring the hiking trails, lighthouse area ,and baths) and all food and drink (lots of water!) you may want.
Click on a placename below to view the location on Google Maps ...
PuertoRicoDayTrips.com assumes no responsibility regarding your safety when participating in the activities described in this article. Please use common sense! If your mother or that little voice in your head tells you that you are about to do something stupid … then don't do it!