Taking the Cargo Ferry from Ceiba to Culebra or Vieques
Update 7/1/2021 and currently in effect: The cargo ferry system continues to take only residents of Culebra/Vieques. No Tourists vehicles will be allowed on the cargo ferries.
Watch the schedule as it is always changing. Check the daily itinerary at https://twitter.com/TranspMaritimo.
This article is aimed primarily at residents of Puerto Rico who need to use the cargo ferry to move vehicles and other cargo between the islands of Puerto Rico, Culebra, and Vieques. The information contained here will be most helpful to Puerto Rico residents, and not to the average tourist looking for something fun to do on vacation. This is because the cargo ferries are not dependable and long delays or reservation cancellations are usual.
If you are just looking for a way to get to Culebra or Vieques for the day (or for the start of your vacation over there), stop reading this article and go read our article about the passenger ferry.
All ferry operations have now been moved from the old ferry terminal in Fajardo to the new ferry terminal in Ceiba. There are still many bumps in the road, and schedules and the availability of ferries changes almost on a daily basis. This article covers what we know. We'll update it as more information is made available.
Passengers vs Cargo
There are two types of ferries that run between Ceiba/Culebra and Ceiba/Vieques — passenger ferries and cargo ferries. The passenger ferries carry passengers only — no cars. The cargo ferries carry both passengers and cargo (including cars). But, before you get all excited and think that you are going to save a couple bucks by taking your rental car over to Culebra or Vieques — think again.
The cargo ferries are not intended for tourists. There is limited room that locals need for transportation and supplies. They do not provide reliable tourist transport.
Rental cars are not typically taken off of the island of Puerto Rico. Double-check with your rental company before you risk it. It may void your rental contract. But it definitely has other problems… if something happens to the car on the ferry or other island, you would be fully responsible for it. You may get stranded for a while as you don't have priority boarding, your spot can be taken by priority cargo. Realize, also, that some of the smaller roads on these islands aren't paved, so it is rough on the vehicle. That is why the rental vehicles on these islands look so bad! There are also many beach roads that have the huge thorns in them, can easily puncture a tire and cause a flat. And if you have car trouble over there, the car rental agency is probably not going to be able/interested to help quickly.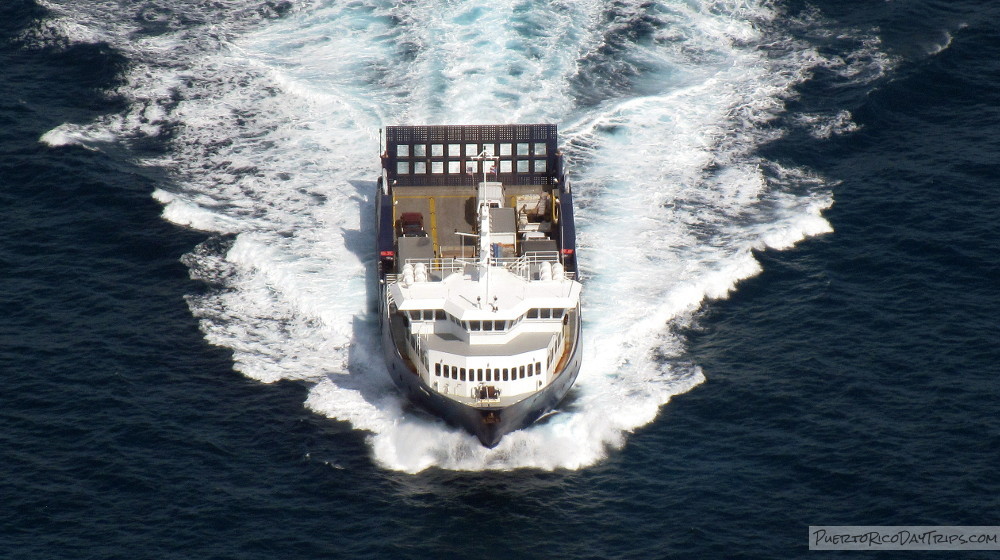 Cargo Ferry Basics
For the record, we have never tried to take our car on the cargo ferry. But we wanted to publish this information, just so that people have it. The information we have gathered here came from many different sources, like the Port Authority website, info posted in the ferry terminals, on-line discussions about the ferries, and even TripAdvisor.com reviews.
The cargo ferry between the main island of Puerto Rico and the out islands of Culebra and Vieques is the primary life-line for people living on those islands. It is the way the islanders get all their supplies (gas, food, building materials, etc). Cargo trucks will get priority on the ferry, so the people who live on those islands can get the supplies they need.
There is a cargo ferry that runs between Ceiba and Culebra and one between Ceiba and Vieques. You need to make a reservation in order to get a vehicle on the ferries. They sell out quickly, so book as far in advance of your trip as possible (currently (June, 2019) This can only be done in person at the dock…the day of the trip…waiting list style) .
Passengers are also permitted on the cargo ferries, though they are usually slower boats than the passenger ferries, and there are fewer seats. The trip can take 45-90 minutes depending on which ferry you're on, and the weather. Adverse weather conditions may alter the schedule. The one time we took the cargo ferry (because we had no other choice), we sat outside, but there was no roof overhead. So you can get either sunburned or soaking wet if you sit out there! Inside, the AC was cranked all the way down, so it is freezing. You have your choice of risking sunburn outside or frostbite inside.
If the gasoline supply truck is on the cargo ferry, passengers will not be allowed on that ferry (only the drivers of the vehicles on the ferry). Also, when the cargo ferry is full of its cargo, it will leave (not wait for posted departure time).
Cargo Ferry Schedule
Though there is a posted "normal" ferry schedule, adherence to that schedule assumes that all available ferries are operational and running. The schedule is completely subject to change! And it seems to change daily. Always contact DTOP to verify the schedule of the ferries on the day you intend to travel. You must check the official ferry web page the official ferry page. It will have the daily itinerary.
This is the posted schedule 5/21 (supposedly in effect until 6/20/21): NOTE- This is subject to change! Check daily on the official site for official times for that day.
Ceiba to Culebra
(M,W,F, Sun) 4:30 am ,• 8:00am • 12:00pm • 3:30pm
Ceiba to Culebra
(T,TH,Sat) 5:00am
Culebra to Ceiba
(M, W,F, Sun) 6:30am • 10am • 2:00pm • 5pm
Culebra to Ceiba
(T,TH,Sat) 3:00pm
.
Ceiba to Vieques
(M,W,F, Sun) 5:00am, •7:30am •10 am • 5:00pm •7 pm.
Ceiba to Vieques
(T,TH,Sat) 4:00am, • 7:30am • 10:00am • 10:30am • 1:00pm, • 4:00pm.•7pm.
Vieques to Ceiba
(M,W,F, Sun) 7:30am •9 am • 11am • 7:00pm •8 pm
Vieques to Ceiba
(T,TH,Sat) 5:45am, • 9:00am • 11am • 11:30am • 2:30pm, • 5:00pm •8pm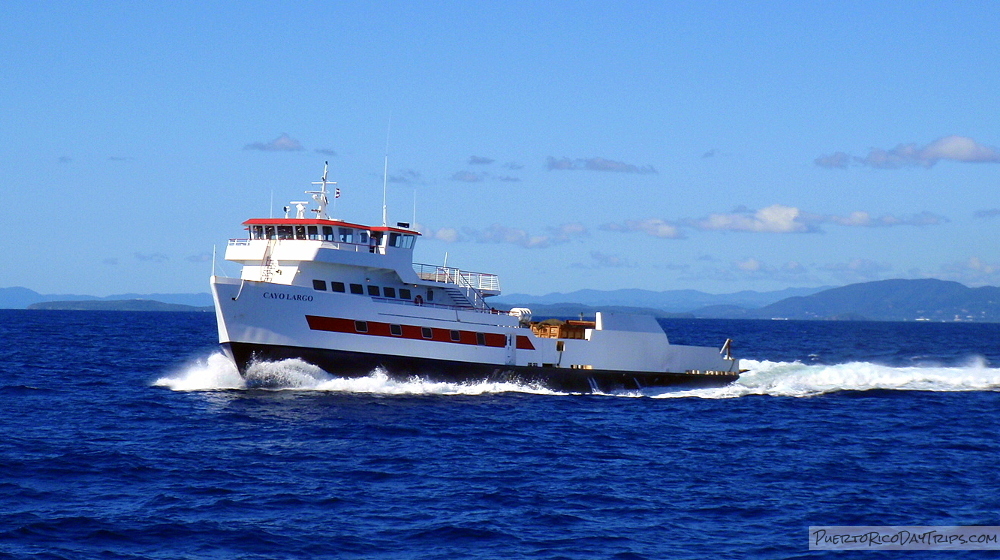 Cost for the Cargo Ferry
Round trip fares for small cars will be about $28 to Vieques and Culebra. As the size of the vehicle gets larger, so does the price…small SUV about $32, small pickup truck is about $60, Large trucks are about $80, call or check the Puerto Rico Ferry page for exact rates. The car/truck driver's fare is included in the fee for the vehicle. Payment can be made in cash or via VISA/Mastercard.
Making a Reservation for the Cargo Ferry
Reservations are required for the cargo ferry. You really can only do that at the ticket window Or you can try to make reservations over the phone or email. But you must speak to someone. You can't just leave a message and assume that you have a reservation — because you won't. It is pretty hard to get a human to answer the phone when you call the port authority. Be patient and call (again and again) between 7:30am- 9am, 10am- 3pm Monday – Friday. All I can say is good luck! I have actually gotten through to a human a few times, so I know that it is possible, just not probable.
Contacting the Puerto Rico Port Authority
NOTE- We have tried both of these contact methods and have not gotten any response. So I don't believe at this time there is any way to actually make a reservation or get information without going in person to the ticket window. But I will supply you with the most current information we have from the ATM. Good Luck!: To make a reservation on the cargo ferry, or to get more info on routes, schedule, or other ferry-related things, call 787-497-7740. You can also try sending them an email at reservaciones@atm.pr.gov. If you send an email, provide your contact info and they will call or email you back.
You can visit the Puerto Rico Port Authority Facebook page and send a message. They usually respond to Facebook messages in a timely manner.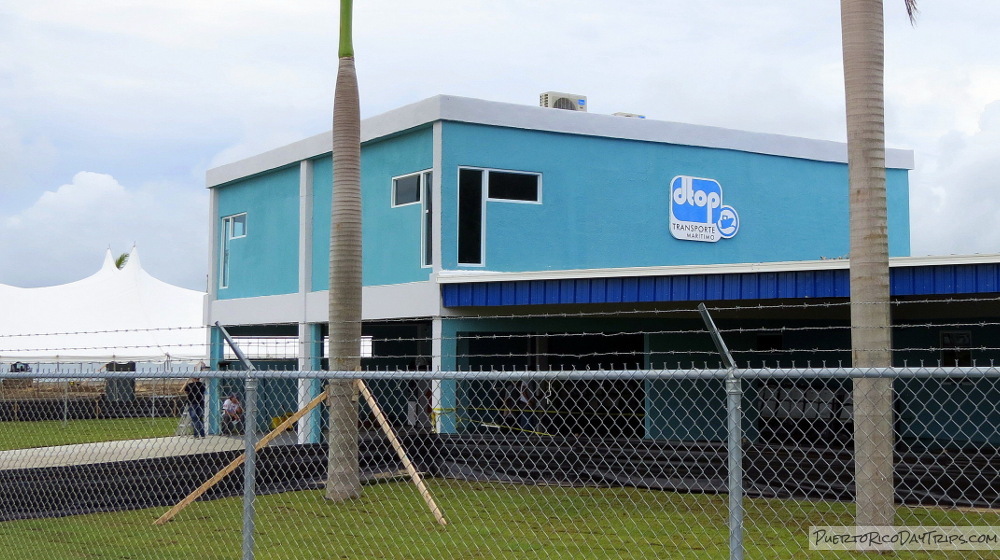 Getting Your Stuff onto the Cargo Ferry
You must be at the loading dock early on your reserved day and time or you will lose your spot. They recommend 1 hour before departure. If you are late, they will NOT hold the ferry for you. When you arrive at the ferry dock you have to check-in at the window where they validate your reservation. Bring your vehicle to the ship and someone will tell you when/where to load. These workers usually ask your name and compare it to the reservation list. Once you are parked on the ferry, they may need to you to hang around until everyone is loaded, because they sometimes have to jockey the cars/trucks around to fit everyone.
Cargo trucks get priority, so even with a reservation, passenger cars may get bumped if a cargo truck needs a spot, which can leave you stranded and your plans totally messed up. Tourists just shouldn't do it. Rent a car on the smaller islands and save yourself a lot of stress and extra effort.
It takes about 45-1 hr mins for the ATM cargo ferry to get to Vieques. It takes about 1.5 hrs to get to Culebra .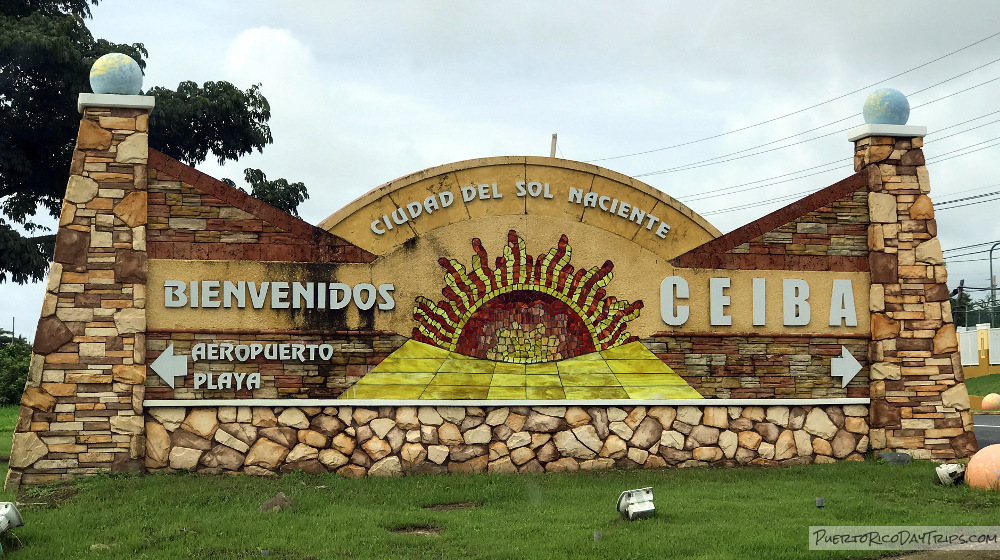 Directions to the Ceiba Ferry Terminal from the San Juan Area
The Ceiba ferry Terminal, as well as the Ceiba Airport, is located in the old Roosevelt Roads Naval Base in Ceiba. If you already know where the Ceiba Airport is, then finding the Ceiba Ferry Terminal will be easy for you.
Drive-time from the San Juan (SJU) Airport to the Ceiba Ferry Terminal is about 75-90 minutes.
If traveling to the ferry terminal from the San Juan area, you'll want to take Route 26 east to Route 66 east to Route 3 east (toward Fajardo). Route 66 ends on Route 3 in Río Grande, so you're taking Route 66 to the end. Note that Route 66 is a toll road, and an AutoExpreso transponder is required for the tolls.
Continue east on Route 3 toward Fajardo. Once in the Fajardo area, Route 3 becomes Route 53. Once you're on Route 53, you'll want to take Exit 2 at KM 1.4 (which is before the first toll booth). This is the exit for the Puerto del Rey Marina and the Ceiba Airport. At the end of the exit ramp, turn left under Route 53, then continue straight. This will put you back on Route 3 heading south. Then, really all you need to do is follow the signs for the Puerto del Rey Marina and the Ceiba Airport. Continue on Route 3 past the Puerto del Rey Marina on your left.
You'll continue on Route 3 to KM 52.4, where you'll turn left onto Tarawa Drive. Landmarks here include a solar farm on the right, and the "Bienvenidos Ceiba" sign in the photo above. Continue straight on Tarawa Drive until you arrive at the guardhouse at the entrance to the naval base. If there is a guard, just tell them that you are going to the ferry.
Once through the gate, follow the brown "Ferry" signs — At the first V, you'll go left onto Forrestal Drive. At the second V, you'll follow the road as it curves to the left. At the third V, go right. Then, finally, turn left onto Marina Drive. Continue on Marina Drive until you come to the parking area and blue DTOP ATM building on your right.
There is a parking lot further down the road from the ferry that will provide transportation to the ferry in a van. They charge $8 per 24 hr. I suggest you do not park on the side of the road, they do give out parking tickets.
Ticket window opens 1 hr before each scheduled trip.
We are in the process of updating the maps we use on our web site. While we're working on that, you can click on the GPS coordinates below to view the location on Google Maps ...
PuertoRicoDayTrips.com assumes no responsibility regarding your safety when participating in the activities described in this article. Please use common sense! If your mother or that little voice in your head tells you that you are about to do something stupid … then don't do it!