Family Fun Zipline in Luquillo
The lush green forest around El Yunque is home base for El Yunque Rainforest Corcovado Adventures, making their zipline adventure a beautiful and exciting experience! If you are looking for a fun adventure that will get the kids squealing with excitement, and get your heart racing, then the El Yunque Rainforest Corcovado Zipline Adventure is the perfect activity for you and your family.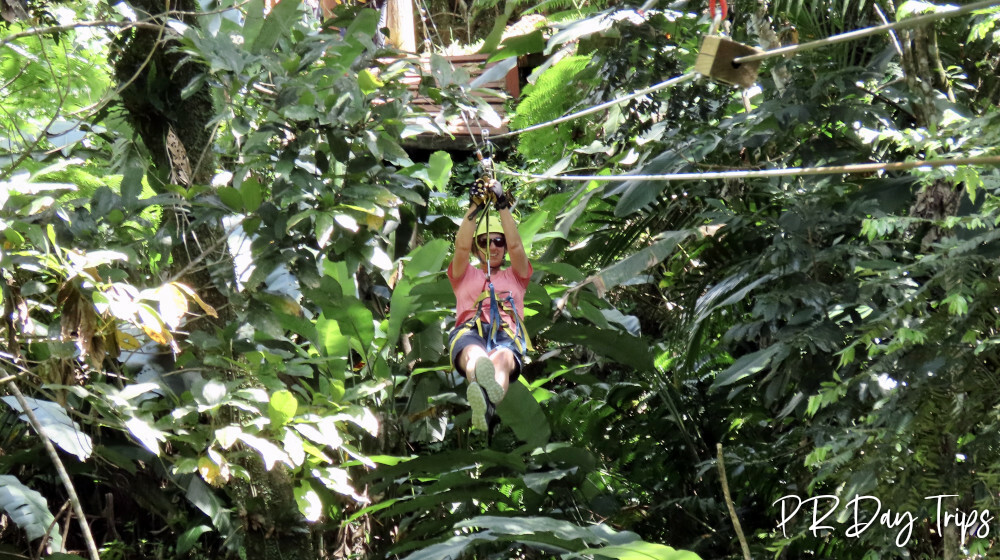 This exciting tour is located in Luquillo, a town on the north-east corner of Puerto Rico, just a 40-minute drive from the San Juan area. The El Yunque Rainforest Corcovado Zipline Adventure allows you to experience the beauty of El Yunque forest, and the excitement of ziplining, at the same time. Ziplining is like flying through the air, but you are suspended on a cable, via a harness and pulley system. While it may seem like an activity for daredevils, zip lining can actually be enjoyed by people of all ages and skill levels, making it an excellent choice for a family outing.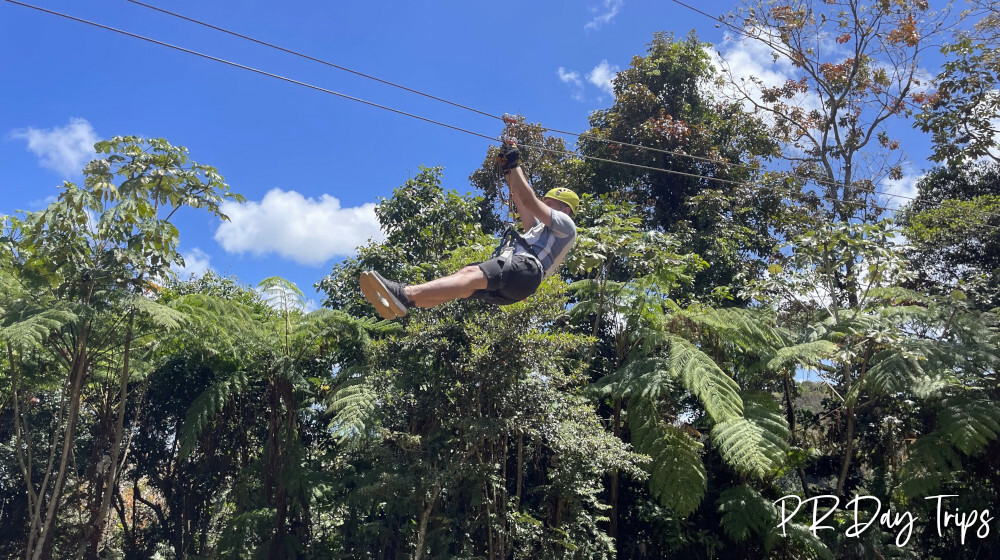 This is a locally-owned and operated company. The owners CLaudia and Robert are on-hand, either as guides or hosts, to make sure you are safe and cared for. Claudia was our lead guide, put us in the harnesses, gave the safety and how-to instructions, and was there on the far end of each line to unclip us. Robert gave us a lift up the steep driveway, and supplied us with drinking water through-out the course. Another guide (Claudia's daughter) was the guide that clipped us on the lines. Supporting local families on vacation, instead of large corporations, is a blessing!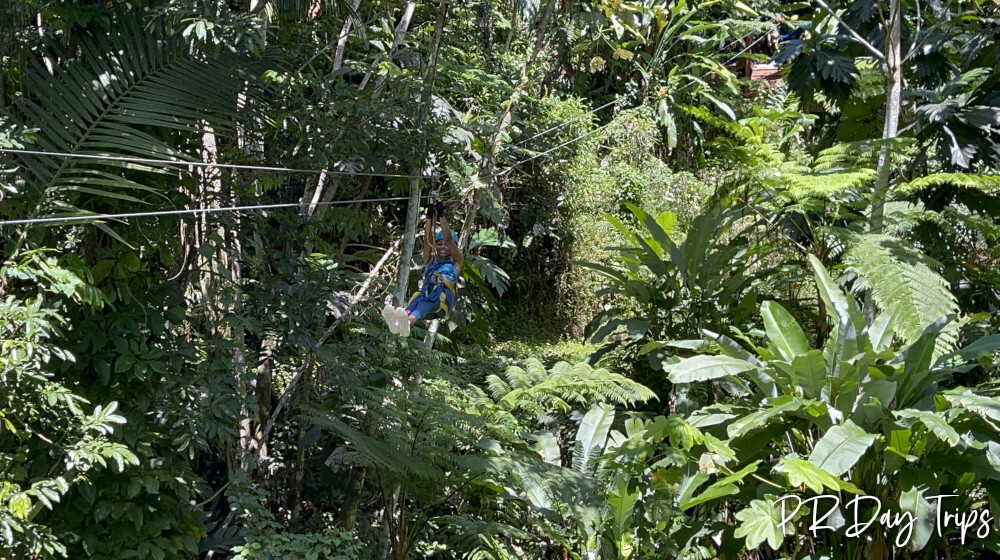 While this is not the largest, highest, or longest course in Puerto Rico, it is fun and exciting. They allow kids as young as 5 years old to go. So this is a great family-friendly zip line course, in an excellent location, run by locals who prioritize safety, well-maintained equipment, and guides who are experienced and knowledgeable.
Our tour was small, just 6 participants, so it was quick, we didn't have to wait forever for a large group to go. There is a short bit of walking (up hill) to get to the ziplines, but no long walks to do. There is the trial zipline, so you get the idea of how to do it. Then there are 5 ziplines, some longer, some shorter but faster. Then there were 2 hanging rope bridges at the end to cross.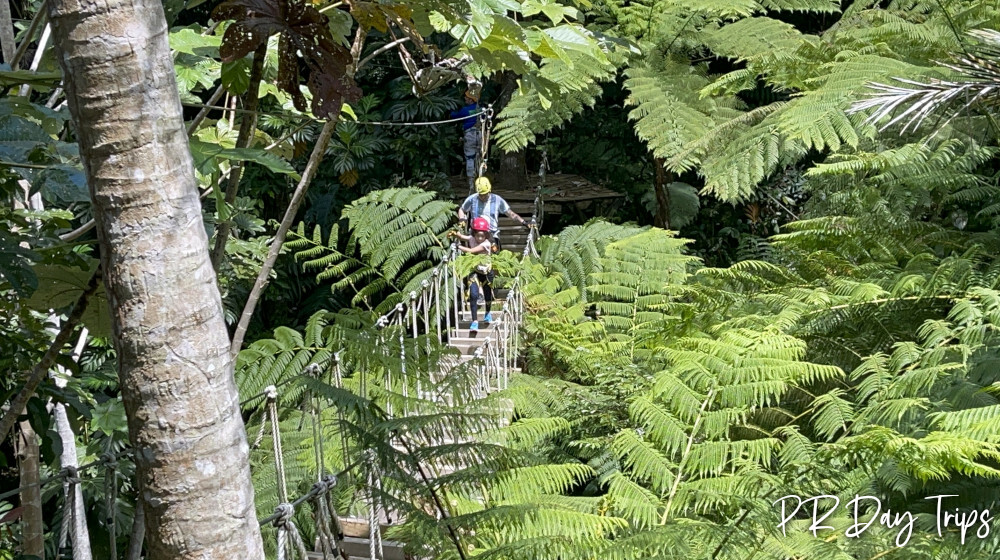 We enjoyed the tour. We noticed the teens in the group went from quiet and blah, to chatting and smiling as the tour progressed. It is a great team-building and confidence-building activity. It takes only about 2 hours to complete the trip, so you have plenty of time left in the day to do other fun things in the north-east part of the island.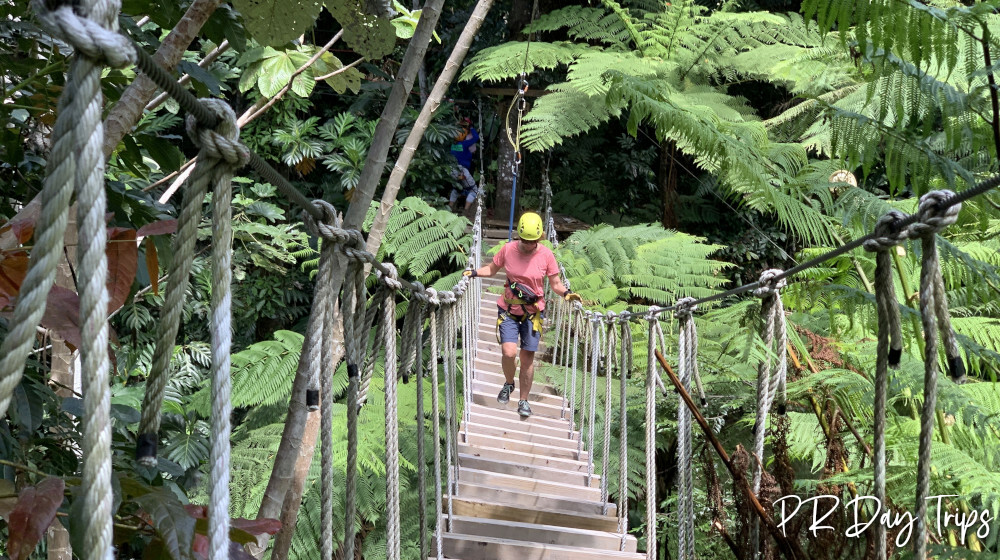 Details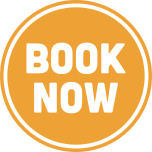 Tours are offered Monday to Friday at 3:30pm (they may be able to accommodate an earlier time – call to ask), and Saturday and Sunday at 9am, 12pm, and 3pm.
Closed-toe shoes are required. We recommend wearing "longer shorts" (to prevent chafing on your legs from the harness). There is a maximum weight limit. Minimum age is 5 years old.
They do not provide transportation. You need to meet them at their meeting point (currently Walgreens on Route 3 in Luquillo) and follow them back to their basecamp.
Allow about 2 hours, not including travel time to their basecamp.
You can text or call them (bilingual) at 787-565-8228 for more information.
You can visit their web site or Facebook page for more information.
Click on a placename below to view the location on Google Maps ...
Activities booked through this page are booked directly with the activity operator. Other than referring you to the activity operator, PuertoRicoDayTrips.com is not involved in the transaction between you and the activity operator. The activity operator is responsible for all aspects of processing bookings for its activities, including cancellations, returns, and any related customer service. PuertoRicoDayTrips.com makes no representations regarding the level of service offered by an activity operator. PuertoRicoDayTrips.com will receive a small referral commission for any activities that you book through this page.
All trademarks, logos and brand names are the property of their respective owners. All company, product and service names used in this website are for identification purposes only. Use of these names, trademarks and brands does not imply endorsement. Photos used to promote tours are the property of the original copyright owners.
PuertoRicoDayTrips.com assumes no responsibility regarding your safety when participating in the activities described in this article. Please use common sense! If your mother or that little voice in your head tells you that you are about to do something stupid … then don't do it!