Something for Everyone in the Town of Luquillo
When looking for day trips to do, I sometimes forget to look at places close to home. Luquillo is a great little town in the north east part of Puerto Rico. It is home to diverse natural beauty — both miles of beautiful beaches and acres of rain forest. It has a rich and interesting history and a decently active, modern social life.Originally, the town was named after the Taino indian chief (or cacique) named Loquillo. Today, the town also boasts the title of "The Sun Capitol" of Puerto Rico. Most people assume they have "done" Luquillo if they make it to the food kiosks and Luquillo Beach, but there is a lot more for people to do and enjoy. So take some time and come explore Luquillo!
Beaches & Water Sports
Everyone is always looking for a good beach, and Luquillo has some really nice ones. My favorite one Balneario Monserrate, is usually designated as a "Blue Flag" beach. A government-run beach, it is clean and it has restrooms, showers, life guards and food available.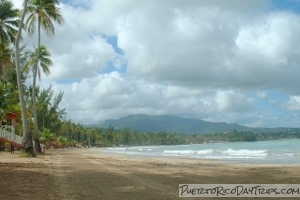 It has a handicapped accessible beach (mar sin barriers). The mar sin barriers building is still there and they offer special sand-capable wheelchairs. The mar sin barriers center is located to the far east end of the beach (to the right when facing the water). If that's something that you might need, stop in and see what assistance they can offer you.
This balneario is oftentimes just called Luquillo Beach — but it should not be confused with the public Luquillo Beach located behind the Luquillo food kiosks. That beach, and all the other beaches in Luquillo, are open to the public at no charge, but lack services. The public Luquillo beaches — Playa Fortuna, Playa Azul and La Pared — are diverse and beautiful. They range from small local strips of sand (Playa Fortuna) to large, to busy beaches with lots of sand (Playa Azul), to a narrow beach with large waves that allow for great surfing (La Pared).
Besides their beauty and as a source of entertainment for people, the Luquillo beaches are of a huge natural importance. As part of the Northeast Ecological Corridor, these beaches and reef systems are home many land and marine animals. Every year (usually March to July), leatherback sea turtles return to the beaches to lay their eggs and Hawksbill turtles come to nest here all year round. Please enjoy these beaches but protect and respect them, and help keep the beaches clean.
A day at the beach in Luquillo can mean different things to different people. You can splash around in the water, sunbathe, people watch or read a book. If you're looking for something more active, you'll be able to find that, too.
There is some so-so snorkeling at these beaches — at "the point"- the coral area between Playa Azul and La Pared beach and maybe by the old boat ramp at the public Luquillo beach. You can rent ocean kayaks and do FlyBoard or rent jet skis at the east end of the Balneario Monserrate-close to the beach behind the kiosks and use them in a roped off area. Surfing, especially in the winter months, is very popular in Luquillo. Try the east end of Playa Azul for beginners, or La Pared for experienced surfers. Stand-up paddle boards have become the new up-and-coming sport. We've seen people doing this at Playa Azul.
Surfing Puerto Rico offers surf lessons and rents boards. SunCapital PaddlesSports, near La Pared, offers tours and will rent kayaks and paddle boards.
Land-based Excursions
Not everyone wants to spend the day at the beach or participate in water sports. If you're one of those people, have no fear, there's stuff for you to do in Luquillo, too.
The Saint Joseph Parish Catholic church (San José Iglesia Catolica) has some beautiful wooden carvings and is worth a short visit. Located on the main plaza, just off of Calle 14 de Julio, on Calle Jesus T Pinero, it is easy to find.
The altar piece incorporates the beauty of the land and sea (palm trees, sea grapes, birds, and the Puerto Rican parrot) with symbols from all the cultures of the Puerto Rican people (Taino, African and Spanish) and blends them with the Christian religion.
The small chapel on the east side of the church is usually open during the day, and you can get inside the church to see the carvings. Stop in at the church office first and please make a donation to help maintain the building.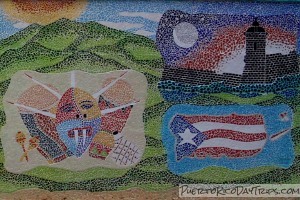 For some outdoor art, there are statues and other outdoor art located around town. There is a statue of the Taino indian cheif Loquillo in a little park just off Calle 14 de Julio — You can see the back of the statue from Route 3. There is also a bust of a prominent town person, Rosendo Matienzo Cintron, in the main plaza. There are also some metal sculptures around town, especially down by La Pared.
My favorite art is being done by some local residents who are artists. Located beachfront on the eastern end of the road at Playa Azul (right by the condos), the residents have started making beautiful murals. Some are painted and some are mosaic tiles. Stop by and check them out. They are bright, cheery and colorful. There are also many murals going up around the downtown area, it is one colorful place!
For people who feel need to connect, the main square in Luquillo offers a free WiFi zone.
Adventures & Activities
Almost every kind of adventure activity is available to you in Luquillo. Carabalí Rainforest Park (formerly Hacienda Carabali) offers ATV tours, horseback riding tours, mountain biking and go carts, all in the foothills of El Yunque.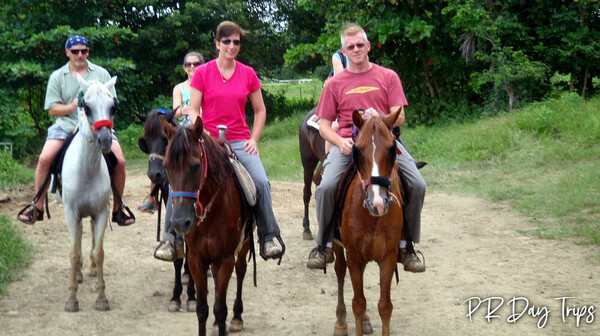 For some more adrenaline-pumping action, EcoRainforest ziplines offers a nature tour with zip lines, assisted rappeling and hiking, also in the foothills of El Yunque.
There is natural fun at Las Paylas (or Las Pailas), where the river has carved the rocks smooth in creases, creating natural water slides and pools.
Festivals
Luquillo has two major festivals every year in town. One, in April, is the Festival del Tinglar or the Festival of the Sea Turtle. Sponsored by the Sierra Club, it is designed to bring awareness to the importance of protecting the environment. It incorporates some fun (live music, food, artisans, a parade of kids in turtle costumes!) and lots of environmental education.
The other, usually in November, is the Los Platos Tipicos or Typical Foods festival. This festival features many different food and drinks made from coconuts. Of course, there's lots of other food, music, and general merriment.
On occasion, there are other shows and fun activities, like the Sand Sculpture festival, at the beaches throughout Luquillo.
Eating, Drinking & Shopping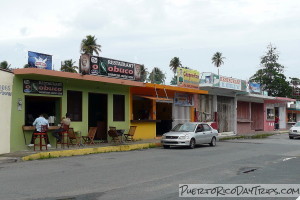 There are lots of choices of places to eat in and around Luquillo — from seaside shacks, to gourmet, to fast food, to steak houses or Puerto Rican cuisine up in the mountains. I'll just mention a few here. The Luquillo Kiosks are a huge draw for people in the area. Located right on Route 3 just west of Balneario Monserrate, this row of 60 ramshackle building has been a favorite for years. Over the last couple of years, some higher-quality (and higher-priced!) restaurants have opened. This influx of new places has increased the variety and types of food that is available.
Luquillo's downtown area is making a come back, too. Near La Pared, you will find Boardriders Surf & Rum Shack, that offer nice meals in a great beach atmosphere. For seafood in Luquillo, check out Sandy's. The Brass Cactus Bar & Grill is popular (especially with the americanos!). Our favorite Mexican restaurant, Lolita's, is just on the outskirts of Luquillo a little bit east on Route 3. Good food, great prices and yummy margaritas.
For shopping, there are lots of strip malls in the area with supermarkets, pharmacies (Walgreens, CVS) and general department stores ( WalMart) located on Route 3 or just off of it.
In Summary
Luquillo also is a great location to enjoy one of my favorite activities — sit beach-side and just relax and watch the waves or the sunsets. Luquillo has a lot to offer … Stop in and see for yourself.
PuertoRicoDayTrips.com assumes no responsibility regarding your safety when participating in the activities described in this article. Please use common sense! If your mother or that little voice in your head tells you that you are about to do something stupid … then don't do it!