Beach Hopping in Luquillo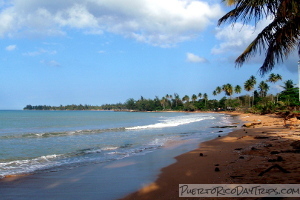 Miles of golden sand beaches, lined with palm trees for shade, the blue water with waves rolling onto the shore. It sounds like a tropical dream, but it is actually real and is what Luquillo has to offer.
Now, I realize that everyone has their own definition of what makes a great beach. I will give you my opinions on each of the beaches in Luquillo, but you are encouraged to visit them all during a visit to Luquillo and find your own favorite!
Note- only the balneario has lifeguards, so go in the water at other beaches your own risk! We occasionally get some seriously large waves and a number of the beaches in the area get rip currents which make water play dangerous.If there is a red flag on the beach- DO NOT GO IN THE WATER!. If there is a green flag, it is safe to enter. If there are no flags, learn about rip currents before getting into any ocean.
I will say, right off the bat, that I am a fan of wide beaches with lots of sand, that are regularly cleaned and have facilities. So, for years, I have pretty much stayed true to the beautiful Balneario Monserrate in Luquillo. For me, that beach is hard to beat on the mainland of PR. But if you are looking for a more local feel, something a little more out of the way or you want some wave action, you may want to explore the other, lesser-visited (at least by tourist) beaches in Luquillo.
You should note that we took many of the photos in this article a few days after a huge rain storm, so there was a lot of natural debris washed up on the beach — coconuts, leaves, branches, seaweed — and the water was a bit more turbid than usual.
Mameyes Beach
The first beach in Luquillo is Mameyes Beach. It is located just east of the Wyndham Rio Mar property, as you cross the Mameyes River. This can be an issue after a rain storm since the river runs from the mountains, so a lot of debris and silt can wash down the river, causing the water to be murky.
You can get to this beach by heading east from the Rio Mar resort, or by heading west from Playa Fortuna. If you get to the beach through the Rio Mar resort, you should be OK coming from that direction and will be able to find a decent spot. If you want to go from Luquillo end, drive west all the way down the street from Playa Fortuno (enter off RT 3 , onto RT 193 and the a left onto Calle 1. It will dead end at a trail that leads to the beach. This beach is full of shells, glass and other debris (like tile) washed down the river in storms. It is fun for people who like to hunt for "treasure". You will come home with a pocket full of things, including sand dollars! But as a beach, not the best available in Luquillo (IMO).
Playa Fortuna
The next beach you will come to as you enter into Luquillo from Route 3 is Playa Fortuna. Located just off Route 3, on Road 193, this beach is more like a beach-front park. It has a large, grassy field that opens onto a narrow stretch of sand. There are some waves — there was a local family there and the kids were having a ball on their boogie boards. You park on grass and set up where ever you want.
Playa Fortuna is what I would call a local beach — locals enjoy it a lot, but it is not maintained, so it is not always clean. They bring their dogs to this beach. There is some trash and broken bottles around. So watch where you step. This beach, and the general area, is not my favorite — the sand is too narrow and the neighborhood is a bit too depressed for me. But I did notice that the eastern end had some nice shells and a few pieces of sea glass.
To get to Playa Fortuna from Route 3, turn north on Road 193, then make first the first right and follow the road to the ocean. Unless you are interested in shelling and/or hunting sea glass, I would go to another beach.
Luquillo Beach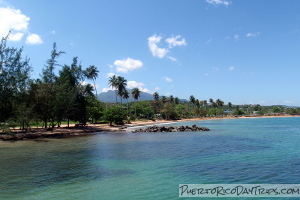 Another beach that is really more pretty to look at, instead of actually setting down and beaching it, is located just off of Route 3 behind the Kiosks. Called Luquillo Beach, this area can get pretty dirty with trash (especially after a weekend). There appear to be some reefs by the old boat ramp that might have some snorkeling. I would suggest getting away from the kioska- walk way to the left or right for a little more peace and clean.
To get to this beach, turn at the Kiosks and take the small road behind them. Park in the beach "parking" area or in the Kiosk parking lot.
Balneario Monserrate
Next comes Balneario Monserrate, often also called Luquillo Beach. This beach, like all Balnearios, is actually a government-run beach. This means they have grounds keepers that sweep the beach of trash and natural debris, showers, life guards, restrooms, food and souvenir stands (kiosks). Clean bathrooms ( small fee to use). It is a very clean beach and is occasionally awarded the "Blue Flag" designation. This is one of the few beaches in Luquillo where, due to a natural wave break, the water is usually calm and with the lifeguard on duty, great for even little kids almost everyday of the year (watch and obey the water warning flags). They charge $4 to $5 plus IVU (sales tax) for parking. This beach is hard to beat. Open Wed-Sun durng "winter" and 7 days a week during the summer months. If the beach parking lot is closed, DO NOT PARK IN THE ROAD BY THE ENTRANCE- you will get a ticket! Park at the Kiosks and walk in via the beach. Refer to our prior article about Balneario Monserrate for more information.
Punta Embarcadero & Punta Bandera
If you walk (far) east from Balneario Monserrate, you will come to some points — Punta Embarcadero and Punta Bandera. This seems more of a place where locals with boats hang out. Looks like there might be some reefs for snorkeling here in this area — but currents can be a problem.
Playa Azul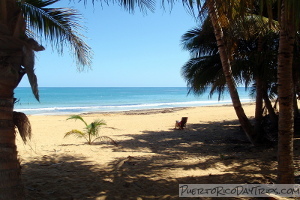 East of Balneario Monserrate, you'll find Playa Azul (technically called Playa Vilomar). This is actually a long, wide beach with lots of sand. It runs along a crescent cove. It's a pretty beach, too. It's a nice picture spot. This would be my second favorite beach in Luquillo.
It has a roped-off swimming area and the water can range from calm to moderately wavey, but no lifeguards. So obey the flag system- red means no swimming! It's in a nice location, and many of the locals (and snowbirds) help keep the beach clean, but you will see them walking their dogs on the beach and not cleaning up after them (it loses points for that!). You will see paddle-boarders enjoying the area outside the ropes and there are some reefs at the eastern end of the beach, so possibly some snorkeling. Be aware of rip currents.
To get there, turn off Route 3 at the light for downtown Luquillo Int 193 (at km 36.3), then turn left, then make a right onto Calle A, and follow it to the end. There is plenty of parking along the sides of the road.
The Point
The Point is located between Playa Azul and La Pared. This little point of land goes around the corner and has a reef that keeps some of the waves out. We thought it had so-so snorkeling, but the waves made it difficult that day. make sure to watch the Flags for safety. Walk there from either beach.
La Pared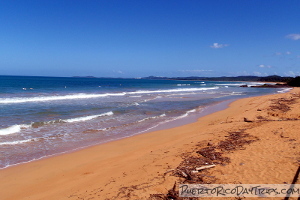 La Pared is the next beach heading east — this beach runs along the road (separated from the road by a wall — that's how the beach got its name). This is almost never a swimming beach due to rip currents. If there is a red flag on the beach- DO NOT GO IN THE WATER!
On the western end, it is a narrow stretch of sand and a grassy area with palm trees where you can set up your beach stuff and enjoy the shade, the view and water. This is where many locals just park and enjoy a snack, a drink and few minutes of nature's beauty before going on with their day. As you go east, The Wall (La Pared) starts and you will see the surfers enjoying the waves.Again , If there is a red flag on the beach- DO NOT GO IN THE WATER! . Watch for rip currents!
This La Pared area was a kind of depressed area that, in recent years, is starting to make a come back. There are a few new restaurants starting up along with the surf shops.
The area is generally safe, though it looks a bit ragged around the edges. Note — get a map and you'll notice that many of the streets in downtown Luquillo are one way once you get into the main town square area.
The easiest way to get there is to turn off of Route 3 at the light for downtown Luquillo (by the Playa Azul condo towers Int 193 at km 36.3), turn right, and continue until you hit the town square. The ocean will be to your left, but because of the one-way roads, you'll have to work your way around the square and behind the church road before you can head toward the water. There is plenty of (free) parking on the road, or in the lot on the corner, or even in a "lot" for $3 by the circle.
La Selva
If you're really adventurous, a 40-minute walk heading east along the beach from La Pared will get you to the La Selva beach. This whole area is a nature reserve area (the Northeast Ecological Corridor), so it usually only visited by surfers and sea turtles.
Click on a placename below to view the location on Google Maps ...
PuertoRicoDayTrips.com assumes no responsibility regarding your safety when participating in the activities described in this article. Please use common sense! If your mother or that little voice in your head tells you that you are about to do something stupid … then don't do it!