Surf's Up in Luquillo with Surfing Puerto Rico
Have you ever dreamt about spending your vacation on a tropical, sun-soaked beach, and feeling the exhilaration of gliding across the water on a surf board? We all have. The first steps are getting yourself to that tropical island beach, and then hooking up with someone to give you surfing lessons. While we can't help you with your travel plans, we can point you toward some great surfing instructors.
Puerto Rico is a great place to surf, with year-long summers and some of the best waves in the Caribbean. Learning to surf at La Pared Beach in Luquillo is an experience you will not soon forget. Surfing Puerto Rico offers surfing lessons for everyone, young and old, in a fun and encouraging environment.
We recently took surfing lessons with them, and everyone in our group was able to get up and surf for real during the lesson. It is an amazing feeling of accomplishment! Check it out!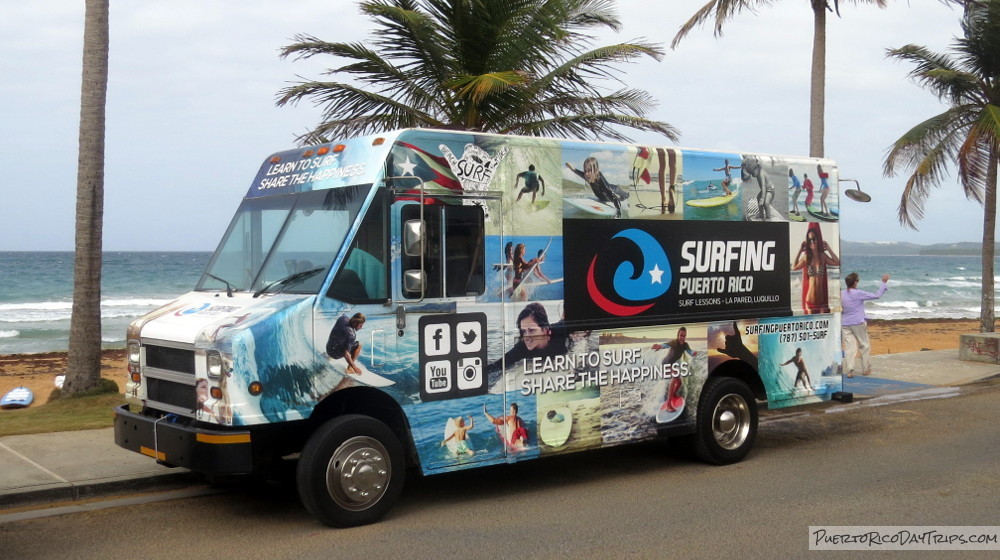 The Company
Everything about setting up our surfing lessons with Surfing Puerto Rico was really professional. Starting with the great communication before booking our lesson, to their easy online booking, to the surf truck "office" at the beach (with a fresh water rinse), to the amazing surfing instructors. They have complimentary snacks and water available at all times so that their students remain hydrated and energetic! They even had beach chairs set up in the shade for the "non-participants" (me!) in the group. And they take pictures of you and post them on Facebook for you to download afterward.
They have many different types and sizes of boards, depending on your skill level and needs. They've thought of everything to make your experience great.
They conduct their lessons at La Pared Beach in Luquillo, on the north-east shore of Puerto Rico. That's just an easy 45-minute drive from San Juan. The proximity to other tourist attractions (Balneario Monserrate, El Yunque National Forest, the Luquillo Kiosks, Northeastern Ecological Corridor) make it an ideal place to spend a day or more checking out the scene.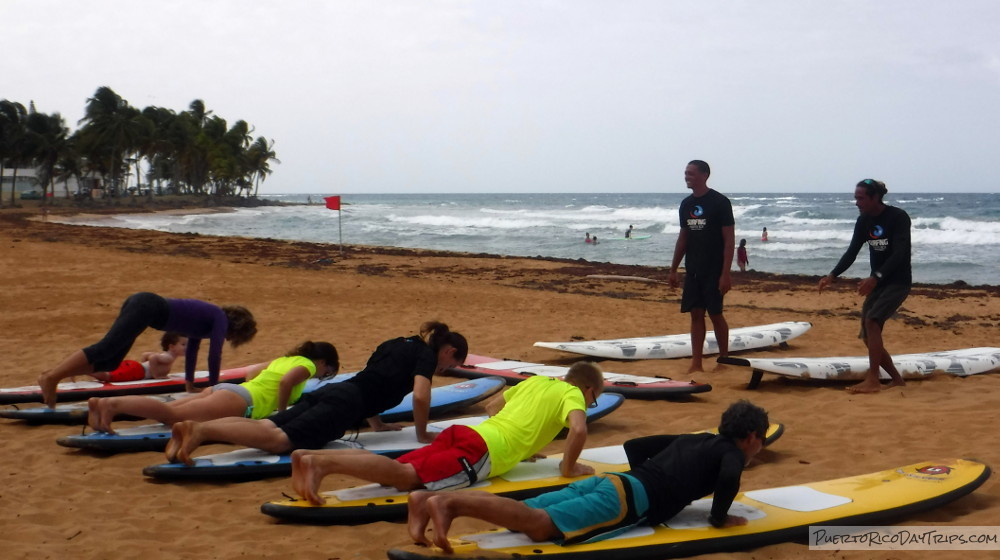 Our Lesson
We met our instructor (and his assistant) at their truck at La Pared. They were both so friendly, enthusiastic about surfing, and super excited about sharing the sport! I was sitting this one out, but Ray and some friends took the lesson, along with another couple of people.
The lesson starts with a briefing on the beach about the surf, the underwater conditions (there is a sandy bottom at La Pared), safety info on surfing and falling, and how to spot rip currents (and how to use them to your advantage). Then they put everyone on a surf board (on the beach), the instructor explained and demonstrated the mechanics of surfing.
It is not as easy as the pros make it look. There lots of things you need think about to be successful. How to find the right wave, popping out of the water onto the board, feet placement, and balance, to name a few. You have to try it a bunch of times on the beach until everyone seems to have the hang of it. He was a great instructor. Very patient and really helpful with suggestions to improve your stance. After practicing on the beach, they hit the water in search of a righteous wave.
Of course, as with any sport, practice makes perfect. You'd start by floating your surf board out to your instructor, where he'd get you onto the board and wait for your wave to come. Then he'd launch you on the wave, and tell you when to pop up onto the board. After each attempt, they would be offering praise, encouragement, and recommendations on how to improve.
They were both so patient, wave after wave. The individual attention they give each person was really great. They really wanted you to succeed and to have a good time.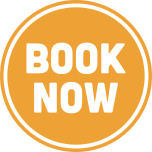 I had a great time taking photos of everyone trying their new-found skills. The expressions on people's faces in the photos are priceless — intense concentration, joy, pride, thrill, and "oh crap". I enjoyed just watching them. It was truly amazing … before the end of the lesson, everyone had been up and surfing at least a few waves. Everyone said when you actually got up and road the wave in, it was the greatest feeling, and a real sense of accomplishment.
After the lesson, we all hung out feeling so cool, now that we are surfers! We were offered that we could come back and use their boards to practice next time we are in the area. One in our group was so good at it that he and our assistant instructor went out the the big surf and tried a few "big boy" waves!
When I asked everyone afterward about their experience, people were so excited about what they were able to do and how great the instructors were. A few of them even mentioned wanting to buy their own surf board. I think Surfing Puerto Rico has created another set of surfer dudes and dudettes!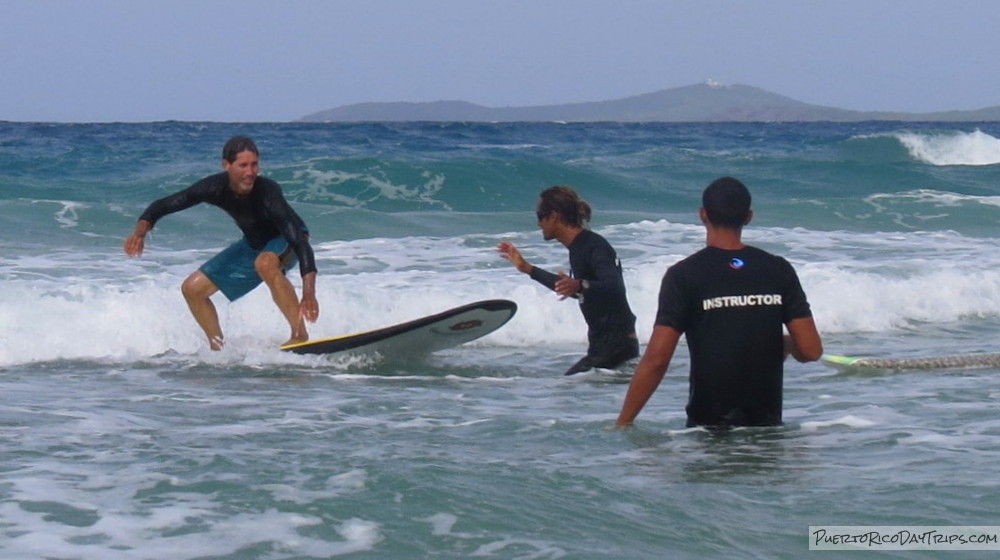 Normally, when we review an activity that is not free to the public, we pay the admission price out of our own pockets. However, we just want you to know that the guys at Surfing Puerto Rico were kind enough to offer us our lessons for free. While we don't feel that this free ride influenced our review one way or the other, we felt that we should tell you, just as a matter of fact.


Details
Lessons last 2 hours and price depends on # of people in group. Booking your lesson (and paying for it) should be done online through their web site. Book Now
If you're happy, let them know it — Don't forget to tip your your bartender, tour guide or trip operator if you enjoyed yourself. Gratuities are appreciated and typically aren't included in the price they charge you.
Lessons are offered Monday through Saturday, at 9:30am and 1:30pm. They ask that you check-in at their truck 30 minutes before your scheduled lesson. Lessons are offered rain or shine (unless there is lightning).
The minimum age for lessons is 8 years old, but they may be flexible with that.
Lessons last 2 hours.
You can call them at 787-501-7873 for more information. They prefer that you book your lesson online through their web site.
You can visit the Surfing Puerto Rico web site for more information, and to schedule (and pay for) your lesson.
All you need to bring is yourself in a bathing suit and rash guard (to protect from scrapes). They have rash guards available for sale if needed.
The instructors are completely bilingual (Spanish/English).
From the San Juan area, take Route 66 east (toll) all the way to the end in Río Grande. Continue east on Route 3 to Luquillo. Turn left at the light after Balneario Monserrate and the kiosks. Then wind your way through Luquillo to La Pared Beach. Look at our map for details. Also, Surfing Puerto Rico provides driving directions on their web site.
Travel time from the San Juan area to La Pared Beach is about 45 minutes.
There are other people who offer surfing lessons, including Luquillo Surfing and Surf Connection in Luquillo.
Click on a placename below to view the location on Google Maps ...
Activities booked through this page are booked directly with the activity operator. Other than referring you to the activity operator, PuertoRicoDayTrips.com is not involved in the transaction between you and the activity operator. The activity operator is responsible for all aspects of processing bookings for its activities, including cancellations, returns, and any related customer service. PuertoRicoDayTrips.com makes no representations regarding the level of service offered by an activity operator. PuertoRicoDayTrips.com will receive a small referral commission for any activities that you book through this page.
All trademarks, logos and brand names are the property of their respective owners. All company, product and service names used in this website are for identification purposes only. Use of these names, trademarks and brands does not imply endorsement. Photos used to promote tours are the property of the original copyright owners.
PuertoRicoDayTrips.com assumes no responsibility regarding your safety when participating in the activities described in this article. Please use common sense! If your mother or that little voice in your head tells you that you are about to do something stupid … then don't do it!