El Portal Rain Forest Center & Walking Trail- Currently NOT available
Update-7/2020- El Portal and trail has NOT yet reopened after the hurricanes. It sustained a lot of damage, might be another year or more for it to get repaired. There is currently no visitors center. For info, contact the forest via Facebook or call them .
El Yunque National Forest (aka "the rain forest") is one of the many places you can visit in the northeastern part of Puerto Rico. It covers 28,000 acres of land and is the watershed for much of the northeast of the island.
El Portal Rain Forest Center is the main visitor center in El Yunque National Forest. It features an elevated walkway through the tree tops, educational displays, a short interpretive walking trail, a deli/restaurant and a small gift shop. Though completely optional, the Forest Center is an informative stop for first-time visitors to El Yunque.
El Portal Rain Forest Center
The entrance to El Portal Rain Forest Center is along an elevated walkway that provides a view of the forest from the tree tops. The first thing you come to inside the Center is the information desk, which is staffed with some really helpful people. You can pick up a El Yunque Forest trail map and get answers to all of your questions.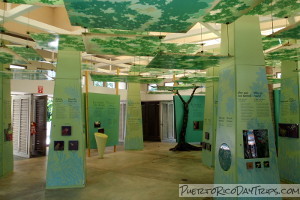 On the first floor, you'll find a bunch of displays with information about the rain forest. There is a short movie (approximately 15 minutes) about El Yunque National Forest that runs continuously, alternating between English and Spanish versions. The Center also has a deli/restaurant, gift shop and restrooms on this level.
One the second floor, there are a number of rooms that have educational display about conservation, ecology, water, rain forests, wildlife and other nature-oriented themes. On the last weekend of every month, a number of local artisans display their artwork & crafts, and offer items for sale.
El Portal Trail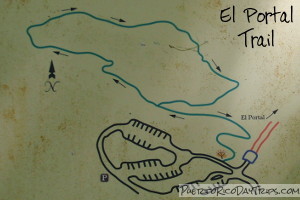 There is a short interpretive trail right at the Forest Center. The trail head is located at the edge of the parking lot, just to the left of the elevated walkway that leads to the Forest Center building. There's a Vereda/Trail sign marking the trail head.
This short (0.4 miles) trail was enjoyable and easy to walk, and it is a loop (meaning that start and end in the same spot).
It is a packed gravel trail, so it was pretty easy walking, but it is not wheelchair-friendly. It is in the lower forest area, so you will see some different vegetation than you will see on trails farther up the mountain. We went in October and had to watch out for falling breadfruit!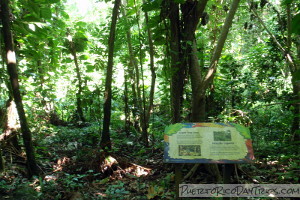 On the trail you will be able to see many native trees, some bananas, heliconias and gingers. Along the way you will find bi-lingual information placards about the flora & fauna of the trail and the rain forest in general. It has some pretty views and scenery. I enjoyed this nice starter trail. I also think this would be a great place to bird watch- lots of trees and open spaces.
Details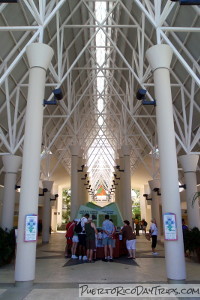 Though there is no cost to get into El Yunque National Forest (for hiking, etc.), there is a small entrance fee for El Portal Rain Forest Center. They charge $4/adult and $2/senior. Kids under 16 are free. They collect the entrance fee upon entry to the parking lot. Your National Park Service passes are valid here.
El Portal Rain Forest Center is open 9am to 5:00pm, 7 days/week. Closed Christmas Day.
For more information, including driving directions, please refer to our Getting Started in El Yunque National Forest article.
We are in the process of updating the maps we use on our web site. While we're working on that, you can click on the GPS coordinates below to view the location on Google Maps ...
PuertoRicoDayTrips.com assumes no responsibility regarding your safety when participating in the activities described in this article. Please use common sense! If your mother or that little voice in your head tells you that you are about to do something stupid … then don't do it!