Taste Artesanal Ice Cream at Jendys
7/21- Jendys is open again! !.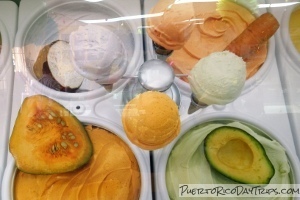 Do you love ice cream like I do? Then a trip to Jendys Heladería (ice cream parlor) is a must-do stop. No matter what you are in the mood for, they have probably made that flavor. They specialize in odd, unusual, tropical, and totally delicious flavors of small batch ice cream.
It used to be that, if you wanted odd flavors of ice cream, you would have to drive far into Puerto Rico to Heladería Lares to get it. Now, these specialty flavors can be had much easier (and closer) when in the San Juan area.
Jendys Heladería is located in Caguas, just a 30-minue drive from San Juan. It is a newer (opened in 2002) and maybe less well known place as Heladería Lares, but it is just as note-worthy.
Specializing in Odd Flavors
Each day they have a big selection of flavors. The day we went they had about 30 flavors available, which included some vegan and some sugar free options.
They usually have a few "odd" ice cream flavors like garlic, sangria, avocado, carrot and ginger. Some other exotic flavors come from local fruit/veggies like ripe plantain, calabaza (pumpkin), acerola, guaynabana or tamarindo. They have yummy things like choco-avellanas (Nutella flavor), Baily's, tres leches, and corn. The list goes on and on, and changes every day.
Can't decide on what flavor to get? They give 2 free taste samples, though I don't think that 2 test limit is written in stone (as we tried about 5 flavors each). And this is actually really good quality ice cream too — nice and creamy.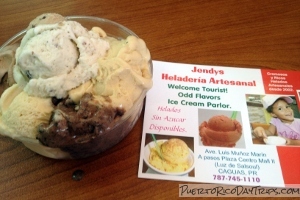 We got an Arcoiris (rainbow) sampler of 7 "small" scoops (they weren't that small!) of different flavors. It was amazingly good! I think it was enough for 2 people, and it was a great way to try a bunch of flavors. They also have cups, cones, waffles, brownies and about 8 different toppings for sundaes.
So why drive all the way to Lares, when Jendys is so close? The drive is quick and easy, and parking is easy to find. The shop is air conditioned with tables/chairs to enjoy your treat (though they also have a few tables outside) and the ice cream is creamy. Yum!
And while you are in Caguas, make time to enjoy the botanical garden, or go to some of the many free museums. You could even make Jendys a side-trip on your back from an afternoon of lechon in Guavate.
Details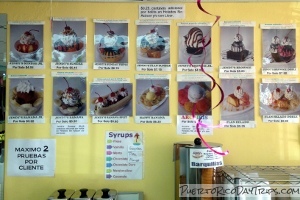 We didn't write down prices, but a large scoop was about $4.00, and the 7-scoop sampler was about $10.
Jendys is currently open Thursday through Sunday 12 pm-7-8 pm.
You can call them at 787-745-1110. They are bilingual.
You can check out their Facebook page for more info.
Jendys Heladería is on Luis Munoz Marin Avenue in Caguas, on the corner near the SalSoul radio station.
Caguas is about a 30 minute drive from the San Juan area.
Click on a placename below to view the location on Google Maps ...
PuertoRicoDayTrips.com assumes no responsibility regarding your safety when participating in the activities described in this article. Please use common sense! If your mother or that little voice in your head tells you that you are about to do something stupid … then don't do it!