Great Diving at the Wall in La Parguera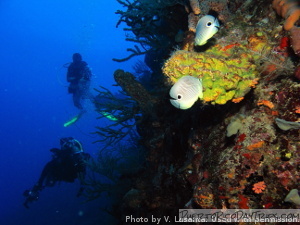 If you are headed to Puerto Rico for vacation and want to do some SCUBA diving, there are a few different regions that are popular for diving — the north-east (including Culebra and Vieques), the south and the west.
During a trip to the south-west part of the island, we found some diving that I thought was the best I've experienced here in PR. That region is home to "the Wall" and the diving was great!
Our Dive Experience So Far
We live the north-east part of Puerto Rico and we enjoy the diving here — but we are less than impressed. We look at diving in this area simply as "time underwater". But, as they say "a bad day diving is better than a good day at work". Having read in numerous dive magazines about how great the diving is in Puerto Rico, we figured that we must be missing something — so we ventured out. During a recent visit to Guanica, we decided we had to check out the south-west below the surface.
Our Trip into La Parguera
There are a couple dive shops located in La Parguera, but we found West Divers on a flyer so we tried them. They are no lnger in business, so you will need to try another company.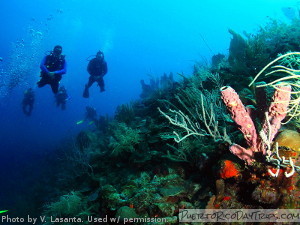 We wanted to go during slow season, but we lucked onto a day when they had 2 other experienced divers already booked. We ended up on the boat with our Captain, (who stayed on the boat the whole time), fellow divers Brian and Juan (visiting while on leave from the Army), and our Dive Master Victor (who was also the photographer in the group).
We met early (7am) at the dock (located in the La Parguera marina area). After the usual paperwork, they had us take all our stuff out of our bags and put it into basket (1 per person) that they supplied. This is a great idea since it made getting geared up on the boat easier.
Since we were diving in open ocean, and the waves can get rough, we all set up our own BCs and tanks before leaving the dock. The crew gave us a brief boat orientation (they have a lot of safety equipment!) and then we headed out into the ocean.
The boat ride was approximately 30 minutes each way. The first 20 minutes are in a calm channel, then you head out into open seas where the waves pick up. Luckily it wasn't too rough that day, but Ray was glad he took his Dramamine! Once at the first dive site, they gave us a dive briefing, then we got geared-up and jumped in!
The Diving
What can I say? It was fantastic! Diving the wall here was comparable to Cozumel, but without the current. The water was warm, the visibility was great — probably around 70 feet. There was a slight current on our second dive, but it was not too bad. We went during a rainy day, so unfortunately the sun was not out. I imagine, if the sun was out, the reefs would have been spectacular.
Our first dive site is known as both Black Wall and Effrie's. It was on the wall, starting at about 60 feet and from there it goes down to more than 200 feet. Of course, we only dove to about 85 feet and then worked our way back up. It was great. I found West Divers to be more safety conscious than many other dive companies I have dove with. For example, requested that you notify the divemaster when you were down to 1200 PSI and required a 5-minute safety stop. I have no issue with their procedures — better safe than dead! With that said, we were still able to get a 48-minute dive at that first site.
After a nice, long surface interval, we had our second dive at a site known as Old Buoy. Another nice wall dive, but of course shallower this time. Our maximum depth on this dive was about 60 feet. There were all sorts of canyons and trenches we swam in/trough. We stayed down only about 35 minutes, but I could have stayed all day!
At both sites, the walls and reefs were covered with fans, corals, sponges and all sorts of sea life. Everything was very colorful, healthy and alive.
Their Dive Boat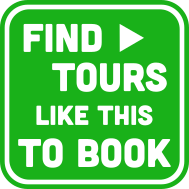 The boat was nice — it had room for about 12 divers (though that would be cozy). The whole back of the boat has a roof for sun and rain protection. They provide a storage box to keep your stuff (wallets, car keys, etc.) dry, and there is a small changing room below if you need it — but no head. There was a fresh-water hose for rinsing, buckets for cameras, and they supplied mask defogger.
By default, they swapped your gear onto a fresh tank between dives, but you could always do it yourself if you preferred. They helped during water entry (giant stride off the stern) and getting back onto the boat (ladder on the dive platform at the stern).
They even had soda and water if you wanted, and delicious sandwiches during the surface interval as a between-dive snack. We were back on shore before 11:30am.
We already plan to head back there for more diving!
Since we went diving with West Divers, they have closed. But the dive sites at The Wall are great!
Details
There is other dive companies in the area Paradise Scuba and Snorkeling Center. Check out their website or call them at (787)899-7611. And Island Scuba in Guanica offers dives of The Wall also. You can visit their website for more information. And Papayo Divers in Lajas that also offers dives of The Wall. You can visit their website for more information.
If you're happy, let them know it — Don't forget to tip your your bartender, tour guide or trip operator if you enjoyed yourself. Gratuities are appreciated and typically aren't included in the price they charge you.
Click on a placename below to view the location on Google Maps ...
Activities booked through this page are booked directly with the activity operator. Other than referring you to the activity operator, PuertoRicoDayTrips.com is not involved in the transaction between you and the activity operator. The activity operator is responsible for all aspects of processing bookings for its activities, including cancellations, returns, and any related customer service. PuertoRicoDayTrips.com makes no representations regarding the level of service offered by an activity operator. PuertoRicoDayTrips.com will receive a small referral commission for any activities that you book through this page.
All trademarks, logos and brand names are the property of their respective owners. All company, product and service names used in this website are for identification purposes only. Use of these names, trademarks and brands does not imply endorsement. Photos used to promote tours are the property of the original copyright owners.
PuertoRicoDayTrips.com assumes no responsibility regarding your safety when participating in the activities described in this article. Please use common sense! If your mother or that little voice in your head tells you that you are about to do something stupid … then don't do it!