Get Wet & Get Lucky on Noche de San Juan
Are you looking for a little good luck, or perhaps you just want to experience a local tradition? La Noche de San Juan, or Saint John's Night, is celebrated annually on the night of June 23. To take part in this tradition, all you need to do is get yourself to a beach, be prepared to stay up late and get wet. Are you ready to get lucky?
What's In A Name?
The whole island of Puerto Rico was originally called San Juan in honor of Saint John the Baptist, while the small island of what is now Old San Juan was originally called Puerto Rico (or Rich Port). But confusion over the name led to a switch to the names that we use today. But Saint John the Baptist (San Juan Bautista) is still the patron saint of Puerto Rico and its capital city, San Juan.
Tradition, Tradition
Saint John the Baptist's birthday is June 24th, so every year people celebrate his birthday with traditions. In Puerto Rico, at exactly midnight between June 23 and 24, on the eve of his birth, people walk backward into the ocean and fall backwards into it. They do this 3 times in a row. The water is said to be "blessed", so dipping into it is supposed to clean you of the bad things so as to bring good luck or at least help ward off evil throughout the year. Some people will do flips in the water … I don't really get that. Some people also do more than 3 dunkings (7 or 12 are the other usual number of dunkings). It is all in good fun and everyone is welcome to join in, whether you believe in the tradition or not.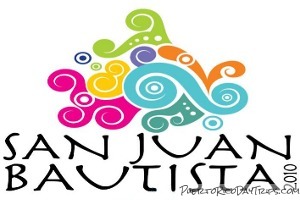 The good luck part of this tradition is, perhaps, questionable in its reliability, but it is a happy celebration where family and friends get together and enjoy food, music and the good company. Of course, since so many people live in the San Juan area (and it is his namesake), you will find throngs of people at those beaches (seriously — it can be almost elbow to elbow). A beach in the San Juan area is the place to be if you want to really experience the scene — a huge beach party. Many of the hotels in San Juan will have some type of organized event happening on their beaches.
Pick a Beach, Any Beach
The balnearios and public beaches are open for the fun, too. Isla Verde, Ocean Park (especially the Ultimo Trolley beach), Condado, Carolina and even Escambron are usually the busiest places. If the 23rd happens to be a weekend, be prepared for days and nights of parties (especially in the San Juan area). Some beaches actually have concerts and organized events for the festivities.
But you will find people at almost any beach (or even pool) around the island that night, but many less than in San Juan. In the north east area, the resort beaches, Balneario Monserate , La Pared area, or Seven Seas are usually open for revelers. I will post info on our Facebook page.
Let's keep our beaches clean- pick up and take home any trash you make plus anything else you see on beaches. And be aware- it is turtle nesting/turtle hatching season. Watch for nests and stay away from them.
Normally, I would not go to a beach at night for safety concerns. This night is different, but don't let your guard down totally. If you are in a remote area, and want to join in the festivities, find a more popular beach where other people are celebrating.
In the San Juan area, you will need to get to your chosen beach early if you want parking and to claim your spot in the sand. Bring a cooler with your goodies (no glass bottles please). Bug spray is a good idea to stop the sand fleas from biting. Bathing suit and towels are a good idea. Life guards are not on duty, enter water at your own risk.
Photo by Zyberchema.
PuertoRicoDayTrips.com assumes no responsibility regarding your safety when participating in the activities described in this article. Please use common sense! If your mother or that little voice in your head tells you that you are about to do something stupid … then don't do it!