Playa Capitolio – Sand & Sea Glass in Old San Juan
Lots of people visit Old San Juan hoping for a beach to enjoy close to the historic area. Well, there is a little beach that can be part of your day in Old San Juan. It is not the most beautiful, largest, cleanest nor even the safest beach in Puerto Rico, but it is close by, has some sand and an area with a small, protected cove, and it has large quantities of sea glass.
Personally, for a beach day, I would suggest you go a bit farther to the lovely Balneario Escambron, but for sea glass collectors, this little beach area is what you are looking for!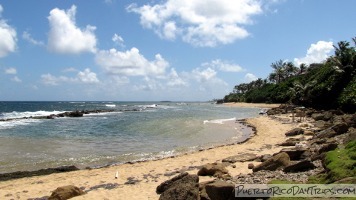 I am not sure if the name of this beach is really Playa Capitolio, but I have seen it referred to as that elsewhere (one reader said the real name is "Bajamar" or Playa de Bajamar). The name is descriptive of where it is … on the north side (back) of the Puerto Rico Capitol Building.
There are steps leading down to the beach on the east side of the San Juan Bautista Plaza. There used to be showers on the east side of the plaza at the top of the stairs, but they were not working any time we have visited this beach.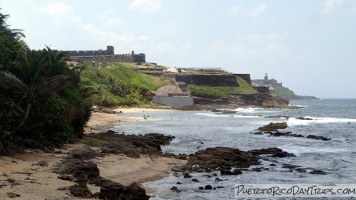 As you walk down the steps, you mainly can walk eastward. I would not go swimming in the water here as at times, I think it can be too rough. The water has some underwater coral & rocks that stop a lot of the waves from ripping into this north-facing beach. But you need to be very careful with rip currents, as these rocks have some openings (perfect for current formation).
If you walk to the west, climbing over some rocks, you will see a small protected cove. But there are lots of large rocks underwater, so wading out can be painful! The sandy area right by the steps is OK, but there is not too much of it at high tide. If you are a sun-worshiper, you could put down your towel and enjoy.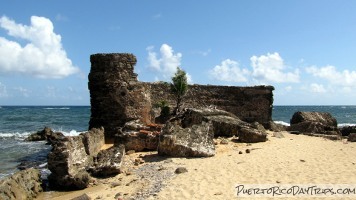 If you walk down the beach to the east (wear shoes because there are rocks you may need to climb over, especially at high tide), you will come to the ruins of a small fort. If you climb the rocks to the west of the steps, you will end up below the massive walls of Fort San Cristobal.
But I did not come to this for the sun, sand, nor swimming — I came for the sea glass!
Due to hundreds of years of people discarding things over the huge city walls into the ocean, and more currently, street run-off, this beach has loads of beautiful sea glass. I was able to fill two quart-sized Ziploc bags in about 45 minutes.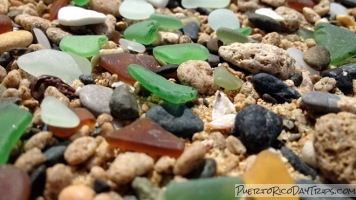 The glass was mainly greens of varying shades — from really dark green to bright chartreuse. There was also a lot of browns and clear (white). But I did find other colors, like blues, ambers/yellows, and even a sliver of red!
The pieces ranged in size from large to minute. But the quantity was impressive. I have never seen so much sea glass on one beach! I walked to the east, and it just got better and better the farther I went.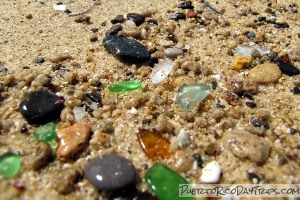 Just west of the fort ruins there were lots of small pockets of pebbles with loads of glass pieces. And most of the glass is perfectly etched, I had very few throw-backs.
One day I went almost at high tide (bad timing) and yet still there was a lot above the high tide mark. I could see all the glass rolling around in the surf at the wave break line. At low tide, it is even better!
I have been to this beach on weekends when there have been a number of beach-goers enjoying the beach. Recently, we went mid-week and were alone on the beach.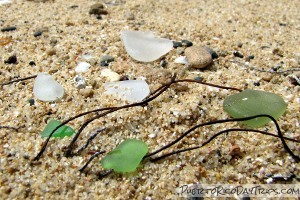 A word of caution I would give is think safety first and keep an eye on your surroundings. This beach and the area east of the steps is remote — the beach is not visible from the street above — and it is not in the best neighborhood. I would not go here alone, and I would not have anything of value on me.
Also local homeless seem to use the shrubs as their home (mostly to the east of the ruins). They didn't bother us, but we didn't stay around their area very long to chance it. Please go with at least one other person, and leave if you feel uncomfortable.
I was so into collecting my glass, I was oblivious to other people coming onto the beach from small paths through the bushes. Make sure someone is keeping alert to the area. We had no trouble, but it is better to be safe than sorry.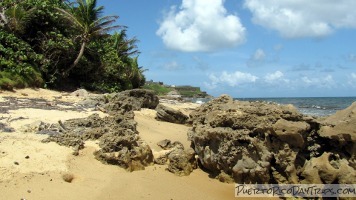 Playa "Bajamar" or Capitolio is about a 15-minute walk from the cruise piers in Old San Juan.
The "main" entrance to this beach is directly across the street from the Capitol Building in Old San Juan. On the weekend, you can park at the Capitol Building. During the week, you will have to park in Old San Juan (in a parking deck) and walk to the area (about a 15-minute walk from the parking decks on Recinto Sur).
If you go to this beach, please be careful as indicated above.
Click on a placename below to view the location on Google Maps ...
PuertoRicoDayTrips.com assumes no responsibility regarding your safety when participating in the activities described in this article. Please use common sense! If your mother or that little voice in your head tells you that you are about to do something stupid … then don't do it!