Chill Out on Secluded Playa Larga
Culebra, one of the little islands to the east of PR, is loaded with amazingly pretty seaside spots. Some are very popular and crowded, while some are little, hidden gems. For us, one gem is Playa Larga on the north-east tip of the island. Playa Larga is not easy to get to, and it is not a good, sandy, swimming beach, but it is our favorite quiet spot to just sit and enjoy the view.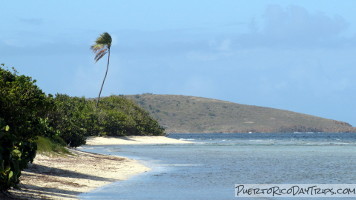 Playa Larga is located down a dirt off of Road 250 (that's the road that you take toward Playa Zoni). If you are heading from town, it is the first dirt road on the right after the bougainvillea hedge (you can't miss the hedge of bright magenta flowers). The road starts out flat, but it quickly deteriorates into a heavily rutted, single lane "road". You follow this road it all the way to the end, where you will find a small area for parking.
The times that we have been there, we have been either alone or with maybe one other car. It is busier with locals on weekends, but never packed with people (well maybe summer weekends). But you may find some people camping or just hanging out.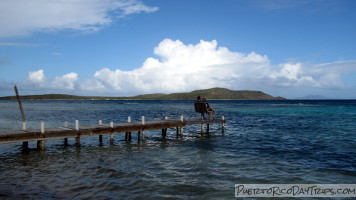 There is a little dock there, and a sand flat with sea grass where it seems like conch must live (you will find many empty conch shells on the beach, discarded by fishermen cleaning their catch).
The scenery is lovely, the sand is white, the water is bright blue, and there are excellent views of Cayo Norte and Culebrita. On a clear day, you can see St. Thomas about 12 miles away in the distance.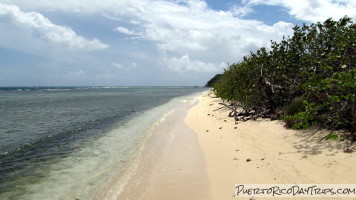 The beach is long (larga means long) but very thin, with lots of sea grass washed up at the water line. The beach is good for walking, but it is not so good for spreading out a beach blanket.
The sea grass beds are shallow, so it's not a good place to swim. Beyond the sea grass there is a reef where sea conditions can be treacherous.
Due to the remoteness of this beach, the shallow sea grass beds in some areas and the generally un-safe sea conditions, we're going to call this a non-swimming beach.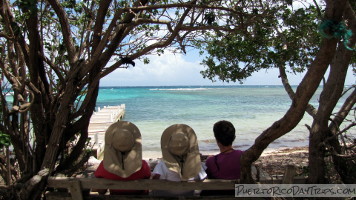 Luckily there is a nice bench under some shade trees right at the water's edge, and the dock where you can relax while enjoying the sun and breeze.
We usually spend our last hour or two on Culebra relaxing here, reading a book, or just chilling with a drink and sandwich. It's a great photo spot, too!
Details
The dirt road is very rough, and steep in places. We noticed in February 2014 that the road had been regraded recently. You need a Jeep with high clearance to access this beach, preferably 4-wheel drive. You cannot reach this beach with a golf cart, so don't even try.
There are no amenities at this beach, so pack in / pack out. There are no lifeguards.
The access this beach, take Road 250 from town and turn right on the unmarked dirt road after the bougainvillea hedge. There is a fire hydrant near the turn-off.
Click on a placename below to view the location on Google Maps ...
PuertoRicoDayTrips.com assumes no responsibility regarding your safety when participating in the activities described in this article. Please use common sense! If your mother or that little voice in your head tells you that you are about to do something stupid … then don't do it!