Spend a Half-day of Beach and Snorkeling on Vieques
If you love beaches and snorkeling, and going some place a little different than the rest of the crowd, check out a snorkel boat trip to Vieques! Pure Adventure has a number of tours available, but this one in particular caught my eye. Their Vieques Island Beach and Snorkel Tour is an opportunity to see enjoy a little bit of Vieques both under and above the water. The Nature Reserve area on Vieques has crystal clear water that is teaming with wildlife. It was a great experience.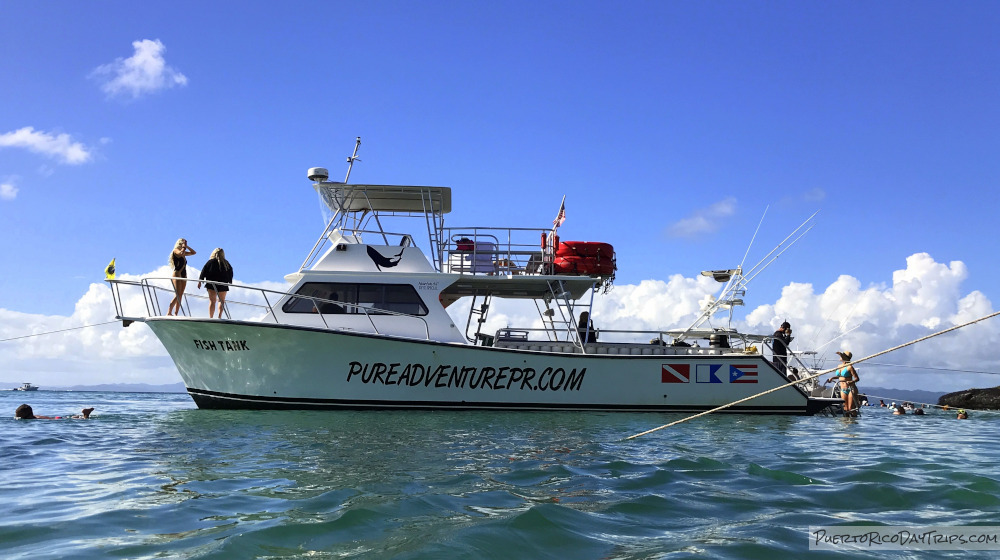 Pure Adventure's departure point is unique among the snorkel tour companies in that they are located in the Roosevelt Roads marina in Ceiba (on the east side of Puerto Rico). As a point of reference, that is right down the road from the ferry terminal. The marina is about 75 minutes from the San Juan area, but departing from there makes the boat trip to Vieques quick and painless.
Their fast boat whisks you from Ceiba to Vieques in about 30 minutes. They go to Punta Arenas area in Vieques, which is on the north-west end of the island, in the Vieques National Wildlife Refuge. This area is a place where many people have never been, since it is less accessible by land, requiring a long, slow drive on a rough, muddy road. So the chance to go there by boat and snorkel was great!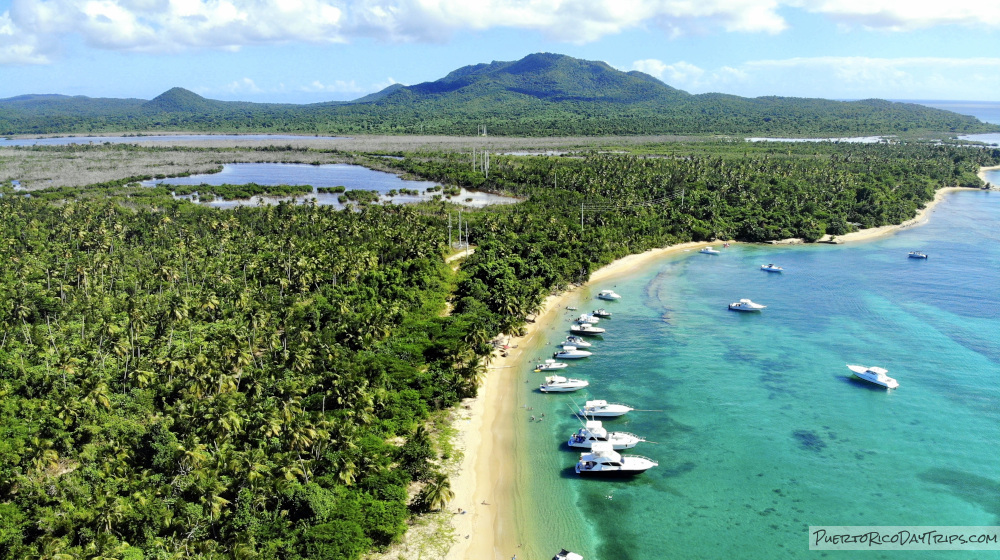 Our Trip
We met at the Pure Adventure shop about 30 minutes prior to departure to do paperwork, change, and use the restroom. Once everyone was checked in, we drove across the street to the boat dock. Their boat "Fish Tank" is a large boat, easily accommodating 49 people. It is designed for divers and snorkelers, with room for your gear, and areas to sit on the main deck under a roof or out in the open, and upstairs.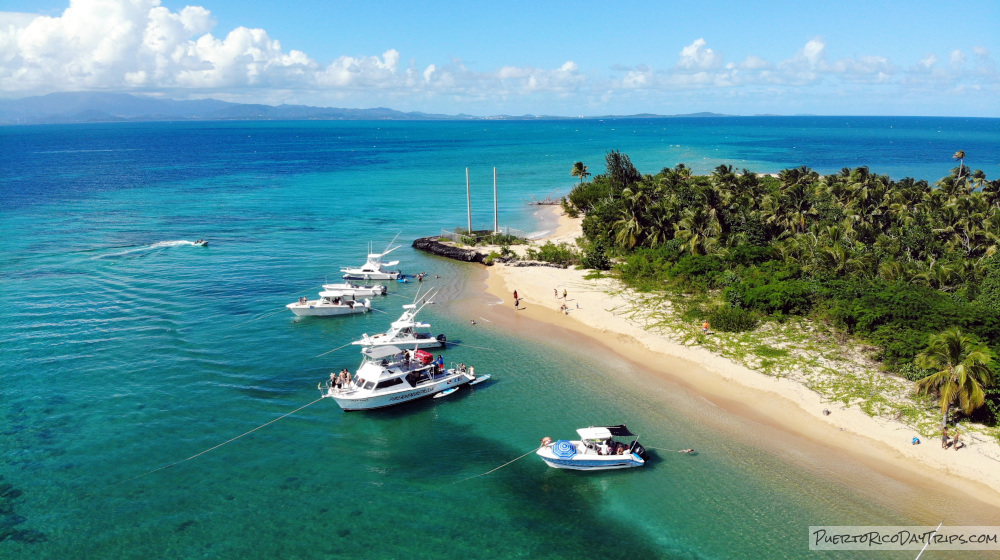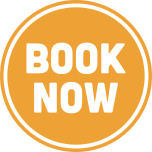 The trip to Vieques is pretty and fast — in less than 30 minutes we were anchoring at the beach at Punta Arenas. They can't go right up to the sand, so you have to wade to the beach in chest-deep water, or use the paddle board. This is not the most beautiful beach on Vieques, but it is a long stretch of clean, light colored sand, with small waves of clear water lapping the shore. It is usually mostly empty, so you can enjoy the area in peace.
We spent about an hour in this area. They supply fun things to use in the water, like noodles and other floats. They also have a couple SUP paddle boards you can use. They suggest that you practice snorkeling and making sure your mask fits here in the shallow water. We walked the beach, took a bunch of photos, then played in the water and floated around, just enjoying the day.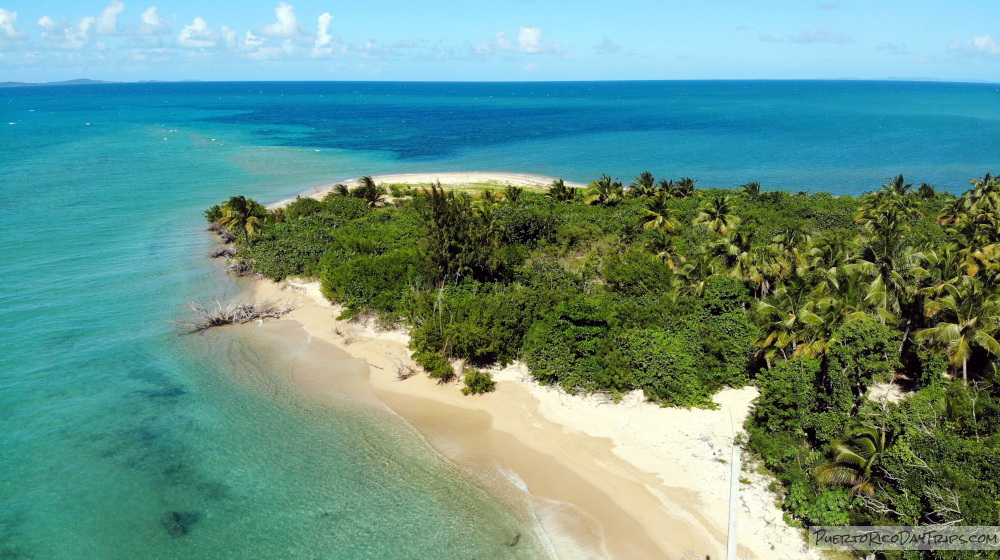 While we were chilling on the beach and in the water, the crew was making snacks for us — a lunch meat wrap with a side of fresh fruit. For drinks, the offer water and sodas (beer is offered later, after snorkeling is finished). After lunch, they moved the boat to a reef, and it was time to go underwater!
The area is a nature reserve, so sea life is protected, and abundant. Our trip had 2 SCUBA divers on board, so we dropped them off, then we anchored at our snorkel spot. Here, they give you the basic "snorkeling 101" information. There is a guide in the water with you, leading the group around and pointing things out. He is a marine biologist and was excellent at spotting the wildlife.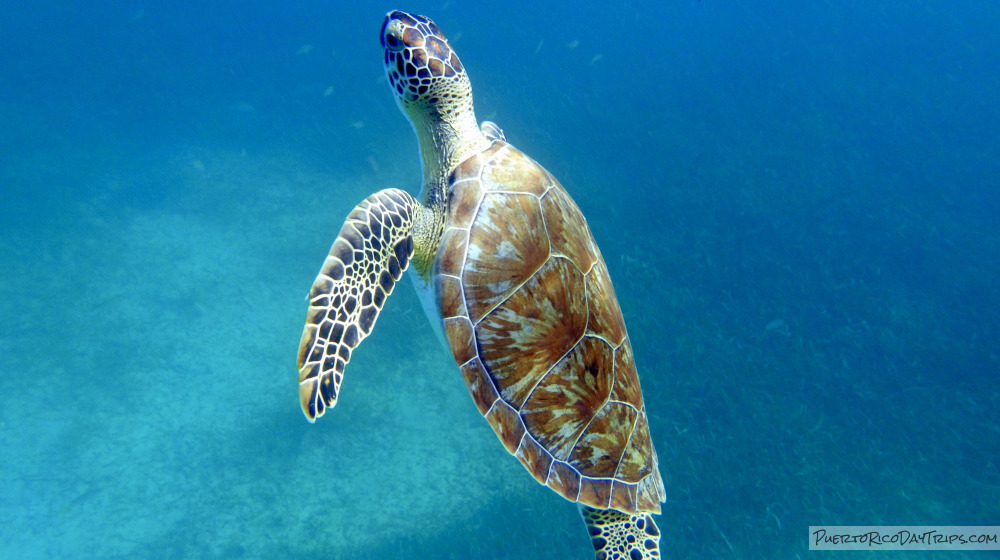 We saw about 3 or 4 turtles (both Green and Hawksbill turtles), some stingrays, schools of tangs, yellow jacks, and loads of other fish. Our guide dove down and brought a conch up for people to see it up close. He even took our underwater camera and got us some nice underwater photos! It is nature, so you never know what you might find — they have seen manatees there on a number of occasions! The area the turtles like is mostly grass and sandy, so it is not the most beautiful reef, but it was alive with sea life. We were in the water snorkeling for about an hour.
Afterward, we picked up the divers, and headed back to Ceiba. On the way back to the dock they offered beer, water, soda, and nuts for a snack. Throughout the trip, the crew took photos of the trip which they can send to you at the end.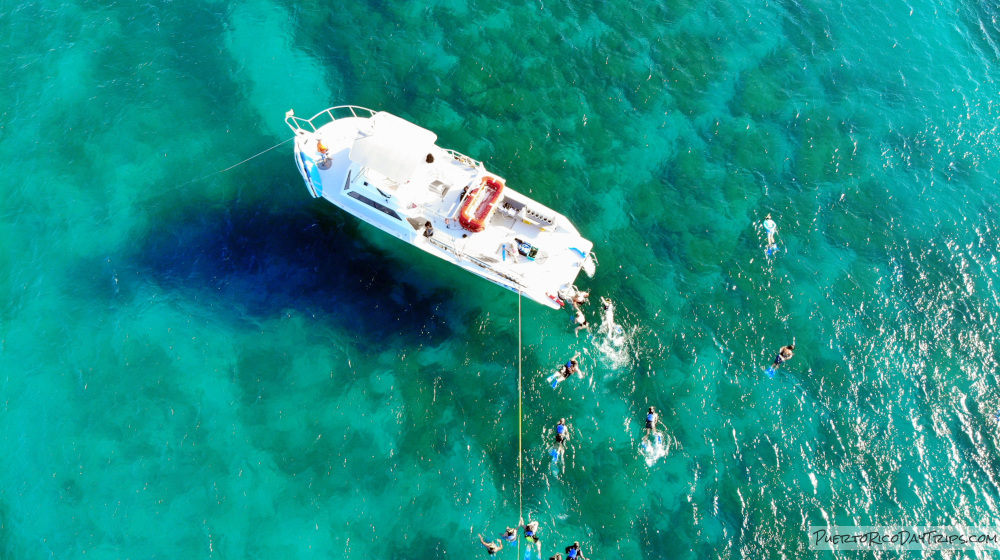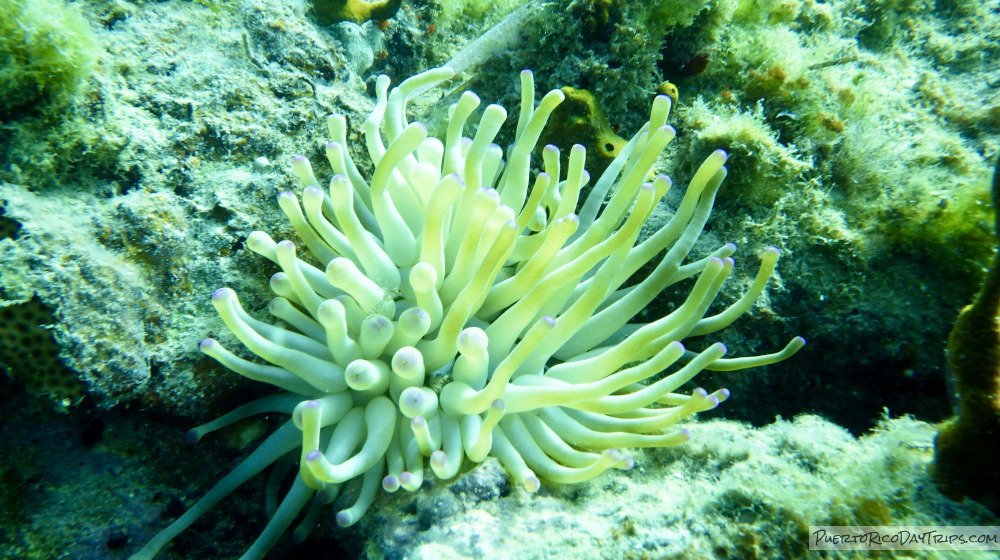 Details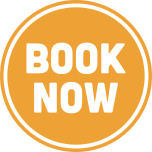 Check their webpage for current prices. That includes all equipment (snorkel, mask, fins, flotation devices), snacks, and drinks. If you are a certified SCUBA diver, you can do a 1-tank dive instead of snorkeling for just a little more (that includes tank and weights). If you need to rent SCUBA gear (regulator and BCD), they have that also.
If you're happy, let them know it — Don't forget to tip your your bartender, tour guide or trip operator if you enjoyed yourself. Gratuities are appreciated and typically aren't included in the price they charge you.
Our tour departed around 1pm, and returned to Ceiba around 5pm. They ask that you arrive 30 minutes prior to departure to take care of paperwork.
Bring sunblock, a hat, and a towel.
Pure Adventure can arrange transportation from the San Juan area. Call them to ask about availability and prices.
The tour is about 4 hours long.
You can call them at 787.202.6551 to get more information about this tour.
You can visit the Pure Adventure web site to get more information about this tour.
Pure Adventure is located in the Roosevelt Roads Marina in Ceiba. Follow signs for the Ceiba Airport and the Ceiba Ferry Terminal.
It takes about 75 minutes to drive to the marina from the San Juan area.
Click on a placename below to view the location on Google Maps ...
Activities booked through this page are booked directly with the activity operator. Other than referring you to the activity operator, PuertoRicoDayTrips.com is not involved in the transaction between you and the activity operator. The activity operator is responsible for all aspects of processing bookings for its activities, including cancellations, returns, and any related customer service. PuertoRicoDayTrips.com makes no representations regarding the level of service offered by an activity operator. PuertoRicoDayTrips.com will receive a small referral commission for any activities that you book through this page.
All trademarks, logos and brand names are the property of their respective owners. All company, product and service names used in this website are for identification purposes only. Use of these names, trademarks and brands does not imply endorsement. Photos used to promote tours are the property of the original copyright owners.
PuertoRicoDayTrips.com assumes no responsibility regarding your safety when participating in the activities described in this article. Please use common sense! If your mother or that little voice in your head tells you that you are about to do something stupid … then don't do it!