More in Caguas: Riverwalk and Plaza del Mercado
Being that we used to live in Caguas, we go occasionally to visit old friends, and usually stop in to the wonderful museums, Botanical Garden, and Jendy's Ice Cream shop. But there are other lesser exciting, but still interesting, places to visit in Caguas.
The Plaza del Mercado and the Paseo Honor al Rio are two nice places where you can explore more of the "local" side of Puerto Rico. On their own, these are not really must see places, but they are still fun to check out if you have some time in the area.
The Plaza del Mercado
Each town "used to", and many still do, have a Plaza del Mercado in or near the center of town. These public markets are generally a big building that houses a number of fruit & veggie, and other general food-stuffs kiosks.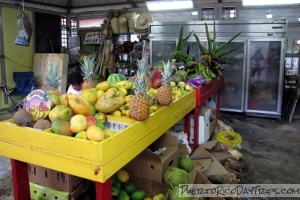 As time has gone on, there are fewer mercados around the island, though there are still thriving mercados in Rio Piedras and Santurce. Fewer people shop "in town", prefering to go to the big chain supermarkets instead.
But the mercados offer a glimpse into the past — you can still get herbal and medicinal plants along with whatever local fruits and veggies are in season. The mercado in Caguas has had a rebirth of sorts. Just recently, they have added crafts/artisans, some small restaurants, and other kiosks/stores to the plaza.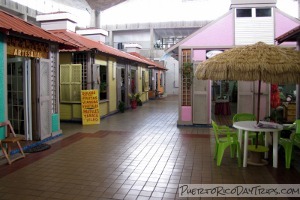 On our visit, we looked into the 2 fruit vendors' shops that are there, and then explored the artisan kiosks. Homemade soaps/candles jewerly, art & crafts, and tie dye & batik clothes. There are also an art supply store, music store, and other shops.
For food, there was the meat store and some local lunch shops, and a few more gourmet choices like a bakery (with super yummy Tres Leches dessert), artisan limbers (frozen ices in all sorts of unusual flavors), and organic restaurant.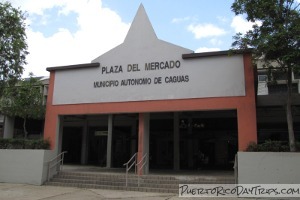 Details for Mercado
Stores in the Plaza del Mercado are open Monday to Saturday from about 9am until about 5pm.
There is free parking on the street or in the lot behind the mercado (go down the street by the National Guard Armory).
They have a Facebook page
The Paseo Honor al Rio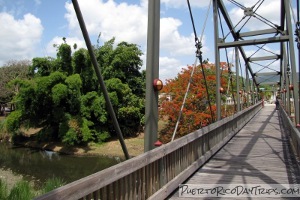 This is a walking path that runs along the Caguitas River. It is a linear park that has a number of sculptures along the way. Touted by the city of Caguas as "the perfect blending of nature and artistic expression", I was expecting more than what we found.
What we experienced was a nice walk along a sidewalk through a local neighborhood with some sculptures and the occasional bench. The river was very small — more of a wide-bedded creek that I assume gets much higher when it rains a lot — but it had trash along the banks, so it was not very appealing to sit and contemplate nature.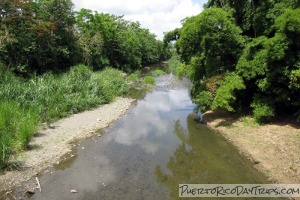 p>We were able to see see some large fish in it (catfish, I think) and a few herons and other birds in the area. The walkway was planted with some nice trees/shrubs and area was very well maintained.
There weren't too many benches, and finding one in the shade was not easy. The sculptures were all concrete (I believe), mostly modern artistic expressions.
But, all in all, it was a nice walk, though a bit hot and sunny at mid-day. If you walk the whole thing (to the end on one side and then the other side and back), it is about 2 miles.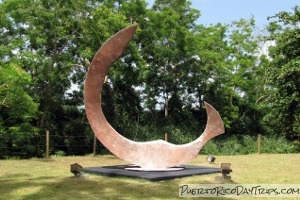 They have rules posted — no skate boards, bikes, horses, motor vehicles since it is a walking/jogging trail. It has lights and security cameras all along it.
Bonus Tip: Park in the shopping center on Route 1, walk the length of the Riverwalk all the way to Route 32, turn right and walk a couple more blocks to Jendy's Ice Cream. Then you can burn off those calories on your walk back to the car!
Details for Riverwalk
The Riverwalk is open from 5am to 10pm daily.
The walkway is mostly in the sun, so bring a hat and water.
The walkway runs (basically) from Route 1 along the river to Route 32.
There is easy access to one of the entrances of the Riverwalk if you park in the Plaza Villa Blanca Shopping Center (that's the Marshall's shopping center). The start of the walkway is in the corner of the parking lot, near Route 1.
Click on a placename below to view the location on Google Maps ...
PuertoRicoDayTrips.com assumes no responsibility regarding your safety when participating in the activities described in this article. Please use common sense! If your mother or that little voice in your head tells you that you are about to do something stupid … then don't do it!