Celebrate La Bomba in Piñones
These dance events come and go- they are not scheduled monthly anymore. It is best to watch their Facebook events page or check our events calendar for updates. They do have Bomba classes on most Saturdays mornings, which you are welcome to come and watch.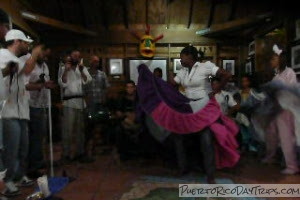 One of the things that makes Puerto Rico unique is its mixture of cultures. It has been influence by the Taino Indians, the Spanish and the African slaves. Each of these cultures had its own music, food, dances and traditions, that have come together and evolved into the Puerto Rico we know today.
The town of Loiza, and the community of Piñones, reflects the richness of the island's Afro-Puertorrican culture and traditions, especially in the form of music, food and crafts. Just minutes away from Isla Verde and San Juan, it is home to generations of families who have lived in the community for more than 400 years.
The area is not rich money-wise, but it is rich in its heritage, culture and natural resources. COPI (The Corporación Piñones Se Integra in Spanish) is a community-based, non-profit organization that is committed to helping the Piñones community. They have a "community center" located on the waterfront on Torrecilla Lagoon in Piñones.Occasionally, usually on a Saturday evening, they hold a Toques de Bomba y Plena, featuring Bomba and plena music, which is open to anyone who wants to attend.
Right off the bat, I will say this is not for your average tourist. This is not a "show" in the sense of choreographed moves and costumes. It is a community program, where families can come together and enjoy and participate in traditional music and dancing.
La Bomba – Music & Dance!
With that being said, if you are interested in experiencing a piece of the "real" Puerto Rico, you will really enjoy it. The songs and descriptions were all in Spanish, but you can enjoy the music, dance and total experience.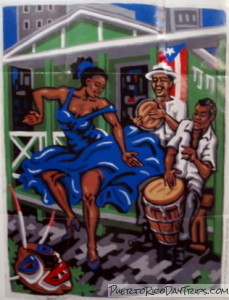 The show starts at 6pm (or so) with a workshop about Bomba. After that, the music and dancing starts. Note – We went on Halloween, so some of the dancers and musicians are dressed a little unusually!
The workshop explains about Bomba. There are a number of drummers, and a "primary" drummer. The dancer dances to this drummer, who matches his drum beats to the dancer's movements. The dancer moves his/her shoulders, arms, legs, butt, and skirt in different speeds and ways, and the drummer matches the rhythms. There was one dancer with this group, but many people from the audience got up and took turns dancing.
Turistos Welcome
The night we went, we were the only turistos there. There are obvious cultural differences – these are generalizations of course, but it is funny to notice – that the singer pointed it out, in a story. Things like we americanos sit at a show, maybe we tap a toe, quietly listen and, at the end, we clap. Puerto Ricans clap, hoot/holler, sing along and even get up and dance to the music (watch & listen to the video clip) to show the band how much they enjoy the music. Or how americana women are concerned with being thin, where as the Puerto Rican men like extra meat on their women. There were a number of other differences he pointed out. He was doing it in Spanish words, but was play acting it out, so we could understand and laugh along.
This was a loud and wonderful night. We felt safe and enjoyed seeing a local community celebrate their culture.
If you attend this, you need to just get into being a local. Just chill out and enjoy the music and the families and the beauty. Another note – there is gated parking, but with limited spots. This is the real Puerto Rico – if you do get a parking spot, expect to be blocked in. Eventually, you will get out.
They have drinks and local fried foods available throughout the night. There are bathrooms available. If you have access to a folding chair, bring it. There are only a limited number of chairs available. Leave your personal space and watch at home (because you'll be on island time with no schedule), and just enjoy.
Besides this event, COPI also offers different eco-tourist services like CicloNatura bike rentals and AcuaNatura kayak rentals. The Piñones area has a 11-km nature board walk and a large lagoon and waterways to enjoy, as well as beaches and loads of food!
This event happens the occasionally on Saturdays at 6pm. Check their Facebook page for current events. Or check their webpage "Activities" tab for next program or call (787) 253-9707. They also occasionally have Bomba classes going on…if you see/hear it, you are welcome to stop in and watch.
COPI is located at the end of the Boca de Cangrejos bridge. There's a green fence around the parking area. They have a sign that says Cultural and Ecotourism Center. Instead of driving, you can take the C45 bus from Isla Verde. The bus stop is at the end of their driveway. Note that buses stop running at 10pm.
From San Juan: Take Route 26 east or Route 37 east to Route 187 east and cross the bridge over Boca de Cangrejos. You are now in Pinones! COPI is located on the right, just at the east end of the bridge.
From Ri­o Grande: Take Route 3 west until you get to the Outlet 66 Mall (formerly Belz Factory Outlet Mall). Turn right onto Route 188 north toward Loi­za. Once you're in Loi­za, turn left onto Route 187 west toward Piñones. Go to the end, you will see a green fence on the left.
Click on a placename below to view the location on Google Maps ...
PuertoRicoDayTrips.com assumes no responsibility regarding your safety when participating in the activities described in this article. Please use common sense! If your mother or that little voice in your head tells you that you are about to do something stupid … then don't do it!