La Parguera at Sunset – Magical Snorkel and BioBay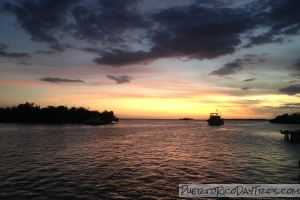 La Parguera offers natural beauty above and below the water. Going out in the afternoon and into the evening gives you some of the best of both worlds — clear blue water, green mangrove islands, colorful sunsets, and later, after dark, the sparkling Parguera Biobay lagoon water and thousands of stars above.
We recently did a sunset snorkel and biobay tour with Paradise Scuba & Snorkeling and it was an enjoyable end to a great day.
La Parguera is located on the southwest coast of Puerto Rico, in the town of Lajas. It is a nature and ocean lover's paradise, and offers opportunities for almost every water sport. It also is home on a number of mangrove keys, coral reefs and some bioluminescent bays — which is the primary nightlife in the area!
Snorkeling
Before going, I spoke with Luis (the owner) was great — he is very friendly, and wants you to know what to expect on his trip.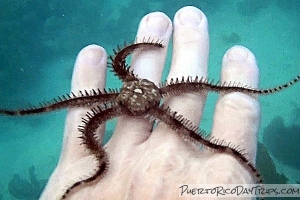 Everyone for our trip met at the dive shop, where they handed out the snorkel gear. From there, we took a short, 5-minute walk to the boat.
It was a quick ride out to the snorkel site, which is on a reef in "deepish" water — maybe 10 to 15 feet deep. The reef was close to some of the mangrove islands, so it was very pretty view. The wind was kicking up some waves, so it was a bit rough, and the water was not too clear.
I think the guides (there were 3 with our group of 17 people) were great. Besides keeping an eye on everyone, they would dive down and bring up all sorts of sea life for us to observe, hold and photograph.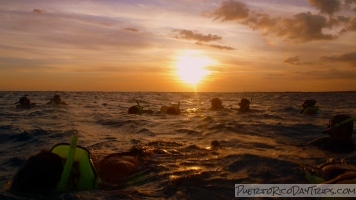 It turns out we spent about 1½ hours in the water snorkeling! It was a different experience seeing the sun setting as we were in the water.
With the wind, it was a bit cool, but the boat was large, and it had areas with windows to reduce the wind, and even an inside cabin that was warm. We dried off quickly as we came back to the dock as the sun set on the horizon … it was really beautiful.
Dinner & the Biobay
During the snorkeling part of the trip, they offered soda and water to drink. Once we came back to the dock to pick up dinner, they offered us beer and hot, homemade empanadillas, which we enjoyed while watching the colors change in the sky.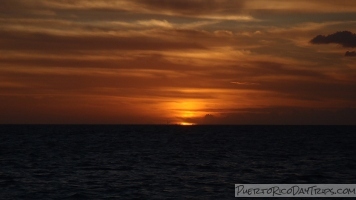 After dinner, it was about a 20-minute boat ride out to the biobay. By the time we got to the bay, it was getting dark and our guides explained about the biobay and the dynoflagellates.
Once it was dark, we were allowed to get into the water and swim around, which most of the people did, and we thoroughly enjoyed the experience. (Swimming in the bay is technically not allowed for tour guests by DRNA (to help protect the bay), but no one seems to enforce the rule). It was much brighter than my last experience in this bay. It is amusing to see how everyone turns into little kids at the sight of the the magical "pixie dust" in the biobay — the way it sparkles and glows with every little movement.
And then, you look upward and there are a million stars — I even saw a shooting star go over. It is really an amazing place. We got to enjoy the biobay for about 40 minutes before we headed back to the dock.
Thoughts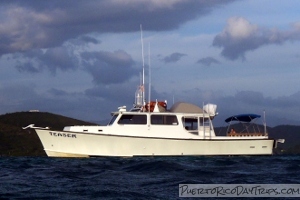 The owner and his family (our guides) are all really enthusiastic and friendly.
There are restrooms and showers at the dive shop, a marine head (restroom) on the boat, and a hose with fresh water on the boat.
The inflatable life vest they give you (not required if you don't want to use it), was more troublesome for me than it was worth. But, I suppose, if you are not comfortable in the water, that the life vest would be a welcome piece of gear.
Details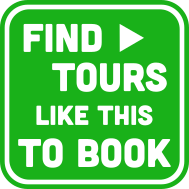 Check their webpage for current pricing. There is a minimum # of people required to do this trip.
If you're happy, let them know it — Don't forget to tip your your bartender, tour guide or trip operator if you enjoyed yourself. Gratuities are appreciated and typically aren't included in the price they charge you.
The Sunset/Snorkel trip is about 4-5 hrs long.
You can call Paradise SCUBA at (787)899-7611 for more information or to make a reservation.
You can visit the Paradise SCUBA web site for more information.
If you don't want to snorkel, but only want to go to the biobay, Paradise SCUBA offers this at a reduced cost.
It is a little tricky to find — Once you're in La Parguera, as you turn right at the end of Road 304 in town, go slowly and watch for a wall on the right side of the road, just across from Villa Parguera. The driveway for Paradise SCUBA is a sharp right turn up a steep hill. They have some parking right in front of the dive shop.
See our other nighttime Parguera articles for other companies that offer tours at sunset, snorkel, and/or biobay tours
Click on a placename below to view the location on Google Maps ...
Activities booked through this page are booked directly with the activity operator. Other than referring you to the activity operator, PuertoRicoDayTrips.com is not involved in the transaction between you and the activity operator. The activity operator is responsible for all aspects of processing bookings for its activities, including cancellations, returns, and any related customer service. PuertoRicoDayTrips.com makes no representations regarding the level of service offered by an activity operator. PuertoRicoDayTrips.com will receive a small referral commission for any activities that you book through this page.
All trademarks, logos and brand names are the property of their respective owners. All company, product and service names used in this website are for identification purposes only. Use of these names, trademarks and brands does not imply endorsement. Photos used to promote tours are the property of the original copyright owners.
PuertoRicoDayTrips.com assumes no responsibility regarding your safety when participating in the activities described in this article. Please use common sense! If your mother or that little voice in your head tells you that you are about to do something stupid … then don't do it!