Visit "Pinky", The Flamingo of Camuy
Sept/2020- Pinky has flown the coop! It has been over a year since anyone has seen him/her! Hopefully this is only a temporary thing, but Pinky seems to have left us. The Flamingo has done this before…I will repost when he returns.
There was a time, more than 100 years ago, that the pink flamingo was a common sight here in Puerto Rico. Flamenco Beach on Culebra is actually named for the flamingos that were once so prevalent in its lagoon. Today, due to hunting and other causes, it is now rare to see flamingos in Puerto Rico. But Camuy is home to "Pinky", a beautiful, wild, year-round resident. Pull over on the road and see if you can get a peek of her.
Flamingos do occasionally visit Puerto Rico. They usually like the salt marshes, like in Cabo Rojo or Flamenco Beach. They are not usually solitary animals, preferring to live in colonies. So, if we get a visit from a flamingo or two, they usually come, eat, stay a while, and then leave, presumably to go back to their colony. But the flamingo in Camuy is different …
"Pinky" landed in a fresh water pond in a field in Camuy in early 2009. Alone. And she stayed. I don't think they have officially determined its sex yet, though I refer to it as a female since I believe she made a nest a few years ago.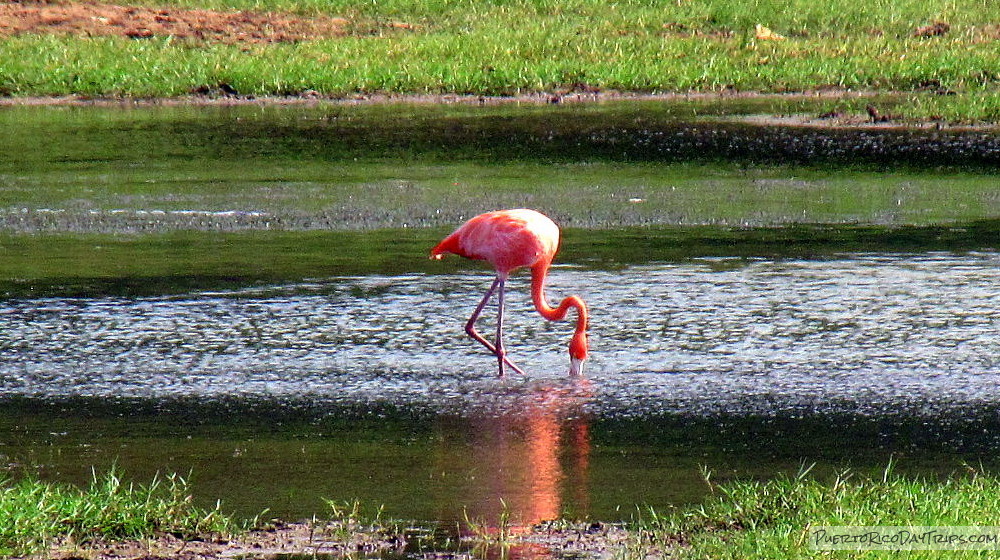 "Pinky" spends her time in either the pond in the cow field across from Peñón Amador Beach (where we first saw her back in 2013), or (more recently in November 2018) in a pond in a different cow field farther west on the same road. She is a beautiful pink color, so she must be finding enough healthy food to eat in these areas.
She chose her spots in Camuy well … she is protected from contact with most people by fences. You can see her from a distance, and she is not frightened off by visitors watching her.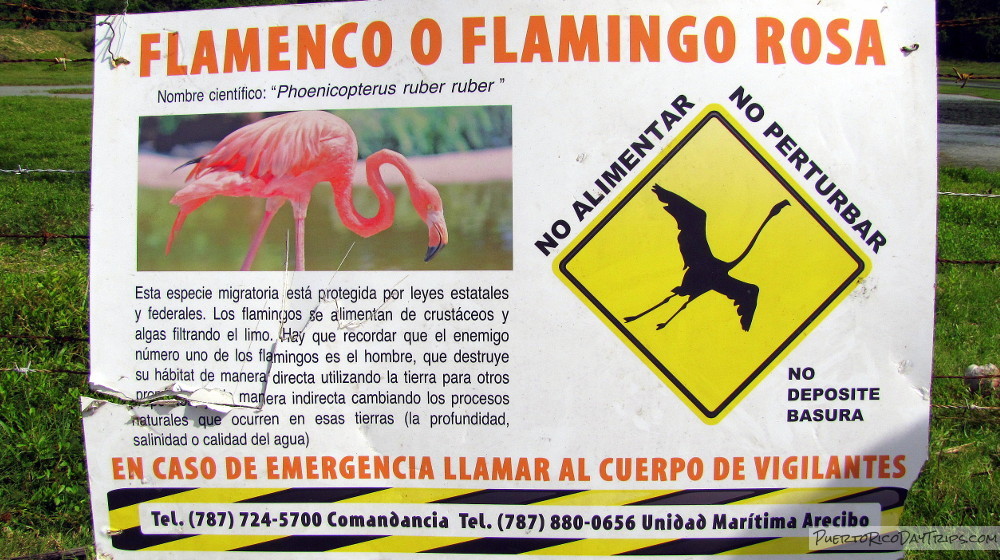 During dry spells when her ponds dry up, and on other occasions (when she gets the urge, I guess!), she makes a trip to Cano Tiberones in Arecibo, or other wetlands. She disappeared for a while in 2014, and she was gone a few months. People were really upset about it, thinking she left Puerto Rico forever. But luckily, she came back to her home in Camuy.
We are all pleased to share our island with her, and we hope she attracts other passing flamingos and entices them to stay!
To get a good look at her, you will need binoculars or a decent zoom lens on your camera. There is no parking by the cow field … you'll be pulled over on the road with very narrow shoulders … so you have to be very careful where you pull over to view her.
Pinky has been spotted in 2 locations, both on Road 485 in Camuy. One location is the field just across from Peñón Amador Beach (south side of road). The other location (another cow field) is farther west on Road 485 on the north side of the road.
Click on a placename below to view the location on Google Maps ...
PuertoRicoDayTrips.com assumes no responsibility regarding your safety when participating in the activities described in this article. Please use common sense! If your mother or that little voice in your head tells you that you are about to do something stupid … then don't do it!