Rent a Boat and Visit Mangrove Cays in La Parguera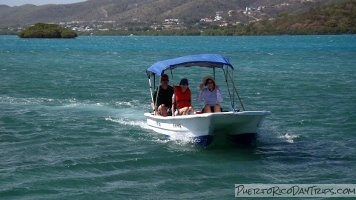 To make the most of the Parguera area, you need to get out on the water and visit the mangrove islands and/or the biobay. In order to do this, you obviously need to have access to a kayak or a boat of some kind.
One option is to rent a little skiff (or yola, as they are sometimes called here). It is a fun, easy, and inexpensive way to get around to see the mangrove cays and maybe do a little snorkeling.
The Area
La Parguera is a region in the town of Lajas, in the south-west corner of Puerto Rico. It has a little waterfront plaza that has restaurants, some souvenir shops, and a number of boat ramps.
A short distance off shore, there are about 30 different "islands" or cays you can visit. At a couple of the cays, there are DRNA mooring balls you can hook your boat up to so you can swim, snorkel, bird or marine animal watch (dolphins, manatee o turtles are usual sightings) or just enjoy being on the water.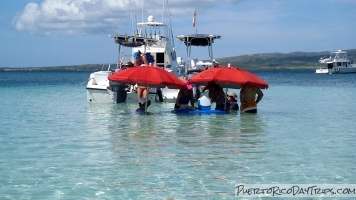 Caracoles and Cayo Enrique are the most popular with the "boat crowd", while Mata la Gata has a great recreation area, with picnic tables, charcoal grill pits, and bathrooms.
The water around the cays is usually calm and clear, and there are lots of shallow areas, sometimes referred to as "pools". We enjoyed snorkeling among the mangrove roots, and floating with the current in the channels.
Most local boaters head to the mangrove canals and certain cays, where they anchor their boats, and set up for the day in the shallow water. If any one area is too crowded for your taste, you can just boat over to another cay!
The Rental Boats
I know of three companies that rent little (10-15 foot) you-drive-it skiffs that have small (maybe about 10 HP) outboard motors (with tiller arms for steering). Some companies have different sized boats, the smallest one can hold up to 4 people. Each boat comes equipped with life jackets and basic safety equipment.They have hard benches to sit on and all come with a nice shade canopy.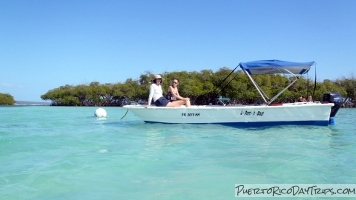 You don't need to have any special boating training (though that is age dependent- see Ley 430 below). They'll explain some basic "rules of the sea" before they let you loose with the boat.
Reservations are not required, but it is always smart to call ahead before making the trip to make sure they are open, especially during (local) low season, which is September to March.
Nuts & Bolts of Renting
After you arrive at the waterfront area in La Parguera and park in the lot, you will most likely be approached by people from the rental-boat companies (as well as people pushing biobay tours). You can go with them (they may be able to get you a decent deal, if you haggle a bit), or look around on your own. You can shop for price beforehand by calling, or just do it in person on the day you visit.
The kiosk for Torres Boat Rental is right there in the parking lot, while Johnny's Boats and Cancel Boats are waterfront, just past the first row of restaurants. They all have signs out and people you can talk to (there is usually someone there that speaks English). Find out their rates and requirements to rent (minimum age, minimum rental time, and deposit needs).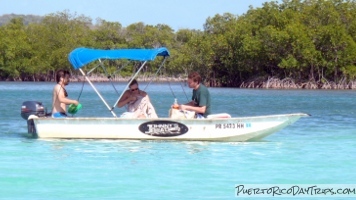 They will require ID (usually a driver's license) and some require a "deposit". Some also require that you leave your ID with them as "collateral" while you're out with their boat.
There may be a minimum age for rentals. Also, there is a law (Ley 430) that says if you were born after July 1, 1972 and you live in Puerto Rico, then you need to have a boat captain license to rent a boat. But non-PR residents don't need it.
Once you agree on a price (which are usually all about the same), they will give you the keys to the boat. They give you a briefing on basic operation of the boat, and basic boating rules. DRNA can (and does) come around and ticket people if they are not following the rules.
Be sure you have life jackets for each member of your party, and that children under 12 wear them at all times the boat is running.
Ask about other rules (for example, where you can and can't tie off, where you can anchor, no drinking for the driver), recommended snorkeling sites, or other points of interest. Check your gas gauge, and away you go!
Out on the Water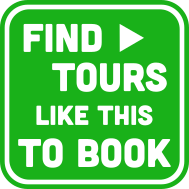 You cannot be out on the water in these rental boats after dark. You must return your boat to the dock by the agreed-upon time (usually 5-5:30pm at the latest).
Make sure to check weather conditions before you head out, it is best not to be out on the water if there is lightning.
There are about 30 cays in this area, and many look similar, though some do have signs. I would print out a map of the area, or you may get confused and a bit "lost" if you're looking for a specific island. But they are not far from shore, so it's unlikely that you'll get too lost!
What If I don't Want to pilot my own boat?
For those that want to experience the cays on a small boat, the companies may have available "tours" of the cays, where a guide comes with you to drive the boat. There is usually with an an hourly fee.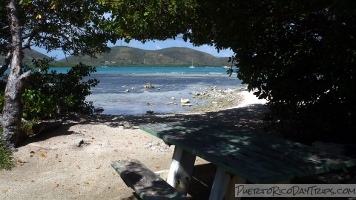 You can work it out with them that, after the tour, they can drop you off at Mata la Gata and then pick you up at a pre-arranged time. That way, you can swim in the ocean "pool", explore the island, or have a picnic. If you are going to do this, bring food, water and everything you need for your time there.
If you want to skip the tour, you can just ask for a ride out to the Mata la Gata. All of the companies offer this for about $10/person.
What About the Snorkeling?
The snorkeling in this area is basic, not the most spectacular. Expect to see lots of baby fish among the mangrove roots. Out in "open water" you'll find starfish, sea cucumbers, sea stars, and just a few fish.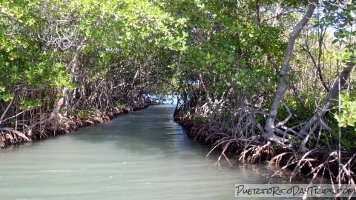 There are some coral reefs a bit away from the cays that are decent, but you would need directions to find time (or maybe an organized snorkeling trip).
But the combination of snorkeling, boating, and time on the water all add up to a very satisfying day. If you don't have your own, there are some shops in La Parguera area that rent snorkel gear.
Details
Rental prices are about the same across all the companies.
Cancel Boats (this is the company we used)
Cash or credit card accepted.
phone: 787-899-5891, or 787-899-5494
Fondo de Cristal
Different services available Book online!.
phone: 787-899-5891
Torres Boat Service
Gina's at Johnny's Boats
They no longer rent boats, but they can make a tour with a captain or other services.
phone: Call or text (787) 460-8922. Facebook Page
Bring your ID, towels, cooler, water, snacks, hat, and sunscreen. Bring snorkel gear if you have it.
Click on a placename below to view the location on Google Maps ...
Activities booked through this page are booked directly with the activity operator. Other than referring you to the activity operator, PuertoRicoDayTrips.com is not involved in the transaction between you and the activity operator. The activity operator is responsible for all aspects of processing bookings for its activities, including cancellations, returns, and any related customer service. PuertoRicoDayTrips.com makes no representations regarding the level of service offered by an activity operator. PuertoRicoDayTrips.com will receive a small referral commission for any activities that you book through this page.
All trademarks, logos and brand names are the property of their respective owners. All company, product and service names used in this website are for identification purposes only. Use of these names, trademarks and brands does not imply endorsement. Photos used to promote tours are the property of the original copyright owners.
PuertoRicoDayTrips.com assumes no responsibility regarding your safety when participating in the activities described in this article. Please use common sense! If your mother or that little voice in your head tells you that you are about to do something stupid … then don't do it!