Lions on Display in Ponce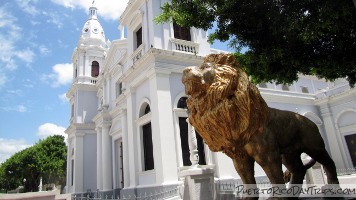 10/20 update: The painted lions are now on display in the Firehouse (upstairs) and a few in the Mayor's building and few at the Ponce Mall. People were sitting on them and damaging them a bit, so they were removed from the outdoor plaza area.
Roaring Lions … not part a circus, but a colorful, outdoor art exhibit in Ponce. Like many towns around the world, Ponce is displaying life-size animal statues painted by local artists. Since the symbol of Ponce is the lion, they chose lion statues to be turned into magical works of art.
These colorful lion statues are on display upstairs in the old firehouse in the main plaza, giving you one more reason to make the trip to Ponce.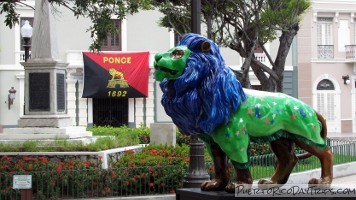 Ponce is an old city, on the south coast of Puerto Rico. It has great history, and over the last 20 years has been "on the move" to revitalize the historic district.
The Lion Stop (or La Parada de los Leones, Ponce 2012) concept was another idea to bring some art and culture to Ponce. The hopes are this will increase local tourism, and help boost the economy of Ponce.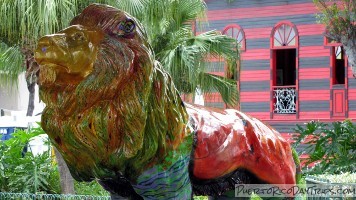 Roaring Art in the Plaza (Ruge el Arte en la Plaza) started with the town of Ponce providing 15 local artists with white, life-sized lion sculptures. The artists were asked them to make them into works of art that represent their interpretation of Ponce — be it cultural, historical, political … anything they felt.
The first public exhibition of the lions was in early 2012. Now, they are placed in the firehouse in Ponce's main plaza, "Plaza las Delicias".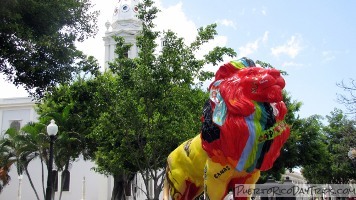 We finally got back to Ponce to see the lions in mid-2013. We think they are wonderful! And they are great for photos, too!
On a side note, I have to say Ponce always confused me … We always had trouble finding parking. We thought everything was so spread out. We just didn't know it like we know Old San Juan.
But we have spent more time exploring there, and it is starting to grow on us! They really are making great strides in making it a wonderful place to visit.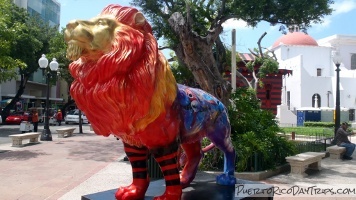 There are new signs, more tours, parking meters with 4-hour time limits (and free on weekends!), new parking lots, a number of museums, and great architecture (very different from Old San Juan). There are lots of things for you to do, and it only takes a little bit of advance planning.
So, if you've never been to Ponce … take a trip there and give it a chance. You might be surprised by how much you like it!
Other things to see while you're in Ponce
Click on a placename below to view the location on Google Maps ...
PuertoRicoDayTrips.com assumes no responsibility regarding your safety when participating in the activities described in this article. Please use common sense! If your mother or that little voice in your head tells you that you are about to do something stupid … then don't do it!