Puerto Rico is for Lovers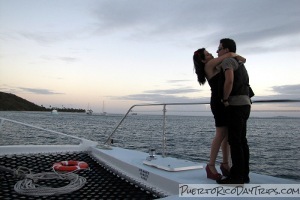 Tropcial breezes, warm nights, swimming in secluded waterfalls, private beaches, beautiful views, hot & sexy salsa dancing — forget Virginia, Puerto Rico is for lovers! There are so many ways to romance your sweetheart here that you need only to decide which one suits your style.
Now, Ray and I may not be the most romantic couple, but we aren't oblivious to the beauty all around us. And enough of our guests tell us tell us tales of the secret spots that they've found (sometimes too much information!) … so that's given us a few more ideas.
What follows is a list of some of our favorite mood setters. But remember, almost anything you can want is probably available.
Pack your Bags & Leave the Kids at Home
The idea is to take a few days/evenings to spend as a couple — so lose the kids. Then find a place to stay that has the view you want or the privacy you desire. Some people want ocean-front, some like the sounds of the forest, or while others prefer historical settings. Choose a resort to be pampered or party, or a private get-away all to yourselves.
Puerto Rico is loaded with options to fit everyone's idea of romance. Some of the resorts even offer romance or honeymoon packages, just ask. Once you've decided on lodging, it's time to look at the options.
On the Beach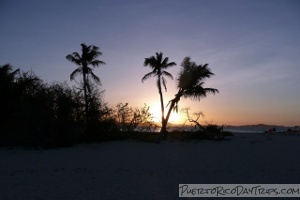 A great get-away is day trip to Icacos with a private boat captain who will drop you off and pick you up later in the day at a pre-determined time. As long as it is mid-week, non-holiday, and after the snorkel boats have left for the day, you will have lots of privacy.
Or how about boating to a secluded island around sunset or after dark. Total privacy. We had one couple who stayed with us and did just that … that is where he popped the question! Though it took some planning, it sounds lovely.
One time, we took a trip to a tiny islet to the east to watch the full moon rise. That was quite beautiful and romantic.
We need to point out that, for this type of adventure, you need to supply everything (cooler, beach umbrella, blanket, food, champagne … everything) yourself. That would be easy if you were to stay somewhere that had all that gear available for you to use, versus a resort.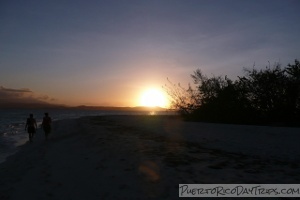 Even if you don't have to budget to splurge on a super private evening on the beach, you can always take a long walk, or sit together, on a beach to watch a sunrise (in the east) or a sunset (in the west). Or even a full moon rise on an east-facing beach. Bring your blanket and picnic and spend some quality time together.
Just make sure to check with someone local (at your hotel or rental) to make sure your private spot on the beach is safe after dark.
On The Water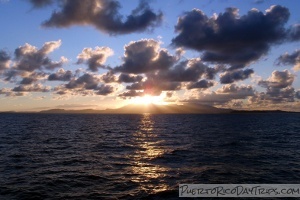 A couple different companies offer sunset sails out of Fajardo, Rincon, and the San Juan Bay. These trips usually include drinks and hors d'oeuvres, and are suitable for a quiet happy hour, a small wedding, or an engagement party. Some of the operators offer regularly-schedule sunset trips open to the public, while others can be chartered for private events.
In Fajardo, contact East Island Excursions, Spread Eagle or Traveler. In Rincon, contact Katarina Sail Charters. In San Juan, contact Sailing Dreams.
History Buffs
History lovers will find Old San Juan fascinating and romantic. It has loads of old-world charm, and wonderfully restored buildings. There are works of art and fountains all around town.
Take a romantic waterfront stroll down Paseo la Princesa, wander through the streets hand in hand along cobblestone streets.
I know El Morro, San Cristobal Forts and the Paseo la Princesa have been the backdrop for many beautiful proposals, weddings, and romantic pictures (you need to get permits for weddings and professional photography). Or, for a quick private kiss, duck into an out-of-the-way sentry tower.
In Nature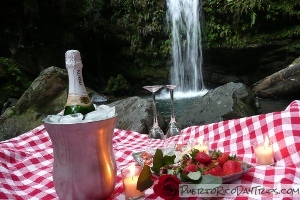 If a secluded waterfall is your setting for romance, then you have to visit Juan Diego Falls in El Yunque National Forest. It was way more unknown and secluded pre-Maria! Go early in the morning or late in the afternoon, fewer people are around.
We have heard more than a few upper-falls skinny-dipping reports from our guests, but not lately! We even assisted a guest of ours by setting up a "picnic" at Juan Diego Falls — complete with candles, roses, and champagne — where he popped the question. It was beautiful. But now that more people visit this waterfall, you will need to find a more quiet place!
At a Resort
If you want to be pampered, many resorts can arrange just about any type of romantic setting you can imagine. How about a private massage on a beach, in your room, or on your balcony? Maybe a romantic dinner with candles and violins on the beach. Just ask your concierge.
Or maybe the mood you want to set might start with music and dancing at one of the many resort clubs or lobby bars. Dress to impress!
Dinner & Dancing
While I usually don't mention restaurants, I really enjoyed romantic dining at Pamela's in Ocean Park. I love feet-in-sand dining on the beach (you have to reserve a table).
If sandy feet isn't your idea of a good evening, you can try any number of other award-winning restaurants around the island. Dishes from around the world are available, including French, Italian, Mediterranean, or Asian, as well as local and all sorts of fusions.
Or for privacy, ask your concierge to set up a private table on your balcony, in your room, or other private area at your resort. Some can even do dinner on the beach … but this does not come cheap!
Looking for some dancing? check out Club Brava in El San Juan Hotel, or learn some salsa moves with dance lessons.
For the more Active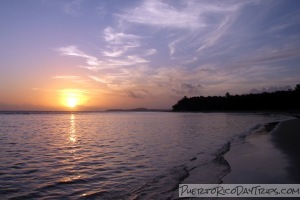 I have read that a good workout and something a little outside your comfort zone can really get the blood pumping and excitement levels up. Who knows where it may lead?
Try one of the many adventure tours … from zip lines or surfing lessons or even canyoning … whatever will challenge you (just make sure that you don't scare your partner to death!)
What did we miss?
Anyone else have other romantic suggestions? Let us know in the comments below or on Facebook!
PuertoRicoDayTrips.com assumes no responsibility regarding your safety when participating in the activities described in this article. Please use common sense! If your mother or that little voice in your head tells you that you are about to do something stupid … then don't do it!