Vieques: More Than Just Beaches – South Side
There is more to Vieques than just great beaches. If you can tear yourself away from the beautiful white sand beaches of the Fish & Wildlife area on the south side of Vieques, you will be able to see some interesting natural sites, a couple wonderful historic sites, and some good walking/hiking options. These sites might not be "wonders of the world" but they are an interesting diversion.
We previously wrote about other things to see on the north side of Vieques. This article is about the south side, starting on the wast and heading westward.
Puerto Ferro Lighthouse
At the Fish & Wildlife Camp Garcia area, the first road to the right after you go through the gate leads to the old Puerto Ferro lighthouse. When we last visited the lighthouse, it was "off-limits". However, in Spring 2015, the rules have been changed and you are allowed to access the area around the lighthouse. I'm not sure if the condition of the lighthouse is any better than we witnessed back in 2012, but at least it is no longer "off-limits".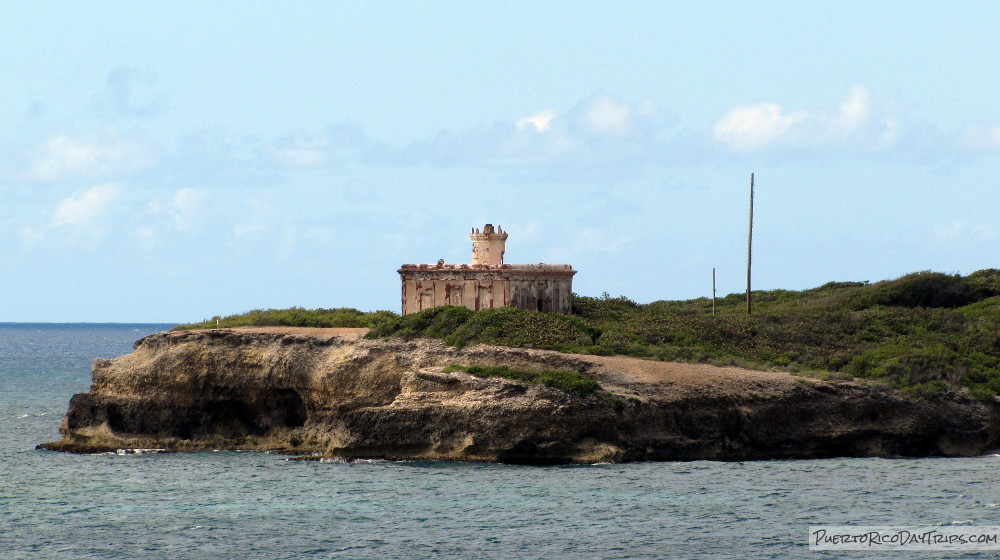 Cerro Playuela Hiking Trails
Also in this Fish & Wildlife area, there is a series of hiking trails called the Vereda Cerro Playuela. These trails are located between Playuela Beach and the Tres Palmitas boat ramp. There are three trails. and all together only take about 2 hours to complete. Our favorite one was the longest one — it had great views!
Puerto Ferro Man
If you leave the Fish & Wildlife area and head west on Road 997, you will see a turn off on the right (before you get to Balneario Sun Bay). This dirt road leads to the huge boulders that surround the Hombre de Puerto Ferro Archeological Site. This is where the skeletal remains of a 4000 year old man were found. It makes for an interesting quick stop.
Esperanza: Cayo de Tierra, Suger Mill & Locomotive
The entrance to Balneario Sun Bay will be next, on the left. Just after that, you can turn left onto the dirt path and drive to the end. From here you can do a nice hike to Cayo de Tierra.
Continue westward
They have moved the 2 locomotives out of the brush by the pier and and they are on the side of the road 997, just before the left turn into town. There is also an old well there. After checking the locomotives out, go into the town of Esperanza (bearing left onto Road 996). Right at this corner, on the left, you will see the remains of the old Esperanza Sugar Mill. There is not much left of it. It is completely overgrown with trees and vines, and it is in ruins. As you continue on Road 996, at the next curve (by El Blok Hotel), pull straight into dirt parking area. If you walk to the beach, you will see the old Esperanza sugar pier. This was where the boats would load up with sugar cane grown in Vieques to take to the big island of Puerto Rico to be processed (after the local mills stopped processing sugar cane on Vieques). We love this pier to watch the sunset.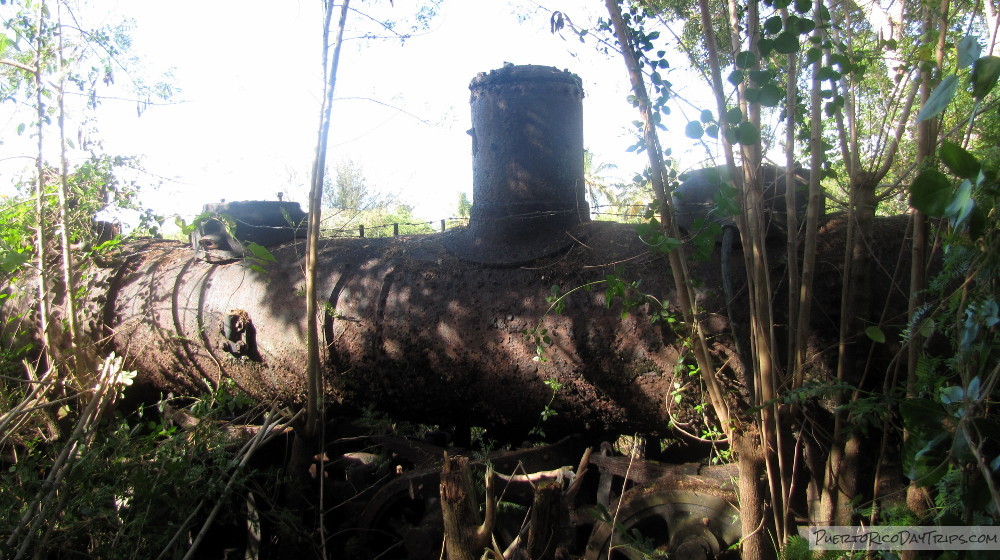 As you continue into the town of Esperanza, you will have the malecon on the waterfront, and some cute bars/restaurants and shops on the right. Take some time and enjoy the scenery.
Right here among the stores you can find the Vieques Conservation Trust Museum. This is a small museum about Vieques history, with some archaeological pieces, and some fish tanks with some local sea life. Usually open M-Fri 8am- 4pm. They also have a little gift shop. Admission to the museum is free, but we suggest that you drop a couple bucks into the donation box.
And Some Beaches (of course!)
As you leave Esperanza continuing westward, stay to the left. You will come to the black sand beach hike. Hiking to Playa Negra requires a bit of a hike down a possibly wet/mushy stream bed, but it is worth doing just for the sand color. Playa Negra is usually not a swimming beach — it's for walking and photo ops.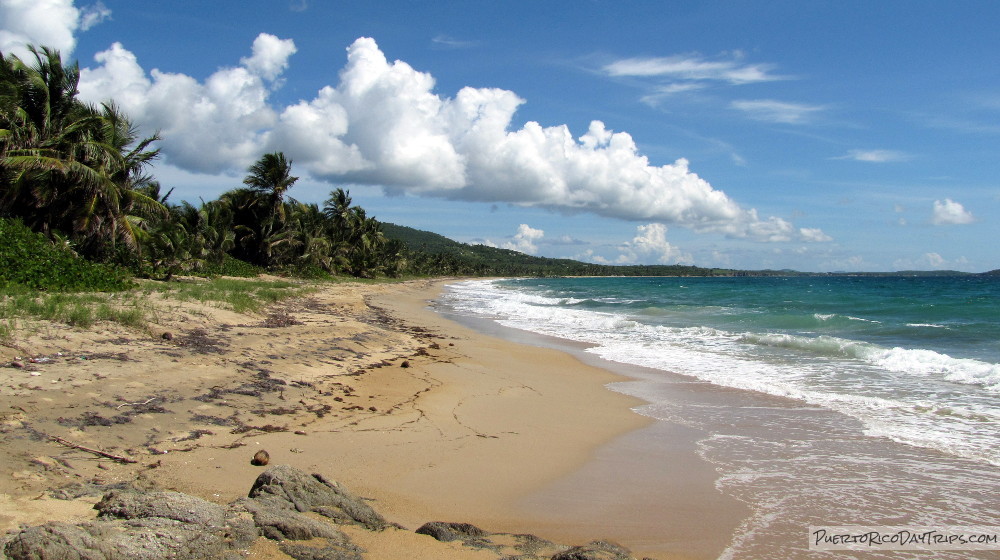 The final stop on this list is Playa Grande. This beach, in the Fish & Wildlife area, is great for walking. We spent a few hours walking westward until we got tired and had to turn around. It's a great beach for walking, and we got some amazing photos.
The Playa Grande sugar mill ruins are technically close to here, but you need to access them from the north side of the island.
Hints
You'll want to pack some snacks and water to drink. Grab something to eat while you're passing through Esperanza, or plan to stop there for dinner on your way back through.
The F&W National Wildlife Refuge is open 7 days/week, from 7am – dark ( 6:30pm Sept – Feb, 7:30p rest of year
You can now get a shared taxi from the ferry terminal to take you to Sombe, Playa Chiva, Playa Caracas and Playa Negra's trail head. Get their telephone number and call them when you want to return. Should be about $10 per person each way.
Click on a placename below to view the location on Google Maps ...
PuertoRicoDayTrips.com assumes no responsibility regarding your safety when participating in the activities described in this article. Please use common sense! If your mother or that little voice in your head tells you that you are about to do something stupid … then don't do it!