Route 66 Extension to Río Grande
Traveling from the San Juan area to Rio Grande, Luquillo, and Fajardo just got a whole lot easier and faster! The second phase of Route 66 opened to traffic on 01 October 2012, and it extends Route 66 from Canovanas to Rio Grande.
While the expressway itself is not much of a day trip, it will sure reduce the driving time for trips to El Yunque National Forest, beaches in Luquillo, the biobay in Fajardo, snorkel trips in Fajardo, and other eastern points on the island.

Phases of Construction
Route 66 (officially known as the Roberto Sánchez Vilella Expressway) is being constructed in three phases. Phase 1, opened in April 2006, is 9 miles long. It runs between Carolina (at the intersection of Route 3 and Route 26, near the Plaza Carolina Shopping Center) and Canovanas (near the Route 66 Outlet Mall).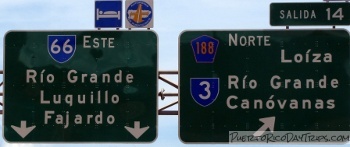 Phase 2, opened in October 2012, is 3.8 miles long. It runs between Canovanas (near the Route 66 Outlet Mall) and Rio Grande (near the Ralph's Supermarket).
Construction of the third phase, between Rio Grande and Fajardo, started in 2013 and took about 2 years to complete. This third phase is not highway, but along the existing Route 3, where they took out intersections/lights.
How Much is your time worth?
The whole purpose of Route 66 is to avoid the traffic lights (and congestion) along the business-oriented Route 3. Living in Rio Grande, we use Route 66 a couple times per week whenever we need to travel into the San Juan area.
In the past, it has taken anywhere from 15 to 45 minutes just to drive from the end of Road 186 to the entrance to Route 66 due to traffic on Route 3 (depending on day of week, time and traffic). Today, we drove the same distance in just over 4 minutes! It's totally worth the extra cost to us!
When we have to go into the San Juan area now, we figure we will be saving up to 45 minutes round trip on average. That's going to add up over time!
The first phase, from Carolina to Canovanas, costs $1.50 each way. The second phase, from Canovanas to Rio Grande, costs $1.00 each way. It's important to note that the toll on the second phase of Route 66 is Auto Expreso tag only.
How to Pay the Tolls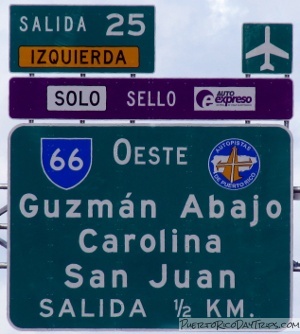 Paying the tolls can be confusing. The primary options are AutoExpreso, MovilCash, or good-old cash.
AutoExpreso is the only payment option for the new stretch of Route 66 between Canovanas and Rio Grande! There is no way to pay with cash.
AutoExpreso is our electronic toll tag. It is a transponder, similar to EZ-Pass that they have in the eastern part of the US. The AutoExpreso tag can be used in any toll lane marked with a small lowercase "e" or a huge uppercase "T"( they are always on the left side of the toll plaza). The way this works is you just drive through the lane and the toll is charged to your account.
Many of the tolls around the island are being converted to be cashless. That's where MovilCash comes in.
MovilCash is a plastic "toll card" that can only be used in toll lanes marked with a huge uppercase "R". This is the option you have to use if you do not have the AutoExpreso tag on your vehicle. You basically wait in line to pay with your MovilCash card, to recharge your card, or to buy a card. If you only have cash, you'll have to get into the MovilCash lane, marked with an R or R+ (which is on the right side of the toll plaza). If you don't have exact change, your "change" will be put onto a MovilCash card that you can use the next time you need to pay a toll. The toll collectors in these lanes will not give change in cash. Think of it as a gift card from Puerto Rico.
There are a few remaining tolls in PR that can be paid with actual cash, but their life expectancy will be short.
I have a rental car. How do I pay the tolls?
Most car rental companies here have installed AutoExpreso tags in their rental cars. They usually charge you a fee of a couple dollars per day to use the tag, in addition to the actual tolls.

Some have a 1-time charge. Some make you "activate" the tag when you pick up your car. Some charge an additional fee if you failed to activate the tag but went ahead and used it anyway. Note- if the car has an AutoExpreso tag and you use the toll roads,the toll is be charged automatically to the tag….even if you are in the Movilcash lane and pay cash.
Each of the rental companies have different policies and fees. Ask about it when you pick up your car.
Our suggestion … pay the extra couple dollars for the convenience and time-savings. It's your vacation. Would you rather spend your time sitting on the beach or sitting in line waiting to pay a toll?
Did We Mention the View?
The new stretch of Route 66 affords some great, unobstructed views of the mountain range in El Yunque National Forest, including the peaks of El Yunque and El Toro.

Click on a placename below to view the location on Google Maps ...
PuertoRicoDayTrips.com assumes no responsibility regarding your safety when participating in the activities described in this article. Please use common sense! If your mother or that little voice in your head tells you that you are about to do something stupid … then don't do it!