23 Things To Do With Kids Within 1 Hour of San Juan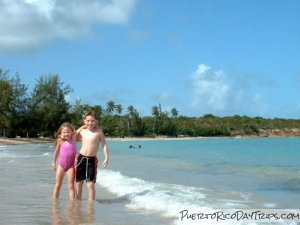 Traveling with kids changes everything. You need to find a place where there are activities that everyone in the family can enjoy. Luckily, you are planning to visit Puerto Rico where there are lots of activities that every member of your family will love.
The first question to ask yourself is What do my kids like to do? Do they like to play in the water or do they prefer to play on land? Are they into nature? Are they really daredevils or more reserved in their adventures? No matter what your kids like to do, Puerto Rico is loaded with things they will like.
We've put together the following list with families and convenience in mind. All of these activities are within about a 1-hour drive of the San Juan area. You'll be sure to find an idea to keep each member of your family happy and occupied on your trip to the island!
If you're looking for things to do with kids in Old San Juan, you may want to refer to this other article.
For Water Lovers
Beaches – Being that Puerto Rico is an island, we have loads of sunny beaches to visit. No matter if you're into swimming, boggie-boarding, or just making sandcastles, you have miles of shoreline to choose from. If you pick a government-run beach or balneario, you will be ensured facilities like bathrooms and lifeguards. Some of the nicest beaches – Luquillo, Seven Seas, Carolina, Escambron – are all balnearios.
Snorkel Cruise – The entire family will enjoy a catamaran ride to islands off of Fajardo. They offer snorkeling, lunch and drinks, some even have waterslides off the boat!.
Motorized Watersports – San Juan WaterFun is located on the beach behind the El San Juan Hotel and San Juan Towers in Isla Verde. This company offers many water sports like banana boat rides, parasail rides, Hobi Cat rentals, and kayak rentals. They are open 7 days a week from 10am until 5pm. 787-643-4510. There is also watersports operators at the the Wyndham Rio Mar in Rio Grande, and some by Balneario Monserrate/and behind the kiosks..
Bio-Bay – Another great water experience is the bioluminescent lagoons in Fajardo and Vieques. This is a night-time activity, as it needs to be experienced in the dark. You can either do a kayak trip , take a walking tour, or go in an electric boat in Fajardo. Either way, it's really magical to experience the glow and sparkles in the water around you.
Surfing – Surfing lessons are available in Luquillo. Contact Surfing Puerto Rico for information and to make a reservation. Lessons are also available in San Juan area with Walking on Water Surfing school in Isla Verde or at Escambron. 787-955-6059 or www.wowsurfingschool.com
For land-based nature lovers
Rain Forest – You can't go wrong with a hike through a tropical rain forest. El Yunque National Forest has trails that kids of almost any age can use. There are waterfalls and natural pools to swim in, lots of strange plants, lizards to chase and tons of cool bugs to find. The ranger-led tour is really good. They point out and discuss the different plants, and help you find some of the insects and wildlife of the rain forest.
Nature Reserve – Las Cabezas de San Juan Nature Reserve, located in Fajardo, has many things that are interesting to kids – iguanas, a beach, a walk through a mangrove swamp, a lighthouse, a touch-tank, and skeletons of various aquatic animals. They offer a tour that takes you from point-to-point on a tram, and then they have mini guided tours at each of the tram stops.
Caves – The north-western part of the island is made of limestone and it is riddled with caves and sinkholes. The Rio Camuy Caves Park offers a nice tour for the amateur cave-explorer.
Lighthouse & Aquarium – Arecibo also has the Arecibo Lighthouse, Historical Park & Aquarium. This small park features the lighthouse, a small aquarium with sharks, a mini-zoo, some ships to play on, a pirate cave and a re-creation of a Taino indian village.
For Active kids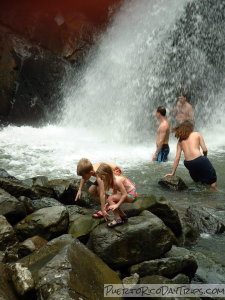 Zip Line – Some zip line companies also that cater to kids 6 years and up- like Rainforest Zipline Corporation and for older kids, Yunque zipline, both in the Rio Grande/Luquillo area.
Rappelling & Caving – A few companies ( Ecoquest, and Adventuras Tierra Adentro) offer full-day cave excursions, canyoning, rappelling and zip line adventures. These are only recommended for older kids.
ATV, Horseback & Go-Carts – Carabalí Rainforest Park (formerly Hacienda Carabali) offers ATV trail rides, horseback riding and go-cart rides. For the ATVs, the minimum age to drive is 16 years old, while the minimum age to be a passenger is 8 years old. The minimum age for horseback riding is 5 years old. They operate the Go-Carts only on the weekends. Open daily from 9:30am until 5:00pm. Call them @ (787)889-5820 or (787)889-4954 for more info.
Biking – Another fun thing to do is to rent bicycles and ride on the Boardwalk in Pinones along the ocean and through the mangroves. You can stop along the way and explore the tidal pools and beaches. Bikes of all sizes are usually available, sometimes with baby seats!
For rainy days (or just because the kids might enjoy these)
Shopping Malls – For those teens that just have to go to the mall and shop the big malls are Plaza Las Americas just south of San Juan, The Outlet/Route 66 Mall in Canovanas and Prime Outlets Mall in Barceloneta. The Route 66 mall has a large indoor amusement area, with rides, video games, race cars. Called Sector 66, it is fun for the whole family.
Movie Theaters – Most malls have multiplexes with the latest movies that play in English with Spanish subtitles.
Chuck E Cheese – There is a new Chuck E Cheese open in Los Colobos Plaza, right on Route 3 in Carolina East, at the edge of Canovanas.
Click on a placename below to view the location on Google Maps ...
PuertoRicoDayTrips.com assumes no responsibility regarding your safety when participating in the activities described in this article. Please use common sense! If your mother or that little voice in your head tells you that you are about to do something stupid … then don't do it!