Shore Excursions and Tours for Cruisers to San Juan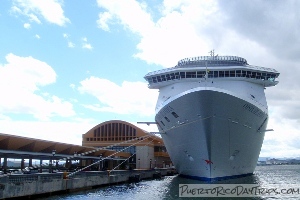 We took a cruise recently, and I did all the planning for our excursions in the various ports. For those of you coming into San Juan and trying to plan your day in port — I feel your pain. It is not easy to decide what there is to do in (or around) San Juan, and there are so many questions that need answering. Will I have enough time in port? How will I get there from the ship? Do I need a guide or can I do it on my own?
I will try to make your planning a little bit easier by offering suggestions and ideas that will (hopefully) answer some of your questions. Of course, you don't have to be on a cruise to use this list of things to do in Puerto Rico. Anyone that is spending time in the Old San Juan or metro area will find this info handy.
Puerto Rico Basics
Language — Puerto Rico has two official languages; Spanish and English. Spanish is the more common language throughout the island, but English is widely spoken in the tourist areas.
Currency — As part of the US, the US dollar is our currency. We don't negotiate prices when shopping, though there may be some negotiation in jewelery stores and with street vendors. But, for the most part, the price marked on an item is the price — plus sales tax (know locally as IVU, by its Spanish initials).
Forms of Payment — Everyone prefers cash, but credit cards (MC, Visa, AmEx) are widely accepted in stores and restaurants.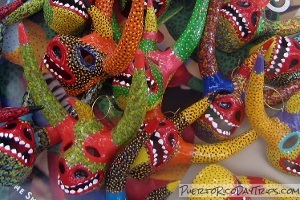 What to Buy — Looking for that special souvenir that is unique to Puerto Rico? Try some locally-grown coffee, Puerto Rican rum, items related to the Three Kings (especially around the holidays), paper maché vejigante masks, bobbin lace (mundillo) items, and candies made from coconut or tropical fruits.
Cellphone Coverage & WIFI — AT&T, T-Mobile, and Sprint all have operations and coverage here in Puerto Rico. Though Verizon is no longer represented on the island, Verizon cellphones work here. Most "nationwide" plans include Puerto Rico, but double-check with your carrier to make sure you won't get hit with huge roaming charges if you use your phone here. Many of the plazas in Old San Juan have free WIFI, and many restaurants and bars offer WIFI for their customers.
Where Does My Ship Dock?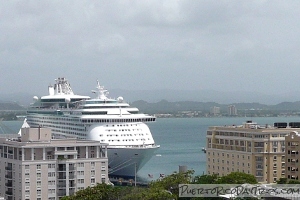 For a Day in Port — All the ships in port for the day or evening will dock right in Old San Juan at Pier 3 or Pier 4. On rare occasions, for example during high season (winter) when a bunch of ships are in port for the day, it is possible for 1 or 2 ships to have to use the Frontier Pier or the Pan Am Pier (across the bay from Old San Juan). If you end up at the Pan Am Pier, you will have to take a taxi to Old San Juan. There is nothing within walking distance of the Pan Am Pier. A Sheraton with a small casino and the Puerto Rico Convention Center are about a mile away.
For Embarkation & Debarkation — The Royal Caribbean and Princess cruise lines embark/debark at the Pan Am Pier, across the bay from Old San Juan. Carnival and other cruise lines use Pier 3 and Pier 4 right in Old San Juan. There are even times when ships use the Frontier Pier. So double-check your cruise itinerary for exact pier, as they sometimes switch piers depending on ship traffic.
The Cruise TT web site lists the ships scheduled to be in port on a given day. You can use this to see how much of a crowd to expect in port on the day that you'll be here.
What To Do In Port In San Juan?
Almost any activity that you would want to do on a Caribbean island is available here in Puerto Rico. The problem is that Puerto Rico is a pretty large island (relatively speaking as compared to other Caribbean islands), so travel times make some things not feasible for a cruise ship passenger to do during a short time in port.
We do try to keep our event calendar up to date with festivals and other celebrations going on throughout the island. Unfortunately, the dates for many events aren't announced more than a couple weeks in advance. So check back frequently!
If you're only going to be in port in San Juan for a short time, or if you do not want to venture too far from the ship, there are a number of things to do right in Old San Juan.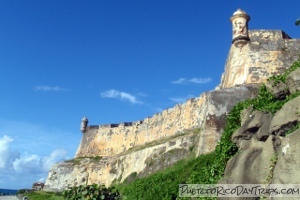 Other islands will have prettier beaches than the ones close to the cruise piers. But for beach lovers, head to Balneario Escambron, or Playita in Condado. For beach day passes at resorts (with amenities like use of chairs, umbrellas, showers, and sometimes the pools)- Marriott Hotels in Condado and Isla Verde or Cafe La Plage in Isla Verde.
Go on a guided Segway tour around Old San Juan, and optionally go into El Morro (on foot).
Rent a bicycle and cruise around on your own or with a guide, maybe even get to a beach.
Do a walking tour of Old San Juan, either with a guide or on your own.
Visit El Morro or Fort San Cristobal.
Go on a rum-tasting tour or a cooking class.
Visit one or more of the many museums in Old San Juan.
Take a sunset cruise of San Juan Bay. Sailing Dreams offers 3.5 hr tours at sunset,with drinks and hors d'oeuvres. For info or reservations, contact them 787-519-5000 or through the Ecantos Ecotours website..
Do a little shopping in Old San Juan for designer items, jewelry or local crafts.
If you're willing to wander outside of Old San Juan, into the greater San Juan metro area, there are more things that you can find to do. These things will require some type of public transportation or short taxi ride (figure on less than $30 one way).
Try you luck at a Casino– across the SJ bay at the Sheraton by the Convention Center is Casino Metro
Take a tour at the Bacardi Distillery , you can save money by using the transportation to Bacardi.
Visit a nearby beach, like Escambron, the balneario in Carolina, or even the beaches in Condado or Isla Verde.
There are some nearby watersports like mini-boats, SCUBA, sailing, sunset cruises, and deep sea fishing.
Take in an art museum in San Juan.
Checkout the boardwalk area in Pinones for food, bike riding, kayaking, or walking along the beach COPI has rental equipment.
Get a day-pass at one of the Marriott resorts.
Go shopping in Plaza las Americas, the largest mall in the Caribbean.
Spend the day at a casino in one of the resorts in Condado or Isla Verde.
Walk around the UPR Botanical Garden in Rio Piedras.
Head to Hacienda Campo Rico for horseback riding, ATV, golf, amphibious cars, or ziplines.
Grabbing a Bite or a Drink
Sure, you have a full meal plan on your ship. But Old San Juan is loaded with all sorts of great restaurants. It's hard to get a bad meal here.
Many people ask about places to get real, authentic Puerto Rican food. There are so many places … Raices, Mojitos, Cafe Puerto Rico, EL Jibarito, La Mallorca, El Punto, and Cafe Manolin.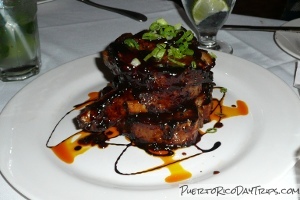 Obviously, Puerto Rico has a Spanish heritage, so Spanish tapas are also popular, and can be found at places like El Picoteo, Rosario, and Baru.
You can also find Italian, Mexican, Japanese, and … just about any other type of restaurants throughout Old San Juan. .
Who to use for my excursion?
When planning an excursion away from the ship and the Old San Juan area, there are questions that you'll be asking yourself. Should I take on of the trips offered by the ship? Should I go with a group? Should I do something on my own?
The first things you need to take into account is your budget, and how adventurous you want to be. There are pros and cons to both organized tours and do-it-yourself excursions. Sometimes, you don't feel like thinking and prefer to be led by the hand, so to speak. At other times, you don't feel like being weighed down by a group or having to stick to someone else's schedule. You need to decide which type of trip you prefer.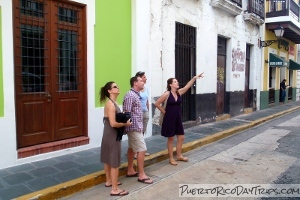 Using the ship excursions has some perks — they are well organized (the meeting spot is usually just as you exit the ship) and it gives you some extra "insurance" (if you are late coming back from an ship's excursion, the ship will not leave without you). However, these are usually large groups, they do cost a little extra for the level of convenience, and they sometimes have strict restrictions (often more strict than required by the actual operator of the excursion).
Independent bus tours are usually half-day trip to various parts of the island. You can get onto one of these just as you get off of the cruise ship dock, usually on the sidewalk or street. Once you choose one, you will typically have to wait in the bus until the bus driver has "enough" people to start the tour. These tours are usually a little cheaper than ship-sponsored trips, but they often go to the same or similar places as the ship's tours.
Private guides are also available for customized tours, either pre-arranged or on the spot. You will have to track down these guides on your own, and many do not have web sites. We met Raul from Natural Wonders PR, he offered an interesting tour of the rain forest (not only the usual stops). We have never gone on a tour with him, but he gets good reviews (he has a website). Or you can try getting information on good tour guides on CruiseCritic or ShoreTrips. Just be sure to do your due diligence, and look for public comments, ratings, and reviews from previous customers. These types of trips are a little less expensive than the ship's excursions, but more expensive than doing it on your own.
Finally, you can rent a car and have a self led adventure. Renting a car is the least expensive and most flexible route, but you do miss some commentary from a guide, and you have to spend precious vacation time dealing with the car rental. Many of the activity operators allow you to book on your own and save money (and some may provide or arrange transportation). Contact them and ask.
If you have a late (after 2pm) flight on debarkation day, there are some tours that will pick you (and your luggage) up at the ship, take you on an excursion for a couple hours, and then drop you (and your luggage) off at the airport. This is a nice way to spend a few hours before your flight, instead of just sitting at the airport.
Things to Do if You Have More time
If you have a full day (or almost full day) in port, there are a bunch of things that you can do that are within 1 or 1½ hour-drive of Old San Juan. You can check our island maps and our Place Finder & GPS Coordinates to help with locating activities and driving directions. These activities require a little more travel time, and a little more planning on your part, but they are totally worth the extra effort!
Check out these past articles for some ideas
Happy Cruising
We hope that this gives you some ideas to help plan your day in port in San Juan. Enjoy your visit, and come back again to do all the stuff that you couldn't accomplish in just one day!
Click on a placename below to view the location on Google Maps ...
PuertoRicoDayTrips.com assumes no responsibility regarding your safety when participating in the activities described in this article. Please use common sense! If your mother or that little voice in your head tells you that you are about to do something stupid … then don't do it!